World Wrestling Championships 2017: Blame lies with WFI president for India's dismal show in Paris
What Brij Bhushan Sharan Singh, president of the WFI needs to do is introspection and humbly own the responsibility after Indian wrestlers' dismal show in Paris.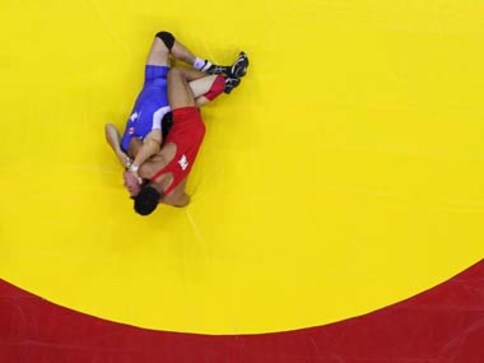 Decline in performance hurts. It hurts even more when upswing curve comes crashing. This is exactly what happened to Indian wrestling recently. The wrestling fraternity, fans and coaches are naturally disappointed but either they have no clue to rectify it or can't dare the wrestling establishment in the country.
After the historic Olympic bronze by KD Jadhav in 1952, Indian matmen have been winning medals at the Asian and Commonwealth Games but not at the World Championships. But late Bishambar Singh's silver in the World Championship in New Delhi in 1967 raised hopes for even better showing at the world stage. Finally, Sushil Kumar matched Jadhav's feat at the Beijing Olympic Games in 2008.
This can be considered as the turning point for Indian wrestling.
In the next Games at London, Sushil upgraded himself to silver while Yogeshwar Dutt added another bronze for India. And then finally came the historic bronze by Sakshi Malik at Rio – first by an Indian female wrestler. It was also the second medal by an Indian woman after Karnam Malleshwari's feat at Sydney Games. And when Narsingh Yadav struck a bronze at the last World Championship at Las Vegas, one felt that Indian wrestlers had arrived.
But the hopes came crashing at the latest World Championship in Paris and now the only talking point is useless discussions and blame game. Earlier, this year's World Cup in Iran was also a total disaster for Indian wrestlers. Wrestling Federation of India (WFI) had sent national champions in each of the eight weight categories but they lost 29 of their 32 bouts.
The saddest part of these unfortunate episodes is that the man majorly responsible for this is accusing all others – the coaches, facilities and even the organisers at the World Championship in Paris. What Brij Bhushan Sharan Singh, president of the WFI needs to do is introspection and humbly own the responsibility.
WFI chief has squarely put the blame on the organisers for the lack of facilities. According to him, prior to the Championships, Indian wrestlers were made to train at a local club in Boulevard de Bercy borough situated on the border of Germany and France. He felt that this resulted in poor performance by the Indians. But Singh and WFI were informed of this much before the Indian team left for Paris. Did they enquire about the venue and facilities being provided there? This is WFI and Singh's responsibility. They did precious little in this direction.
Was India the only country to meted out this treatment? The answer is no. But then, officials from other countries took measures well in advance and arranged for training partners and local facilities. Here, it would be worth mentioning that conditions at the World Championships in Las Vegas in 2015 were identical. In fact, this is a regular practice. But then, at Las Vegas, Indian contingent was lucky to have Georgian coach Vladimir Mestvirishvili – a friend, philosopher, guide and of course coach with the Indian team for over a decade.
But his contract was not renewed. Mestvirishvili would get much before the wrestlers and see to it that wrestlers attended morning training sessions and then would be at the breakfast table with hawk like eye. He would certify every morsel that went into the stomach of wrestlers to keep weight in check. The three coaches – Jagminder Singh (men's freestyle), Kuldeep Malik (women's wrestling) and Kuldeep Singh (Greco-Roman) – are not a patch on Mestvirishvili.
By the way, United States (US) team contemplated this situation much in advance. They even had to face gruelling time zone difference flying tiring trans-Atlantic. But they didn't depend on their national federation or an autocratic federation president like Brij Bhushan Sharan Singh. The women's head coach Terry Steiner sorted out this much before the team landed in Paris. And the result is before US.
The American Victoria Anthony stopped Vinesh Phogat from going on top the podium. Victoria secured a bronze medal. According to Steiner's own admission, his responsibilities as a coach are developing and implementing strength and condition programmes, supervising academic curriculum of all student athletes, participating in structured drilling and live wrestling film analysis for technique, mental errors and opponents and assisting in planning daily practice sessions.
How many Indian coaches will successfully pass if put under a similar test?
According to WFI chief, the federation is looking for foreign coaches "but nothing has worked out yet." He calls Paris debacle a "good learning experience.'' But former national chief coach Yashvir Singh believes India is not ready to produce someone who can step into the shoes of two-time Olympic medallist Sushil Kumar.
"Honestly, I don't see someone of Sushil's caliber in the national squad at the moment. It might take long to fill the gap," he told media. Geeta Phogat is far more honest. "Lack of training is the reason behind India's poor show at Paris,'' she admits.
The ball is again in the courts of WFI and Brij Bhushan Sharan Singh has to decide what WFI wants, a pragmatic decision or an autocratic decision.
Sports
From COVID-19 battle to a string of defeats and training postponement in the post-pandemic era, Divya Kakran finally finds her old self with a dominating performance at the WFI trials for CWG and World Championships.
Sports
Senior referee Jagbir Singh clarifies why he raised his hands first on the now-banned wrestler after new video emerged on social media.
Politics
The Maharashtra Navnirman Sena chief's 'anti-migrant' stand has come to haunt him. BJP MP Brij Bhushan Sharan Singh said that he won't allow Raj Thackeray into the temple town for 'humiliating north Indians'