World Team Chess Championship 2017: Indian men draw with Turkey; women lose to Russia
While India dominated the proceedings for the major part of the match, the end was good for the Turkish team as they maintained their unbeatable run.
Khanty-Mansiysk: Krishnan Sasikiran proved to be the saviour as Indian men were held 2-2 by Turkey while the Indian eves suffered a 1-3 loss against Russia in the sixth round of World teams' chess championships on Saturday.
While the Indians dominated the proceedings for the major part of the match the end was good for the Turkish team as they maintained their unbeatable run.
Grandmaster B Adhiban ran out of steam as he lost to Yilmaz Mustafa on the second board while Vidit Gujarathi was held to a draw by Solak Dragan on the top board.
Mohamad Batuhan Dastan held Parimarjan Negi on the fourth board and Sasikiran won in a highly complex game against Can Emre.
The draw against Turkey put the Indian men a little off track for a podium finish for which they will need to do really well against Ukraine now in the next round. In the last two matches the Indians have to face Russia and Norway.
In other matches of the day, the Russian men beat Poland by a 3-1 margin while the Chinese scored a 2.5-1.5 victory over Ukraine. Belarus beat Norway by 3.5-0.5 margin and USA humbled Egypt 3-1.
As things stand with three rounds remaining, Russia remained in sole lead on 11 points while the Chinese are a close second on ten points. Poland and Turkey share the third spot on eight points apiece, one more than India that is now on seven points.
The Indian aspirations suffered a setback in the women's section but it's not all over yet for the eves. Padmini Rout and S Vijayalakshmi lost on board three and four while D Harika and Eesha Karavade played out draws on the top two boards for the team. Rout lost to Valentina Gunina while Olga Girya proved stronger than S Viajayalakshmi.
Russia and Ukraine continued to be at the helm in this section on ten points apiece and they are now followed by a resurgent China on eight points.
The Indian eves share the fourth spot along side Poland while Georgia is the other team in contention on six points.
The Indian eves play their last crucial match against China in the next round. If they come out unscathed, they will still have a real chance to be in top three as they have to play lowly-placed Azerbaijan and Vietnam in the remaining two matches.
Results round 6 open: India (7) drew with Turkey (8) 2-2 (Vidit Gujarathi drew with Solak Dragan; Yilmaz Mustafa beat B Adhiban; Krishnan Sasikiran beat Can Emre; Parimarjan Negi drew with Mohamad Batuhan Dastan); USA (6) beat Egypt (0) 3-1; China (10) beat Ukraine (4) 2.5-1.5; Poland (8) lost to Russia (11) 1-3; Belarus (4) beat Norway (2) 3.5-0.5.
Women: India (7) lost to Russia (10) 1-3 (D Harika drew with Alexandra Kosteniuk; Kateryna Lagno drew with Eesha Karavade; Padmini Rout lost to Valentina Gunina; Olga Girya beat S Vijayalakshmi); USA (4) lost to China (10) 1-3; Poland (7) beat Egypt (0) 3.5-0.5; Georgia (6) beat Vietnam (4) 3-1; Ukraine (10) beat Azerbaijan (4) 2.5-1.5.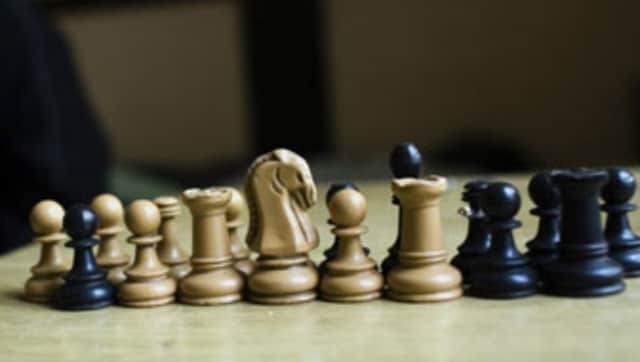 Sports
As much as 70 percent of the adult population living in countries including Russia, India, Germany, the US, UK has played chess at some point or the other in their lives. Around 605 million adults play chess regularly.
Sports
Chennai lad Praggnanandha got the better of the experienced Gabriel Sargissian (Armenia) and Adhiban posted a crushing win over Neuris Delgado Ramirez in just 22 moves in the men's event.
Sports
Grandmaster Gujrathi, ranked 22 in the world, and enjoying a higher FIDE rating than his rival, settled for a draw in 56 moves in a Slav variation game which stretched for over four hours.