World Team Chess Championship 2017: Indian men and women finish fourth in tournament
The Indian men and women missed out on the podium by a whisker as they finished fourth in both the categories at the World Team Chess Championships.
Khanty Mansiysk (Russia): The Indian men and women missed out on the podium by a whisker as they finished fourth in both the categories at the World Team Chess Championships.
The last round went well for both Indian men and women as they scored fine victories over Norway and Azerbaijan respectively.
However, the men lost the penultimate round against Russia by 1.5-2.5 that cost them a medal.
The women were quite lucky to win the penultimate round against Vietnam as both D Harika and Tania Sachdev fought back from nearly lost positions to save the day for their side.
Though Harika took a rest against Azerbaijan, it did not deter the Indian women from winning comprehensively for a fourth place finish. This was a repeat of their performance in the previous edition of the championship held in China in 2015.
China won the championship in the open section with 16 points while Russia finished second on 15 points. Poland snatched the bronze on 12 points, a point clear of the Indian men.
The Indian men had also finished fourth in the last Chess Olympiad held in Azerbaijan in 2016.
The Chinese were clinical in the last round as they scored a 2.5-1.5 victory over Poland, thanks to a fine victory by Li Chao on the fourth board. The Russians were ferocious as they handed out a 4-0 defeat to the United States.
For India, Grandmaster B Adhiban yet again shined and scored a fine victory with white pieces against Johan Soloman while National champion Murali Karthikeyan proved too strong for Frode Elsness.
On the other boards Vidit Gujarathi played out a draw against Aryan Tari while Krishnan Sasikiran signed peace with Lars Oskar Hauge.
In the women's section, the Russians proved their supremacy over Ukraine defeating their neighbours 3-1.
It was a big heartbreak for Ukrainian ladies as they were in joint lead going in to the last round and yet could not win the medal as the margin of defeat upset their equation.
The Russian team won gold with 16 points, while the Chinese bagged silver with 13 points.
It was a three-way tie for the third spot with Georgia, India and Ukraine and as the tie was resolved, the Georgians came out on third spot, thanks to 1.5 game points more than India. Ukraine finished fifth.
Results after Round 9 open: Norway (2) lost to India (11) 1-3 (Aryan Tari drew with Vidit Gujarathi; B Adhiban beat Johan Soloman; Frode Elsness lost to Murali Karthikeyan; Krishnan Sasikiran drew with Lars Oskar Hauge); Ukraine (6) beat Egypt (0) 2.5-1.5; Turkey (10) lost to Belarus (8); Russia (15) beat USA (8) 4-0; China (16) beat Poland (12) 2.5 -1.5.
Women: Azerbaijan (5) lost to India (12) 1-3 (Gunay Mammadzada beat Tania Sachdev; Eesha Karavade beat Gulnar Mammadova; Ulviyya Fataliyeva lost to Padmini Rout; S Vijayalakshmi beat Khanim Balajayeva); Russia (16) beat Ukraine (12) 3-1; Vietnam (5) lost to Poland (9); Georgia (12) beat USA (6) 3-1; China (13) beat Egypt (0) 3-1.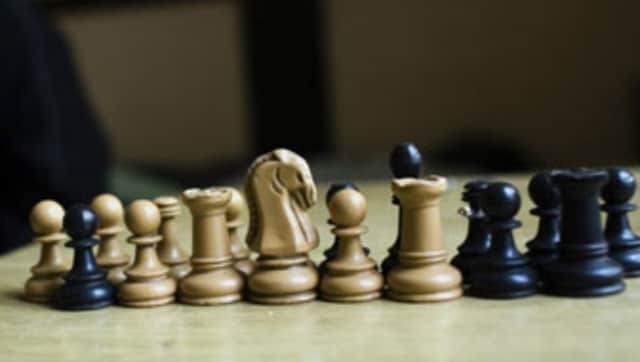 Sports
As much as 70 percent of the adult population living in countries including Russia, India, Germany, the US, UK has played chess at some point or the other in their lives. Around 605 million adults play chess regularly.
Sports
The experienced P Harikrishna, who beat Constantin Lupulescu (Romania) 1.5-0.5 on Monday, will face Iran's M Amin Tabatabaei in the fourth round on Thursday.
Sports
Playing white in a Tarrasch variation, Anand, a former world champion, settled for a draw in 40 moves, to win the match 2.5-1.5.