World Table Tennis Championship 2017: Sharath Kamal to lead India's challenge
Kamal, the top-ranked Indian in the world will have to shoulder most of the burden of the eight-member squad, comprising four men and women paddlers, besides his own fans' expectations at home.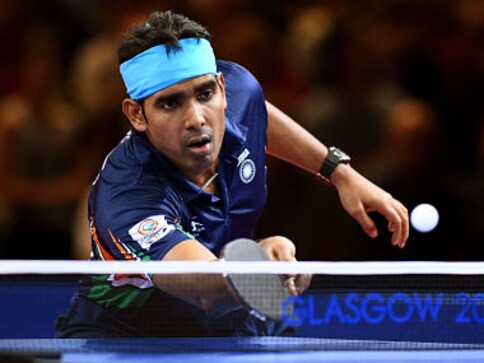 Dusseldorf: Sharath Kamal will once again lead India's challenge in the World Table Tennis Championships to be held from 29 May to 5 June.
Since the championships are all about individual performances, the Indian members will have to try hard to make an impression in the eight-day event.
Besides 53-ranked Kamal, the other male members of the squad include Soumyajit Ghosh (83), G. Sathiyan and Harmeet Desai (95) while the women players are Madhurika Patkar, the reigning national champion, Manika Batra (103), Mouma Das and Ayhika Mukherjee, the rookie, who will make her maiden world championships appearance.
Kamal, the top-ranked Indian in the world will have to shoulder most of the burden of the eight-member squad, comprising four men and women paddlers, besides his own fans' expectations at home.
In the previous edition two years ago in Suzhou (China), the Indian spearhead was in a roaring form before pulling himself out in the third round because of a hip injury.
For the 34-year-old Indian, who could probably be playing his last world championships (individuals), the event in Germany presents a good opportunity to make a real good impression and he would try all tricks in his bags to achieve glory.
The reigning national champion was in good form during the Asian Championships in China recently and India almost knocked the Japanese out in the quarterfinals.
The squad, accompanied by foreign coach Massimo Costantini, had reached Dusseldorf more than a fortnight ago and is going through an intense training camp at a private facility.
The foreign expert, along with former national champion Soumyadeep Roy, who was drafted in by Table Tennis Federation of India (TTFI) as the second coach, are training the paddlers for the most important event on the ITTF calendar.
The Indian team will also play doubles in both sections apart from the mixed doubles where Manika Batra and Madhurika Patkar will pair up with G. Sathiyan and Harmeet Desai. In men's doubles, the first pair will be Kamal and Sathiyan while the second will be Ghosh and Desai.
As for women's doubles, Ayhika will partner Madurika while Manika-Mouma duo will form India's second pair.
Talking from the training base, Massimo said that the team members were in good spirits.
"We have had good training sessions since we arrived here on May 11. The players are put to strenuous sessions with different set of players-defensive and offensive-thanks to the sparring partners that have been made available to us here," said the coach.
Asked about the prospects of Indian players, Massimo said: "Well, I will be happy if our players put their best foot forward and try hard. The worlds are the toughest competition and a couple of good rounds mean you are closer to the round of 32. We will see how it goes from there."
Find latest and upcoming tech gadgets online on Tech2 Gadgets. Get technology news, gadgets reviews & ratings. Popular gadgets including laptop, tablet and mobile specifications, features, prices, comparison.
First Cricket News
The 29-year-old Rafiq, who is of Pakistani origin, had told ESPN Cricinfo about how he was "bullied and targeted" because of his race and alleged that Asian players were sometimes referred to as "Pakis" or "elephant washers" and told to "go back to where you came from".
Sports
Former junior player Olga Sharypova said in a social media post last month that the German world number seven had tried to "strangle" her while at last year's US Open.
Sports
Perez learned earlier this season that he was to be replaced at Racing Point, which becomes Aston Martin with new branding next year, by four-time champion Sebastian Vettel.