Another World Cup and yet another encounter between arch-rivals India and Pakistan. The noise will reach hyperbolic levels before the first spectator turns the turnstiles at the vast Eden Gardens on Saturday for the Group 2 encounter between the two teams.
It has become customary for news channels to whip up a jingoistic froth with their high octane rants ahead of matches between the two bitter rivals. The hyperbolic cacophony drowns the meagre excitement that is on offer in terms of cricket from any match between the two teams of late.
Cricket encounters between the two nations have always been a source of spite and resentment back even in the 1970s and 1980s when both mostly played Test matches. The malleable quality of umpiring left a bitter taste in the mouths of fans, but the contests were also marked out by some quality cricket from both sides.
Stars like Kapil Dev and Sunil Gavaskar from India and stalwarts like Zaheer Abbas, Imran Khan and Javed Miandad from Pakistan produced scintillating cricket. The tradition was further enriched through a visceral series of battles between Pakistan's world class bowlers and India's formidable batsmen through the 1990s and the early part of this millennium.
Violent political upheavals over the past decade and an incompetent cricket administration have rendered the Pakistan cricket team disjointed and purposeless. They still have an enviable pool of bowling resources and an adequate reservoir of batting but a fractured mindset has made it nearly impossible for them to perform as a cohesive unit.
India have lately begun to dominate encounters. A study of the numbers below is educating. While the overall numbers in Tests and ODIs are still in favour of Pakistan, the hosts are ruling the roost as far as T20 is concerned. Even in the other two formats, India have begun to stitch victories steadily, shifting the balance of power.
In the recent past, India have recorded a series of victories over Pakistan. In the four-Test series that were played since 2003-04, India have won two, drawn one and lost one.
In fact, the two teams have played each other in 40 matches across the three formats since January 2006. Pakistan have won just 12 of those encounters (1 Test, 1 T20I and 10 ODIs) while India have won 22 matches (1 Test, 5 T20Is and 16 ODIs) underlining their growing command.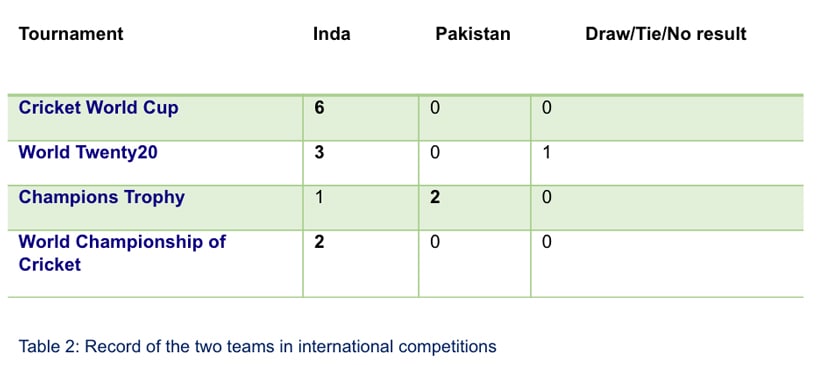 Recent matches between India and Australia and those between England and Australia have produced far more drama than Indo-Pak contests. As you will have seen from the second table, it is amply clear that India enjoy an upper hand against Pakistan in high-stakes encounters. This trend is best explained by citing India's one-sided victory over Pakistan in the 2011 World Cup semifinal in Mohali.
You will have to travel all the way back to 2007 in search of the last really competitive match between the two teams. That was the ICC WT20 final in Johannesburg, played in September 2007. India sneaked home by five runs defending 157 when they dismissed Pakistan in the final over.
The players of the two teams have become rather friendly as well – as Shahid Afridi pointed out in a news conference in the run-up to the World T20. The intensity of the days of yore – as witnessed in that epic 1996 quarterfinal in ODI World Cup is a relic of the past.
Fans will be hard pressed to forget that contest between Venkatesh Prasad and Aamir Sohail. Chasing a tall target set up on the strength of some belligerent batting by Navjyot Sidhu and Ajay Jadeja, Pakistan got off to a blistering start.
Saeed Anwar and Sohail (who was the stand-in captain after Wasim Akram pulled out at the last minute) drove their team to 84-0 in just 10 overs. Soon Anwar departed but Sohail remained on fire, getting past his half-century in less than a run-a-ball. What followed was high voltage drama, rarely seen these days – Sohail slashed Prasad to the fence and pointed his bat in the general direction of the ball.
Prasad had his off-stump uprooted when Sohail tried to repeat his stroke the very next ball, prompting a furious Prasad to give him a royal sendoff by screaming at him – "go home, you f****** bastard."
It was a moment that turned the momentum and Pakistan appears to have never quite recovered since.
As India and Pakistan prepare to face off on Saturday, there will yet again be plenty of noise. Sunil Gavaskar has already raised a few eyebrows by suggesting that the visitors could start as favourites, considering that India are under pressure after losing their first match to New Zealand.
"After the loss to New Zealand, India will be under far more pressure against Pakistan. I feel Pakistan start as favourites for the game on Saturday," he said. Mohammad Amir troubled the Indians no end in the recent Asia Cup, before a masterful Virat Kohli special carried the eventual champions to victory.
The match on Friday shall be a test between the bowling might of Pakistan and the batting depth of India. But this is no battle from the past – expect a toned-down clash between the two teams with a fever pitch chorus from Eden Gardens echoing from the stands in support of the home team.
We will all be lucky if the contest turns into a nail biter instead of being the one-sided fare that has been on offer recently.
Firstpost is now on WhatsApp. For the latest analysis, commentary and news updates, sign up for our WhatsApp services. Just go to Firstpost.com/Whatsapp and hit the Subscribe button.
Updated Date: Mar 19, 2016 16:10:55 IST