World Rapid and Blitz: Undefeated Viswanathan Anand shares 2nd spot on Day 2; Harika Dronavalli in joint 3rd place
Anand, the former five-time world champion has not only remained undefeated in his first ten games, but also won a game against his arch-rival GM Magnus Carlsen in round 9.
After the second day at the World Rapid Championship came to a close, one of the overnight leaders, Baadur Jobava saw himself drop down the leaderboard to the 40th spot.
At the conclusion of the scheduled five rounds, Jobava had lost four games and won one. His co-leader Vladimir Fedoseev, however, continued his dream run winning two and drawing three of his five games for the day to retain his top spot.
Players tied for the shared second spot came down to three from an overnight nine.
While Viswanathan Anand and Peter Svidler retained their position, Chinese GM Wang Hao climbed up from joint third to joint second scoring 4.0/5 on day two.
For Anand, this is turning out to be a perfect comeback event after his dismal performance at the London Chess Classic where he finished at the bottom-most spot, earlier this month.
In Riyadh, the former five-time world champion has not only remained undefeated in his first ten games, but also won a game against his arch-rival GM Magnus Carlsen in round 9.
From the black side of a Nimzo-Indian defence, Anand managed to provoke weaknesses around the white king, making some crafty maneuvers with his knight. Carlsen too had good compensation as his pieces were decently active.
Opining upon the game, IM Sagar Shah said he liked Anand maintaining the positional balance with some very tricky moves. Though it is Anand who usually blunders in most positions (between Anand and Carlsen), this time it was Carlsen.
After a tactical sequence that began on move 28, both Anand and Carlsen felt that the position was a draw.
"Magnus played 33.Nc5 thinking I would just force a draw. And that was my reaction as well," Anand said. "For some reason, I decided to keep checking and see if something happened. And after two minutes, maybe, of thinking, I realized that bishop f3 check is working. By this time he had seen it also. So all he had to do was resign," Anand added.
The finish of Anand's first win of the day was also quite a spectacular one.
Curiously, this win also came with black pieces. At the highest level, players generally try to push for a win with the whites as, with the advantage of making the first move, white is considered to hold the initiative. But on day two, Anand drew all his games with white and won all of his black games.
Playing against the English GM Luke McShane in round 7, Anand had a fairly balanced position when McShane blundered and allowed a spectacular two-move checkmate. Anand said after the game that McShane saw the mate immediately after he touched his queen on the 51st move but, unfortunately, the queen could not stop the mate from any of the squares she could move to. In the final position, Anand only had a rook against white's queen, bishop and knight. But that lone rook was the one which delivered checkmate. Usually, a strong GM as McShane would resign knowing that the mate is unavertable but the Briton sportingly allowed himself to be checkmated keeping in mind the position's aesthetic beauty.
In the final round, Anand went for a quick draw against Wang Hao. Within about 10 minutes post the start of the round, the two shook hands and called it a day. Given that Hao is one of the contenders for the title, Anand should have chosen to fight, especially since he had the white pieces. But Anand explained later that he was too tired and there wasn't much in the position to play for as the two had played a very theoretical line.
Another notable game of the day was one between Adhiban Baskaran and defending World Rapid Champion, Vassily Ivanchuk.
With the white pieces, Adhiban went for the Vienna Opening, an unorthodox line that he had deployed at the Tata Steel Masters at the start of the year, his first elite event where he finished third.
Ivanchuk reacted decently and the position was balanced well into the middle game.
But at around move 25, Ivanchuk began making some inaccuracies which gave Adhiban the winning position. The Indian youngster almost ruined his chances to hold on to the upper hand but 'Chucky' made a few inaccurate moves to find his king in a mating net.
The other youngster in the fray, Vidit Gujrathi had a bad day at the office on Wednesday as he was unable to win a single game. On day two, Gujrathi began with a loss and drew all the rest of his games, slipping down to the 68th spot on the leaderboard.
In the women's group, both Harika Dronavalli and Vijayalakshmi Subbaraman lost a game to a Russian in the eighth round. While Harika lost to Aleksandra Goryachkina, Vijayalakshmi lost to IM Anastasia Bodnaruk. But despite losing a game, both players did well overall. In fact, Subbaraman more than compensated for her loss in round 8 by defeating former World Champion, GM Antoaneta Stefanova. Harika has scored 7.0/9 and is in the joint third place on the leaderboard. Subbaraman, on the other hand, is a point behind and has scored 6.0/9. If Harika can pull off a few more wins on the final day, she might have a shot at the title.
In the men's group, Anand is clearly one of the favourites for winning the title prize. He is currently, half a point behind the leader, Vladimir Fedoseev. However, given Anand's tremendous form so far, he seems to be in the right rhythm to make it happen. Also, winning this event would be a nice way for Anand to end the year after his disappointing show at the London Chess Classic, earlier this month.
Standings after 10 rounds:
Men:


Women: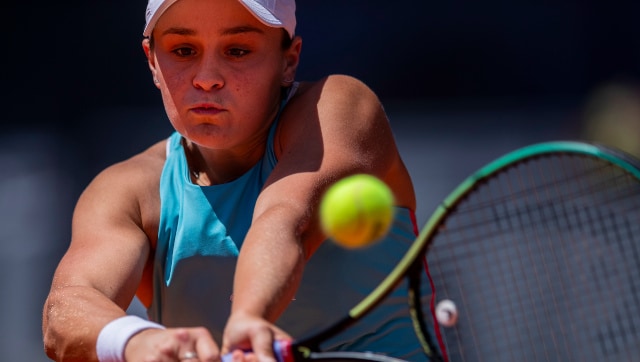 Sports
Barty overcame an early break of serve to see off Shvedova, a three-time Grand Slam quarter-finalist making her way back after giving birth to twins. 
Sports
Thiem won 3-6, 7-6 (7/5), 6-0 in two hours and 33 minutes against 44th-ranked Fucsovics in the clay-court tournament which acts as a warm-up for the French Open in which the Austrian has twice finished runner-up.
Sports
French tennis federation director-general Amelie Oudea-Castera said potential spectators at the 30 May - 13 June Grand Slam must demonstrate proof that they had a negative PCR or antigen test within 48 hours of attendance, or bear a certificate of vaccination.