It was 9 September, 2009. A young boy had just squandered a winning position against an experienced Indian grandmaster. With the draw, he had missed out on making his first grandmaster norm. The 14-year-old signed the scoresheets and went into the corner of the hall. Sitting with his back to the wall, he wept uncontrollably. No amount of coaxing from his mother or friends could relieve his sadness.
The talented youngster from Nashik has come a long way from that evening in Kolkata. Vidit Gujrathi's acumen for the game of chess was unquestionable. His hunger for victory was evident right from the days when he took his first steps in chess. The game changer has been his balanced mindset and the ability to take losses in his stride and fight back. This has made Vidit a well-rounded player and favourable results have started to flow.
At the World Rapid Championships 2016, Vidit began with a bang. He beat Baadur Jobava, Vladislav Artemiev and Vladimir Akopian on day one. When the second day started, he was pitted against the formidable Alexander Grischuk. Vidit lost that game. But he didn't lose his cool. He first played a safe game against the World Championship challenger Sergey Karjakin. By drawing that game he got his momentum back. In the eighth round, he slayed the Polish number one Radoslaw Wojtaszek. A draw with Bulgarian Ivan Cheparinov was followed by another huge win against Maxime Vachier-Lagrave.
These 2,750-plus rated players like Wojtaszek and Vachier-Lagrave are extremely strong even in this short time format. They calculate at the speed of light and it's very difficult to trick them. Against such well-established opposition Vidit was able to convert equal endgames into wins. This is very surprising, because it's usually the lower rated players who make errors in equal positions. Vidit proved to everyone that he is much stronger than his rapid rating of 2,643 and that with his quick sight, and fast thinking skills, he can be right at the top of the chess world. He will gain 56 Elo points and is on the verge of crossing 2,700 Elo in Rapid chess.
Viswanathan Anand's progress has been not particularly smooth at this event, but he hasn't lost a game yet. With four wins and six draws, Anand is on 7.0/10 and is on the eighth position. Anand will play Azerbaijan's Shakhriyar Mamedyarov in the 11th round. With both Vidit and Anand on 7.0/10, there are high chances that the two would play against each other in one of the next five rounds. While Anand would clearly be the favourite, Vidit's form is not to be underestimated. In terms of an Indian finishing on the podium, this might not be the best of matchups, but to witness a battle between two different generations of Indian chess is quite mouth-watering!
As far as women's section is concerned, both Koneru Humpy and Harika Dronavalli haven't been able to showcase their best chess. They are surely considered as two of the best women players in the world today. However, they are struggling to make a mark. Humpy is on the 22nd position and Harika on 16th. They will definitely need a lot of will power in the remaining four rounds in order to win a medal.
The last five rounds will be played in the open section on Wednesday. Vidit and Anand are the only two Indians who can win a medal. What are the chances of them succeeding? As far as Anand is concerned, he has been in such pressure situations throughout his career. That's the reason why I have a feeling that Anand should finish in the top three. For Vidit this is a new scenario. He wouldn't have imagined that after two-thirds of the tournament he would be among the leaders. This will be a big test for the boy from Nashik.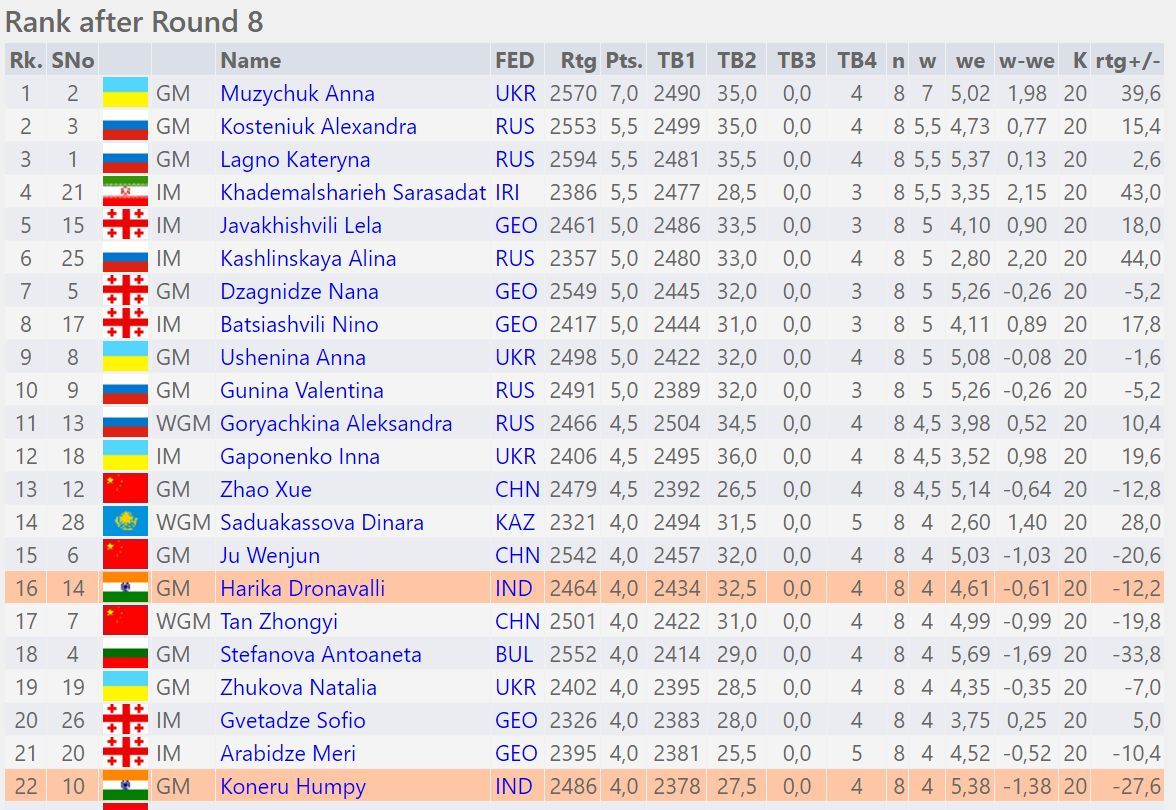 Standings in the women section after round eight. Full pairings.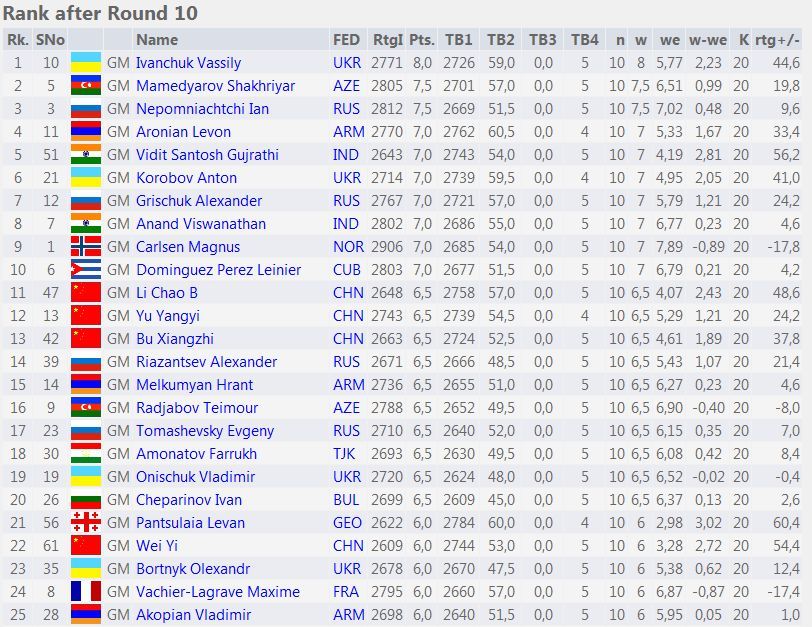 Standings after round ten for open section. Full pairings.
Sagar Shah, is an International Master and co-founder of ChessBase India.
Your guide to the latest election news, analysis, commentary, live updates and schedule for Lok Sabha Elections 2019 on firstpost.com/elections. Follow us on Twitter and Instagram or like our Facebook page for updates from all 543 constituencies for the upcoming general elections.
Updated Date: Dec 28, 2016 19:30:55 IST