The World Rapid and Blitz Chess Championships 2016 kicked off in Doha, Qatar on 26 December and will go till the 30th. Three days and 15 games will be dedicated to rapid, where the time control is 15 minutes + 10 seconds increment per move. Two days and 21 rounds to blitz, where the time control is three minutes + two seconds increment per move. Magnus Carlsen is the reigning rapid World Champion and Alexander Grischuk had won the blitz section in 2015.
On day one, there was excitement in the air. Nerves had to be controlled. The crowd was whispering. The reigning World Champion Carlsen was in trouble and his opponent Surya Shekhar Ganguly had a chance to finish him off. It was a mate in three but Ganguly had little time on his clock. He made a few errors, and then Carlsen sacrificed his rook, and the game ended in a draw.
Sheer disappointment for Ganguly after he allowed Carlsen a simple perpetual. https://t.co/96ysO1MR9K #DohaChess2016 pic.twitter.com/P1gIH7whma

— Olimpiu G. Urcan (@OlimpiuUrcan) December 26, 2016
The Indian contingent consists of all grandmasters. Viswanathan Anand leads the pack followed by Vidit Gujrathi, B Adhiban, Ganguly, Lalith Babu, Debashis Das, and Neelotpal Das. In the women's section there are only two Indian participants, but both of them are capable of winning the gold. They are Humpy Koneru and Harika Dronavali.
Gujrathi started off with a fine win over Aryan Gholami, a talented youngster from Iran. He then beat the man-in-form, the Olympiad gold medal on board one Baadur Jobava. This was followed by a crushing victory over Russia's most talented youngster Vladislav Artemiev. The 23-year-old from Nashik lost his fourth round against Vasily Ivanchuk, but he didn't let that affect him, as he bounced back with a win over Vladimir Akopian. Gujarathi is on sixth position right now and is already gaining 30 rapid Elo points.
Speaking to Firstpost, he said, "It was a good day at the office. 4.0/5 is a fine score, but mainly I am happy with the quality of the games so far." Gujrathi now faces Alexander Grischuk in the sixth round. The Russian is a formidable opponent but the Indian had defeated him in 2015. It will be interesting to see if he can repeat this success.
Meanwhile, Anand showcased some solid chess on day one. After winning his first round game against Rinat Jumabayev, he drew his next three encounters against Bu Xiangzhi, David Howell and Laurent Fressinet. In the last round of the day Anand defeated his friend and Spanish GM Vallejo Pons. Anand finished the day with 3.5/5 and is on fifteenth position.
For Ganguly, the draw against Carlsen was both the high as well as the low point of the day. He could have easily beaten the World Champion, but left him off the hook. A draw against Carlsen is an excellent result, but this is not how the Kolkata grandmaster would have wanted the game to end. However, he kept his cool and drew his game against Ian Nepomniachtchi, another excellent rapid player. Ganguly did lose to Shakhriyar Mamedyarov, but wins against Kayumov and Maghsoodloo let him finish the day on a decent 3.0/5.
Adhiban finished the day at 2.0/5, losing 20 Elo points. When we contacted him, the Chennai grandmaster was in good spirits, "It's a long event. I hope to get back in shape and the rest of the tournament will go well. I made silly mistakes and paid the price. From tomorrow the real event begins for me." With ten rounds to go, anything is possible for this young and ambitious lad.
Debashis Das showcased some great chess skills as he drew his games against two extremely strong opponents Radoslaw Wojtaszek and Sergey Karjakin. He is now on 2.5/5.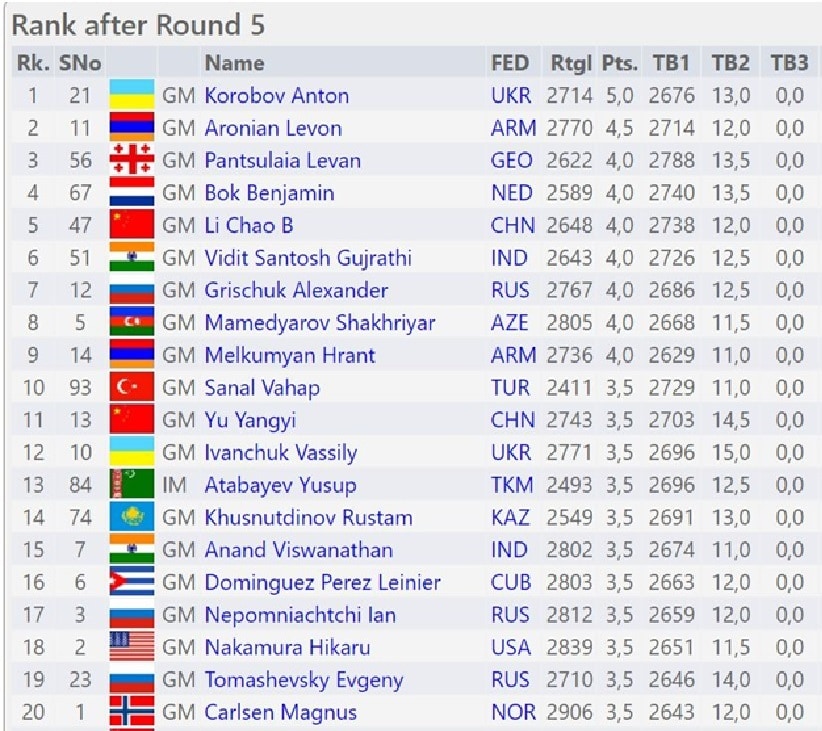 In the women's section, Humpy started off with 2.5/4, while Harika scored 2.0/4. They are on 14th and 20th positions respectively. It will be a tall order for them to overcome strong rapid players like Mariya Muzychuk and Alexandra Kosteniuk but these girls from Andhra Pradesh have shown their class in the past and there is no reason why they cannot make their way to the top.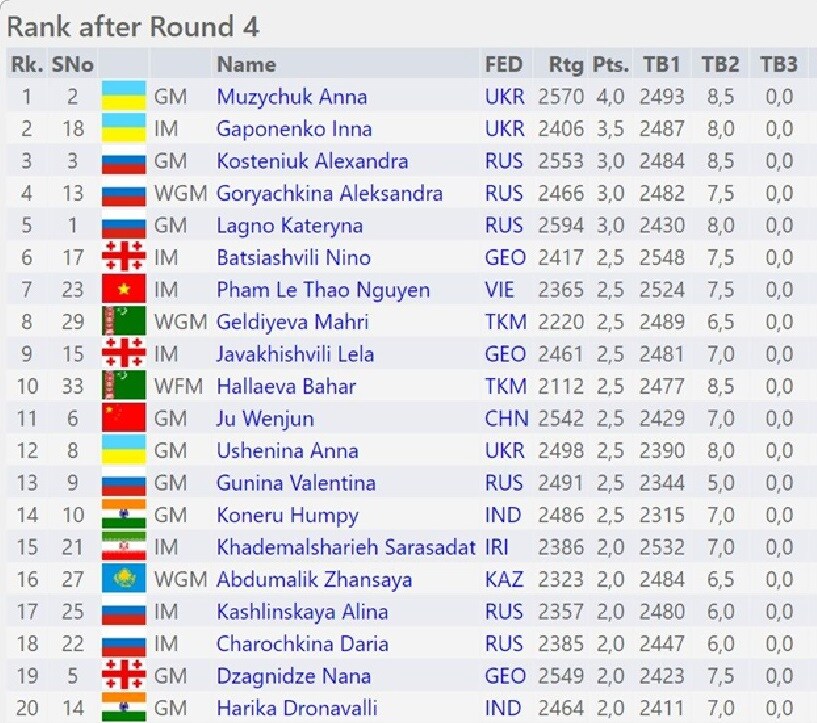 .
You can follow the games from day two live, starting at 17.30 hours IST here.
Sagar Shah, is an international Master and co-founder of ChessBase India.
Your guide to the latest cricket World Cup stories, analysis, reports, opinions, live updates and scores on https://www.firstpost.com/firstcricket/series/icc-cricket-world-cup-2019.html. Follow us on Twitter and Instagram or like our Facebook page for updates throughout the ongoing event in England and Wales.
Updated Date: Dec 27, 2016 18:44:59 IST