World No 1 Novak Djokovic says success at tennis not a priority for him anymore, feels sport a platform for other things now
Abu Dhabi might be a relaxed start to his year, but there is no doubt that Novak Djokovic is focused on the upcoming Australian Open, the first Grand Slam of the year.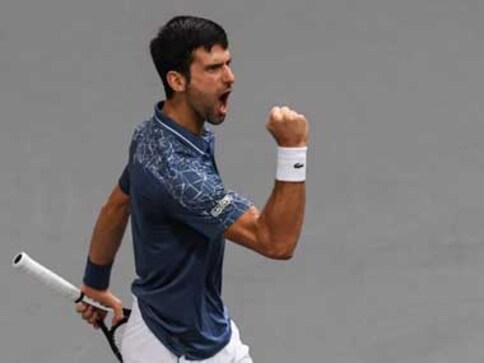 Standing and speaking to Novak Djokovic can be a bit disconcerting. The man is never still. He is constantly stretching one body part or the other, which possibly explains those rubber-like appendages that can reach out at impossible angles and retrieve the toughest of passing shots.
You cannot argue with any part of a career that has won 14 Grand Slam titles. But even then, 2018 will probably go down as his finest year. Just when it looked as if the 31-year-old Serb's star was waning following an elbow injury towards the end of 2017, he scripted one of the most remarkable comebacks in the game following his surgery and injury lay-off.
After surprisingly losing in the quarter-finals of the French Open to Italian Marco Cecchinato in May, Djokovic went on a tear. He reached the final seven times in his last eight events in the season and won four, including the Wimbledon and the US Open. Despite losing in the finals of his last two starts, he finished the year as the World No 1.
Djokovic is back in Abu Dhabi for the Mubadala World Tennis Championship, an exhibition event featuring six leading players from the ATP Tour. He had withdrawn from the tournament last year because of the elbow injury.
"It's been a very exciting 12 months. Last year here, I was still carrying the injury of the elbow that resulted in the surgery a couple of months later. Post surgery, I was ranked 22 in the world and in 4-5 months, I was the No 1. It was quite a roller-coaster ride to be honest," the Serb said.
"I am grateful that this season has taught me a lot about myself as a tennis player and as a person. I really had to dig deep to sort of turn the table in my favour. I had to understand my game in every aspect in order to get back to where I am. Hopefully, I can take the confidence that I had in the second half of the season into the first half of 2019."
As Djokovic embarked on a new season, I asked him what continued to motivate him at this stage of his career. I half expected him to say more grand slams, or chasing Roger Federer's record, but he thought about it for a few seconds, and came with a surprisingly deep reply.
"I feel I am not prioritising success on the tennis court to evaluate success as I used to do probably until about five years ago," said Djokovic, who is very involved with his own Noval Djokovic Foundation and is also a UNICEF ambassador.
"For me, tennis is more of a platform now for other things – for the values that I want to share and the messages that I want to give out to the young generation.
"At the end of the day, the tennis court for me is a place where I get challenged in every possible way – emotionally and physically. My character is kind of on the line, so I treat it as my own personal school of life.
"Not many places can trigger me, positively or negatively, like a tennis court does. I see it as a place where I can grow, regardless of where I am in the world. It demands a lot a lot of extreme focus and dedication from me and there are outbursts of emotions that I did not think I had. That's the reason why I am grateful I still play this sport."
Abu Dhabi might be a relaxed start to his year, but there is no doubt that Djokovic is focused on the upcoming Australian Open, the first Grand Slam of the year.
"It is just the start of the season and in a few weeks, we have the first Grand Slam of the year. So, there is not much time to ease your way into the season. We have to be at our best in a few weeks and that's why this Abu Dhabi tournament is important for me," explained the six-time Australian Open champion.
"Australian Open is a tournament where you want to shine and give your best. I'm really looking forward to it because that is where I have had my most success in Grand Slams.
"I know I have not had a good time in the last couple of years, but I was injured and going through physical difficulties. I'm fit this time and back to No 1 in the world and playing good tennis in the last six months. Hopefully, I will be able to transfer that in to success in Melbourne."
Tennis
The advice comes after a video posted on a pro-Russian YouTube account showed Djokovic's father Srdjan posing in Melbourne Park with a fan holding a Russian flag.
Tennis
Here's a look at why Djokovic was not at the tournament in 2022, why he is back in 2023, and whether anyone can prevent him from leaving town with the trophy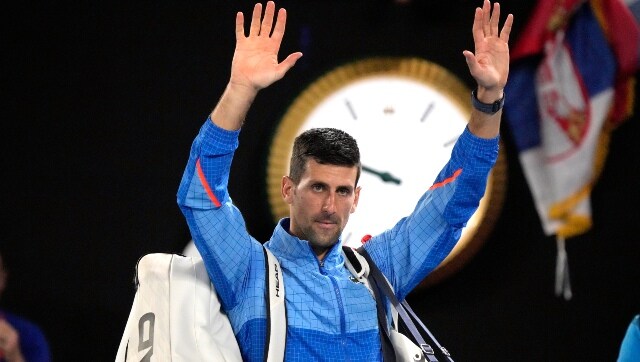 Tennis
Novak Djokovic has dropped just one set in the first four rounds, despite the pain and physical duress.