World Juniors: R Praggnanandhaa scores GM norm, but errors at crucial moments look to have cost title
Scoring an unbeaten 6.5/8 against four Grand Masters, three International Masters and one FIDE master, Praggnanandhaa amassed a rating performance of 2,749 - 149 points more than the required performance rating.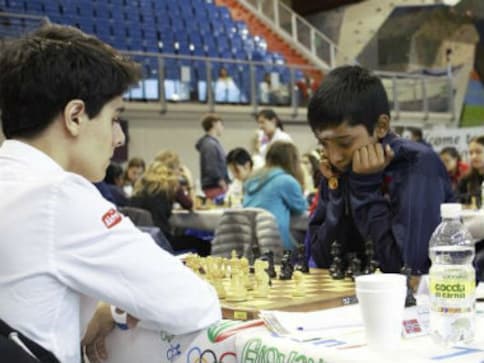 Two more rounds have passed by at the World Junior Championship in Tarvisio and the little Indian star, R Praggnanandhaa, has continued to shine bright. By the end of the eighth round, with one round to spare, the 12-year-old from Chennai was able to meet all requirements for his maiden Grand Master norm. Scoring an unbeaten 6.5/8 against four Grand Masters, three International Masters and one FIDE master, Praggnanandhaa amassed a rating performance of 2,749 – 149 points more than the required performance rating.
In the eighth round, he was pitted against Awonder Liang, a child prodigy from the US with an Elo rating 2,558. Even though his opponent was approximately 50 points higher rated than him, Praggnanandhaa had no problem getting an almost decisive edge against him. With the white pieces, Praggnanandhaa essayed the Italian Opening and had absolutely no problems in the opening. In fact, within just the first 10 moves, the 12-year-old was all over his American opponent.
Posing the threat of trapping his opponent's bishop, Praggnanandhaa was able to win a pawn by the 14th move and had established a clearly better position.
But on a critical moment, when the American was on the verge of tapping out, Praggnanandhaa missed the most forcing combination and ended up in a position where he still had the advantage, but converting it into a full point was far more difficult than before. In search of the right path to victory, Praggnanandhaa fumbled a few times but in the end was able to catch the black king in a mating net.
But Praggnanandhaa's win wasn't the only impressive win by an Indian in round eight. Two boards behind Praggnanandhaa was another Indian, a teenager who is also from Chennai, Grand Master Murali Karthikeyan, who scored a phenomenal win over compatriot, Grand Master Shardul Gagare. With the white pieces in a Spanish Opening, Karthikeyan castled on the queenside and threw all but the kitchen sink at his opponent's king to find a breakthrough. On the 18th move, after Gagare faltered with 18.Qd7, Karthikeyan pounced on the black king with an elegant rook sacrifice that ripped open the floodgates to the black monarch. Gagare tried his best to defend and even succeeded in saving his king from being checkmated. But this had cost him too many materials. Four pawns down in a queen versus two rooks endgame, Gagare was in no state to stop Karthikeyan's pawns from scoring a touchdown and decided to throw in the towel.
The ninth round gave Praggnanandhaa the best opportunity he could have hoped for at this point in the tournament – he was paired against the tournament leader, Aryan Tari. If he could pull off a win, he would take over the lead from his opponent and do his best to remain at the top; if he lost, he could forget about winning the title.
Tari had come to the board with a little surprise for Praggnanandhaa in the opening. With the black pieces, Praggnanandhaa has favoured the Archangelsk variation of the Spanish Opening quite a bit at this event. Tari, therefore, came prepared with an enterprising line that involved sacrificing the king's pawn. Sticking to his guns, Praggnanandhaa took the offered pawn and put the onus on his opponent to prove his compensation. Tari did find some compensation in black's awkwardly placed queen and some weak dark squares in black's camp. But soon, Praggnanandhaa – after a slight inaccuracy by Tari – began to consolidate his position.
Just when things were about to look bright for the Indian, he made a positional error which put him back under pressure. An additional problem for both players was the mounting time pressure. With little time left on their clock, the two went for natural-looking moves. Praggnanandhaa then gave up his extra pawn and completely equalised the position. The players signed truce on move 39.
Right beside Praggnanandhaa, on board two, was the other Chennai boy, Karthikeyan. After his win with a stunning rook sacrifice in round eight, Karthikeyan sacrificed the rook again in his game against Kirill Alekseenko in the ninth round. But this time around, it was a downright blunder.
In the game, Karthikeyan opened with a kind of hybrid between the Italian Opening and the Ruy Lopez in which he had a balanced position with the black pieces. But on his 13th move Karthikeyan fell prey to a horrible oversight and gave up an entire rook. Making the most of this blunder, his opponent, Alekseenko finished the game off within the next eight moves.
But while Karthikeyan fell prey to an oversight, Aravindh Chithambaram benefited from another. After scoring three draws in his last three games, this was a very welcome win for Chithambaram. In a Spanish Opening, Chithambaram had almost let his initiative evaporate when his opponent, Valentin Dragnev blundered and allowed Chithambaram a tactical shot that won him a piece.
In the girls' section, Praggnanandhaa's sister, R Vaishali lost to the Russian Woman International Master Polina Shuvalova. Vaishali came out of the opening with an equal position and tried generating an attack on the black king. But soon lost control of the position and by the 30th move, her attack on the kingside had fizzed out while her opponent had wrecked her queen's wing and was beginning to harvest pawns.
Another young female talent from India, Akanksha Hagawane, was also seen suffering against the Belarusian Women's International Master Olga Badelka. But the Pune girl defended tenaciously giving up her queen for a rook and a minor piece and succeeded in wriggling out with a draw.
Rank after nine rounds (Open)
Rank after 9 rounds (Women)
Aditya Pai is an editor at ChessBase India.
Sports
To become a GM, a player has to secure three GM norms and cross the live rating of 2,500 ELO points.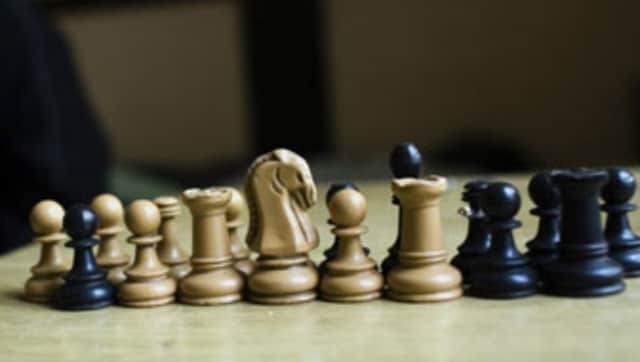 Sports
It was India's second win in the tournament and they will now take on France in the quarter-finals on Wednesday.