World Chess Championships: Magnus Carlsen defeats Fabiano Caruana in tie-breakers to retain title
Norwegian chess superstar Magnus Carlsen on Wednesday cemented his reputation as the game's greatest player after demolishing US hopeful Fabiano Caruana in a winner-take-all world championship decider.
London: Norwegian chess superstar Magnus Carlsen on Wednesday cemented his reputation as the game's greatest player after demolishing US hopeful Fabiano Caruana in a winner-take-all world championship decider.
The 27-year-old won three successive rapid-chess tiebreakers in a display of intuition and guile that overwhelmed the 26-year-old American in London.
Carlsen was gracious after his thumping win put an exclamation point on a defensively-minded series that saw the original series of 12 matches played since 9 November end in a dozen draws.
"Fabiano was the strongest opponent I've played so far in the world championships," Carlsen said after his triumph. "It was hard."
Caruana's loss will crush American fans who had hoped to see the coveted crown come home for the first time since Bobby Fischer defeated the Soviet Union's Boris Spassky in a 1972 Cold War-era thriller.
"I had a bad day," a dejected Caruana said. "I didn't even put up a fight."
Vindication
The fearless performance will go a long way to cementing Carlson's claim to be the best the "King's Game" has ever seen – a title some still bestow on Soviet-Russian legend Garry Kasparov.
Kasparov himself appeared in awe of Carlsen's performance in a rapid-chess format that has seen many grandmasters before him wilt under the mental strain.
"Carlsen's consistent level of play in rapid chess is phenomenal," Kasparov tweeted.
"We all play worse as we play faster and faster, but his ratio may be the smallest ever, perhaps only a 15 percent drop off. Huge advantage in this format."
The games marked a complete departure from the string of regular-series draws that saw both players too fearful of the others' prowess to mount any risky attacks.
Those tense tugs of war were a testament to the prodigious talent of the up-and-coming American Italian.
Caruana entered the series as the game's second-ranked player and just three points in the rankings behind Carlsen's massive 2,835.
Chess experts said Carlsen appeared to be rattled by the Miami-born yoga lover in a memorable game 10.
Carlsen was only too happy to agree to draws in the final two matches – the last one from a winning position that saw Kasparov shake his head in disbelief.
"In light of this shocking draw offer from Magnus in a superior position with more time, I reconsider my evaluation of him being the favourite in rapids," Kasparov tweeted after Monday's match.
"Tiebreaks require tremendous nerves and he seems to be losing his."
Russian chess master Vladimir Kramnik said he thought Carlsen "might be tired of tension, fighting; maybe even of chess itself to a certain degree".
'Stupid opinions'
But the Norwegian seemed set on deciding things in Wednesday's speedier round – a format that saw him beat Sergey Karjakin in the 2016 title match in New York.
"It feels good after all the criticism that I got Monday," Carlsen admitted after his victory.
"I think I made the right decision ... As for the opinions of Garry and Vlad, I mean, they are entitled to their stupid opinions."
The man once dubbed the "Mozart of chess" by The Washington Post will not have to defend his title again until 2020.
His first came when he toppled Viswanathan Anand on the former champion's home turf in India in 2013.
Carlsen defended his crown in a rematch played the subsequent year in Russia.
But he really began making a name for himself when he managed to draw Kasparov – then regarded as the best of all time – at the tender age of 13.
Carlsen actually beat Kasparov's compatriot and nemesis Anatoly Karpov at the same event.
Yet even Carlsen himself admitted only a few days ago that he felt nostalgic for a time when he played every game without fear.
"My favourite player from the past is probably myself like three-four years ago," Carlsen said.
"Frankly speaking, the last couple of years my game hasn't been great."
The title will see Carlsen's grab 55 percent of the million-euro ($1.14-million) cash prize. Caruana takes home the rest.
Subscribe to Moneycontrol Pro at ₹499 for the first year. Use code PRO499. Limited period offer. *T&C apply
Sports
The French Rugby Federation said the unnamed player tested positive following another round of tests late Wednesday, prompting their medical committee to suspend training.
First Cricket News
The coverage will capture the performance of new teams including Hungary, Romania, and Serbia, who are competing for the first time in the men's T20 World Cup qualification, and Finland playing host to an ICC event for the very first time.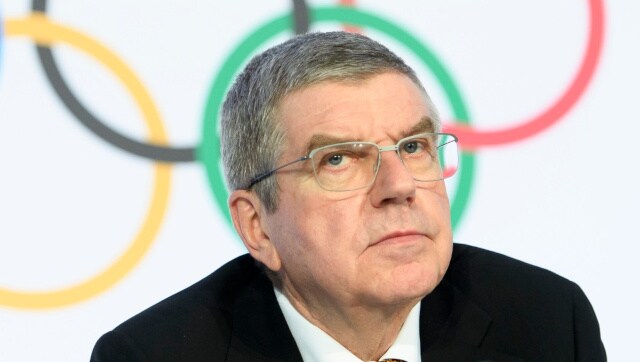 Sports
The IOC announcement does not mean Brisbane is guaranteed to get the Games, and there is said to be interest from other cities, but it is now the hot favourite.