World Chess Championship: Magnus Carlsen feels he played 'too softly' after drawing Game 7 against Fabiano Caruana
Two games ago, Magnus Carlsen had said he was looking forward to his double whites at the halfway mark of the match. Turns out, Carlsen neither struck nor was he vulnerable as Game 7, the second of his double whites games, ended in a draw.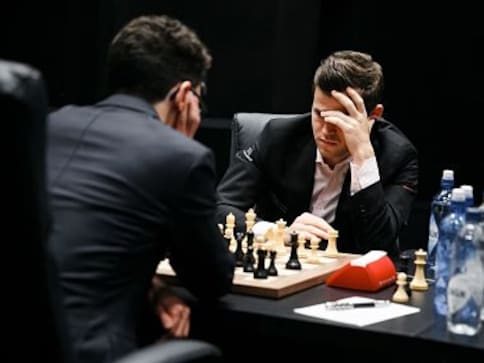 Two games ago, Magnus Carlsen had said he was looking forward to his "double whites" at the halfway mark of the match as it could have been "an opportunity to strike or when you are at your most vulnerable". Turns out, Carlsen neither struck nor was he vulnerable as Game 7, the second of his double whites games, came to a peaceful conclusion on Sunday evening.
Perhaps, in terms of vulnerability, Carlsen's statement stood true. Keeping in mind his previous game where he ended up sacrificing an entire piece in the endgame, Carlsen was indeed in danger of losing. "After the last game it kind of felt like I got away with murder," Carlsen said about Game 6.
The draw also shut down any claims of Fabiano Caruana being at a slight (or maybe even serious) disadvantage due to the videogate incident that happened before round 4, wherein a video published by the Chess Club and Scholastic Centre of St. Louis had revealed some of the world championship challenger's opening prep.
Former five-time world champion, GM Viswanathan Anand had already stated in an interview with ChessBase India that this wasn't quite as serious as it was made to sound. "There's nothing that dramatic that they gave away, except that you confirm that you're looking at the Petroff. On the other hand, this is completely useless information, if the Carlsen team — even if they felt that it's authentic — would they trust it, would the bet their life on it? They can't. I think both sides cannot take this ploy any further. So, in the end, it didn't matter, but at least it was more interesting than the game [on Tuesday]," Anand said.
Caruana, too, did not seem much bothered by the leak by the way he played. In his two black games following the leak, Caruana played the Petroff and the Queen's Gambit – two of the openings mentioned in the video – and had no problems. In fact, he even came agonizingly close to a victory in Game 6, the first of his double blacks.
In Game 7, Carlsen went back to queen pawn openings after having taken a dig at 1.e4 in the previous game. The players followed the moves from their second game in this match until the 11th turn in the 5.Bf4 Queen's Gambit. On his 10th move, Caruana chose an extremely rare variation that entailed an unusual queen retreat to get the world champion scratch his head. Caruana was also the one to steer the game into uncharted territory with an opening novelty on the very next move.
Both players took a reasonable amount of time finding their way through the nuances in the resulting position. An important moment came on the 15th move when Carlsen felt he had his chance when he thought he could have played 15.Nce4 instead of castling.
"Castling is essentially just an admission that the position is equal," the world champion said. 15.Nce4, on the other hand, did lead to some exciting positions. In the post-game analysis, Caruana showed some sharp lines that eventually would have led white into a position where he would have had the better pawn structure while black had the bishop pair.
"This is where I spent most of my time. I think I was burning quite a lot of time after 13.Bg5," Caruana said. "If white consolidates this (the position after the 15.Ne4 variation) then it could potentially get a bit unpleasant for me," he added.
Carlsen, however, said that he did not really believe in that position: "I wasn't sure about this at all. I felt that with the two bishops there could be some tricks. But maybe I should have played it because I knew very well that castling wouldn't give anything."
Over the next dozen moves or so, a mass exchange of pieces occurred. All of the rooks and three pairs of minor pieces were hacked off the board. By move 32, even the queens were traded. The bishop versus knight endgame just did not have anything in it for Carlsen to suck out and by the time the first time control was reached, the players decided to call it a day by repeating the position.
After seven drawn games, the match is just one game away from tying for the world record for the most draws to start a world championship match. Currently, the record is held by the Kasparov-Anand match played in New York, 1995, where the first eight games had concluded with a draw.
Carlsen is no stranger to such long streaks of draws in world championship matches. The previous world championship had also seen the world champion draw his first seven games before dramatically losing to his challenger, GM Sergey Karjakin, in Game 8. Carlsen had managed to come back by winning Game 9 back in 2016. But if a decisive game is played this late in the match, it is sure to give the winner a very important edge.
Replay Game 7
Aditya Pai is an editor at ChessBase India
Sports
World champion Magnus Carlsen is on top of the standings with 25 points, one ahead of Erigiasi, while Quang Liem Le (China) is third on 20 points.
Sports
While World Champion Magnus Carlsen finished with 34 points, way ahead of the second-placed Arjun Erigaisi, who had 25 points, American Hans Niemann took the third spot with 24 points in the preliminary phase of Julius Baer Cup.
Sports
Magnus Carlsen resigned from his game against Hans Niemann at the Julius Baer Generation Cup after just two moves.