World Chess Championship: Magnus Carlsen, Fabiano Caruana draw Game 4 marred by leaking of American's possible strategy
The content of the video mostly reveals some of Caruana's preparation with black. If authentic, this could require team Caruana to revamp its preparation with black.
In his last few games with white, Fabiano Caruana had been seen diligently avoiding the open variation of the Sicilian Defence by repeatedly opting for the Rossolimo system. Game 4, however, was different, in terms of Caruana's opening, at least. Regardless, the game ended peacefully after just 34 moves.
On Tuesday afternoon, Caruana did not have the white pieces. Magnus Carlsen, who had struggled in his previous game with white, had decided to avoid any mishaps by sidestepping the whole King's Pawn setup altogether. He chose to begin the game with an English opening. Caruana responded by placing his king's pawn two steps forward, mirroring an Open Sicilian setup (with reversed colours), eventually.
This was no groundbreaking addition to the theory of the English or the Sicilian, though. All of the first ten moves had been seen before in a blitz game between Wesley So and Fabiano Caruana himself. Carlsen was the first to deviate, not only from the So-Caruana game but from known theory altogether with his 11.b4. This provocative queenside expansion marked a crude beginning to the minority attack that subsequently followed. Caruana, though, hardly looked unsettled. In an instant, he retreated the bishop to d6 and had a comfortable game.
Carlsen's 15.Re1 aroused the most speculation. In the world champion's own words, "When I am allowing [15…]Bd7, basically, it's half of a draw offer. After that, the position is very dry and very equal."
GM Daniel King, the official commentator to the match, also pointed out this exact moment and said, "This [15.Re1] is not the most active move in the position. Really, the strategically logical move in this position is to keep going with the minority attack on the queenside."
With further analysis, though, GM King came to the conclusion that even though black would have a pawn weakness on the queenside in this line of play, the mass exchange of pieces would help black hold without much difficulty.
Caruana immediately stymied white's queenside attack with 15.Bd7 and gave white a weakness in his b4 pawn. In doing so, Caruana was himself crippled with a pawn weakness on c6 and also had a crooked pawn on the kingside. The material scarcity over the board worked to the American's advantage, however. Also, Carlsen was unable to do anything concrete without relieving the protection on the b4 pawn. After his 34th move, Carlsen offered to sign peace and Caruana promptly accepted.
Although the game itself was a relatively dull affair, Tuesday morning spiced up the championship with a controversy. The Chess Club and Scholastic Centre of St. Louis had uploaded a behind-the-scenes clip of Caruana's training camps to its YouTube Channel which accidentally revealed some of Caruana's opening preparation. The footage, at one point, showed an open laptop with a ChessBase database that included a list of openings. In fact, Caruana even played one of the lines mentioned in the database in the second game of the match with the small difference that instead of the 10…Re8 line mentioned in the database, Caruana had played 10…Rd8 in the game.
Twitter embed of snaps from the video:

This morning a 2-minute clip from one of Caruana's training camps was uploaded on YouTube (now deleted). It featured various activities, chess included. Viewers could also see a laptop screen with a ChessBase file laid open. The greatest intel blunder in chess history or a hoax? pic.twitter.com/nwHL75M2cC

— Olimpiu G. Urcan (@olimpiuurcan) 13. November 2018
The video was promptly taken down but its content did provoke speculations about this being a hoax to spread false information. One of Carlsen's countrymen, GM Jon Ludwig-Hammer seemed convinced that this was indeed a human error and the information revealed was relevant. "This was so much detail and in-depth information on an opening he has already used in the world championship match. It is obvious that this is relevant," he said.
Caruana, on the other hand, was visibly displeased by this. When asked about it at the post-game press conference, he politely declined to comment.
As for the world champion himself, he provoked a big laugh from the audience when he said, "I'll have a look at the video and then I will make up my mind."
The content of the video mostly reveals some [or all?] of Caruana's preparation with black. If authentic, this could require team Caruana to revamp its preparation with black. Or perhaps, it could be that this isn't as serious as it sounds. Nevertheless, it will be interesting to see if Caruana does come up with a Petroff, a Queen's Gambit or a Gruenfeld in his next game with the black pieces.
For now, the challenger has to concentrate on his preparation with white as he will have the white pieces in Game 5. Wednesday, though, will be a rest day in London. Action will resume at 8:30 PM IST on Thursday.
Replay Game 4
Aditya Pai is an editor at ChessBase India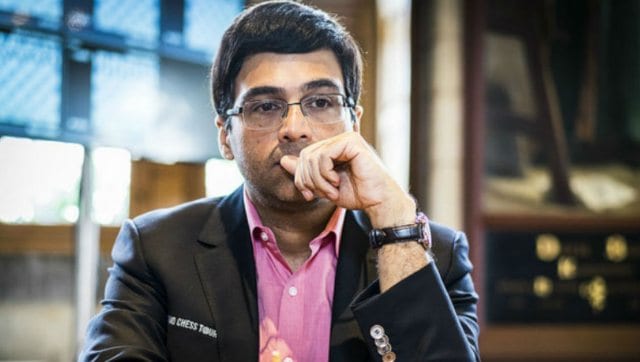 Sports
"I had help from the people analysing the game, computers... In hindsight, it was quite silly," tweeted Zerodha co-founder Nikhil Kamath after "beating" Viswanathan Anand in a charity chess match on Sunday
Sports
Nikhil Kamath had taken the 'help' of chess analysts and computers to get the better of Anand, a five-time World Champion, during the event.