World Boxing Championship: Sonia Lather assured of medal, lone Indian to make semis
Former Asian silver-medallist Sonia Lather was the lone Indian boxer to make the semis and assure a medal at the AIBA Women's World Championships.
Astana:  Former Asian silver-medallist Sonia Lather (57kg) was the lone Indian boxer to make the semifinals and assure herself of a medal at the AIBA Women's World Championships even as four others lost their quarterfinal bouts in Astana on Tuesday.
Sonia got the better of Poland's Aneta Rygielska 3-0 to save India of a complete washout at an event where not one from the country could qualify for Rio in the three Olympic categories of 51kg, 60kg and 75kg.
The ones to bow out of contention in the non-Olympic categories were previous edition's silver-medallist Sarjubala Devi (48kg), former junior champion Nikhat Zareen (54kg), Saweety (81kg) and Seema Poonia (+81kg).
Sonia got the mix of caution and aggression just right and quite literally wore down her rival. Displaying some fine footwork, Sonia managed to strike a few telling jabs in the opening two rounds to unsettle Aneta.
In the final two rounds, the Polish boxer struggled to continue the bout and was brought to her knees by Sonia in the final few seconds of the bout.
Sonia will now face Italian Alessia Mesiano, who scored a 2:0 triumph over Russian Viktoriia Kuleshova in her quarterfinal bout.
Earlier, in a disappointing start to the proceedings, second seed Sarjubala lost to local favourite Nazym Kyzaibay.
The diminutive Manipuri, who is also a former junior world champion, struggled against her taller opponent, who also had a better reach.
The strategy to attack relentlessly, which is usually Sarjubala's biggest strength, did not work on Tuesday as Kyzaibay caught her on the counter-offence.
The Kazakh displayed sharper reflexes and scored on counter-jabs to outwit Sarjubala.
Zareen also could not adjust to the counter-attacking gameplan of her Chinese rival Piaopiao Liu as she went down 0-3 in her quarterfinal contest.
Zareen, who is also a junior world champion, connected accurately every time she launched an attack but could not defend as well against Liu, who controlled the bout with her flawless ring craft.
Previous edition's silver-medallist Saweety was also no match for Turkey's Elif Guneri and was beaten 0-3, while Seema too fell tamely to local hope Lazzat Kungeibayeva to an identical 0-3 scoreline.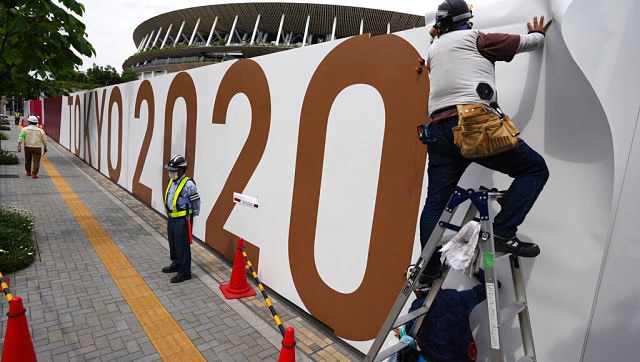 Sports
"We'd like to consult today (with medical experts) about placing 10 prefectures... under quasi-emergency measures," Yasutoshi Nishimura said at the start of a meeting with the advisers.
Sports
With just over a month until the 23 July opening ceremony, organisers are in the home stretch and scrambling to finalise virus rules and get participants vaccinated in time.
Sports
2016 Rio de Janeiro Olympics refugee team had 10 athletes.