World Badminton Championships 2018: Saina Nehwal's mental strength gives her hopes of another medal
28-year-old Saina Nehwal is now in the eventide of what has been an outstanding career that has seen her win two medals — a silver and a bronze — in the last two editions of the World Championships.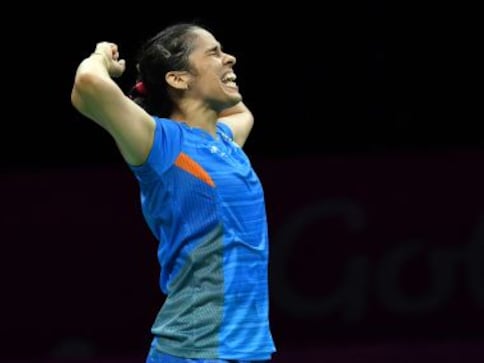 If marks were to be given for sheer hard work, perseverance, mental strength and the ability to extract the most out of a store of limited talent, then India's reigning national champion, Saina Nehwal, would be top of the class. If there were to be recognition of the one player who has been responsible for rejuvenating interest in Indian badminton, it would have to be Saina.
The 28-year-old Saina is now in the eventide of what has been an outstanding career that has seen her win two medals — a silver and a bronze — in the last two editions of the World Championships. In the 2015 event, she had bowed out in the final to Spain's Carolina Marin, while at Glasgow last year, she was eliminated in the semi-finals by eventual champion, Nozomi Okuhara of Japan, after a 73-minute battle of wits, wills and staying power.
Saina's battles with a career-threatening knee injury, sustained during the 2016 Rio Olympics, have been far too well-documented to bear repetition here. Suffice it to say that, through sheer will-power and fierce determination to return to the courts and excel at the game as before, she has made as amazing a recovery as her long-time coach, Pullela Gopichand, had done from an even worse knee injury during his playing days.
Now, as India's shuttle queen — who has repeatedly shown that she still holds the edge over her younger compatriot, PV Sindhu — takes guard for what could possibly be her final innings at a World Championship, it is worth examining in clinical detail her chances of coming away with a third career medal from the Worlds.
Seeded No 10 in a star-studded field that has every one of the world's top 16 female players participating, Saina will have to get past two former world champions if she is to even reach the semi-finals. The Indian opens her campaign in Nanjing with a bye, and then has to take on the winner of a first-round match between Swiss veteran Sabrina Jaquet and Turkey's Aliye Demirbag, currently occupying the 71st slot in the BWF rankings.
Not surprisingly, the Indian has never played against the 20-year-old Turk, but owns a 2-0 winning record against the 31-year-old Jaquet, who is just inside the top-50 in the world rankings. Interestingly, the two had clashed for the second time in their respective careers at the 2017 World Championships, and Saina had run out a facile 21-11, 21-12 winner.
The third round, though, throws up a potential clash with a former world champion. Thailand's 23-year-old Ratchanok Intanon, widely considered a child prodigy when she won the 2013 World Championships as an 18-year-old, shortly after bagging the world junior crown, is on the comeback trail after the interim years were mostly ruined by a spate of injuries and the arduous task of trying to live up to the monumental expectations of the Thai fans.
Earlier this month, Intanon skipped her home tournament, the Thailand Open, to give herself additional time to recover from a sore lower back; and there remains a question mark over the No 4 seed's fitness.
When fully fit, though, she is a joy to watch, with her varied and deceptive arsenal of strokes and her smooth, graceful movement on the court. World No 1, Tai Tzu Ying of Chinese Taipei, has gone on record to say that Intanon is the player she fears the most, since they both think along identical lines on the court and play a similar genre of game.
For Saina, however, the prospect of playing Intanon holds few terrors, as her record of nine wins in 14 previous meetings shows. The Indian has ended as the victor in their three most recent duels, and looks set to take the count of their rivalry to an even healthier 10-5.
Should Saina end up sidelining her Thai rival, she would come up in the quarter-finals against the winner of a projected third-round clash between two left-handers, seventh seeded Carolina Marin of Spain and 15th ranked Sayaka Sato of Japan. The feisty 25-year-old Spaniard, a two-time world champion in 2014 and 2015, and gold medallist at the 2016 Rio Olympics, is not quite the mercurial, swift-moving player she was during those three years, and her results of late have been distinctly patchy.
Saina leads their rivalry by a slim 5-4 margin, inclusive of a 22-20, 21-18 triumph in their last meeting at the Denmark Open in October 2017. The Indian will be hell-bent on erasing the unhappy memories of her 16-21, 19-21 defeat at Marin's hands in the final of the 2015 World Championships that had relegated her to the silver.
If the Indian lowers the colours of Intanon and Marin, who have three World Championship titles between them, she will come up in the penultimate reckoning against the player who is widely expected to take home the gold this time. Taiwanese Tai has continued her raging hot form of 2017 into the ongoing year, and has been beaten just once (at the hands of Intanon, at 22-24 in the third game of the Malaysia Masters in January 2018) in the six tournaments she has taken part in, this year.
There is small chance that Saina can unravel the Tai puzzle, for she trails the Taiwanese ace 5-11 in career meetings, and has lost their last nine encounters, dating back to November 2014. Each of their last five duels have ended in straight-games triumphs for Tai, though Saina did stretch the World No 1 to a heart-stopping score of 27-25, 21-19 in their most recent meeting at the Badminton Asia Championships, three months ago.
Should a Tai-Saina encounter take place in Nanjing, the statistics are stacked heavily against the older woman. But even an entry into the semi-finals will ensure for the gritty Indian a bronze to add to the silver she had taken home from Jakarta in 2015.
also read
Badminton
Kiran, a product of the Prakash Padukone academy, notched up a 21-18 22-20 win over third seed Shi Yuqi, who is a 2018 world championships silver medallist.
Badminton
The Satwik-Chirag pair, which claimed the Commonwealth Games gold medal and French Open Super 750 crown last year and won the Swiss Open Super 300 title this season, now has 74,651 points from 12 tournaments.
Badminton
On a comeback trail, former world number 11 Sameer, who won the Slovenia Open recently, beat Malaysia's Yeoh Seng Zoe 21-12, 21-17 after getting two walkovers