World Badminton Championships 2018: HS Prannoy's draw provides him with good chance of bagging a medal in Nanjing
HS Prannoy has been given the kind of draw that provides him with a sporting chance of reaching the semi-finals and assuring himself of at least a bronze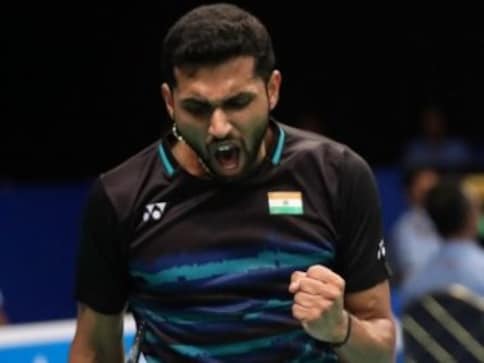 Quietly, unobtrusively and unostentatiously, Haseena Sunilkumar Prannoy has worked his way into the top ten of the Badminton World Federation (BWF) rankings since November 2017, and appears there to stay, barring the occasional slip of a few rungs, as a result of an injury layoff.
The 26-year-old Delhi-born, Thiruvananthapuram domiciled shuttler, with one of the most attractive backhands in world badminton, had dropped to the 16th rank in mid-March this year, after having been forced to skip a slew of tournaments in the opening quarter of 2018, thanks to an injured foot. Prannoy was unfortunate to have had the treatment of a persistent corn poorly handled by a medical practitioner; it was only after he switched doctors that the calloused area responded to treatment.
Before that, he had provided an impressive exhibition of his calibre by remaining unbeaten in seven outings in the Premier Badminton League during the first fortnight of January 2018, with victories over redoubtable opponents like reigning world champion Viktor Axelsen and former World No 1, Lee Chong Wei.
These consistent displays had come shortly after he had captured the National men's singles title at Nagpur in November 2017, with a victory in the final over his friend and sparring-partner, Kidambi Srikanth.
Prannoy has been a relatively late bloomer, though, as an 18-year-old, he had shown his potential by pocketing the silver medal in the boys' singles at the 2010 Summer Youth Olympics. Thereafter, he struggled with injuries and a loss of form until he surprised one and all by reaching the final of the 2014 Vietnam Open Grand Prix, where he was beaten by the No 1 seed and tournament favourite, Dionysius Hayom Rumbaka of Indonesia.
In the very next tournament, the Indonesia Open Grand Prix Gold, Prannoy went one better, this time beating local favourite, Firman Abdul Kholik of Indonesia in straight games. Prannoy managed to end the year as the third highest ranked Indian, at No 21. In subsequent years, he made his mark in international badminton by winning gold medals at the 2016 Swiss Open and 2017 US Open.
Prannoy, who celebrated his 26th birthday ten days ago on 17th July, missed last year's World Championships in Glasgow through injury, at a time when he was ranked 15th in the world, and would undoubtedly have been seeded in the event. He goes into this year's Worlds at Nanjing as the 11th seed, and has been blessed with the kind of draw that could well see him make a serious bid for a medal.
First up for him is a fellow 26-year-old, New Zealand's 111th ranked Abhinav Manota, who is of ethnic Indian origin, and has been distinctly fortunate to get into the men's singles draw. The two have never clashed before, but it would cause eyebrows to be raised sky-high if the Kiwi were to spring a surprise.
The second round encounter is fraught with substantially more interest, for it involves the combative Wong Wing Ki Vincent, provided the Hong Kong No 2 eliminates his first round opponent, Brazil's 21-year-old Ygor Coelho, ranked 36th in the world.
Like Prannoy and Manota, the two have never clashed earlier, but it is worth pointing out that, in the course of last year's World Championships in Glasgow, Coelho had taken China's Shi Yuqi to three games in the second round. Shi had then been beaten in three games by Wong, who himself capitulated to the legendary Lin Dan, who was only beaten in the final by Viktor Axelsen.
Prannoy has met Vincent Wong on five earlier occasions, and leads their series 4-1, with wins on the most recent two occasions that they have duelled. But these statistics could be misleading, for they are nearly three years old; the two have not played against each other since the Japan Open in September 2015.
Should the Indian progress beyond the second round, he bumps into Chinese Taipei's Chou Tien Chen in the pre-quarter-finals. Prannoy owns a losing 1-3 record against Chou, but the significant statistic here is that, after three consecutive initial losses, the Indian turned the tables on his adversary at this year's All England Championships in March, and beat him in three well-contested games at 9-21, 21-18, 21-18.
All these players are in third-seeded Shi Yuqi's quarter of the draw, which includes the dangerous No 9 seed and last year's runner-up, Lin Dan, India's Sameer Verma and Englishman Rajiv Ouseph. Prannoy trails Shi 1-4, having lost to the 22-year-old Chinese ace on the most recent three occasions that they have clashed over the past year and a half, and every time in straight games.
Whoever comes unscathed through this minefield in the top half of the draw is scheduled to clash with defending champion Axelsen of Denmark or eighth-seeded two-time former world champion and 2016 Olympic gold medallist, Chen Long, in the semi-finals. The other half has been thrown wide open by the late withdrawal of Malaysia's No 2 seed, Lee Chong Wei, who has reported a respiratory disorder.
In recent tournaments, Prannoy boasts a reasonably encouraging record. After failing to distinguish himself as captain of India's Thomas Cup squad in Bangkok, the Kerala stalwart played two of the four tournaments on the South East Asian circuit, skipping the Malaysian Open at the start, and the Singapore Open at the fag end of the demanding, month-long cluster of tournaments.
Seeded eighth at the cash-rich $1.2 million Indonesia Open, he first eliminated the great Lin Dan, at 21-15, 9-21, 21-14, improving his career record to 2-1 against the Chinese legend. He then outlasted the speedy, aggressive Taiwanese, Wang Tzu Wei, at 21-23, 21-15, 21-13. Wang had made a comprehensive meal of Prannoy's compatriot and Gopichand Academy batch-mate, Sai Praneeth, in his opening round.
Prannoy was, however, not quite at his best against Shi Yuqi in the quarter-finals in Jakarta, and lost at 17-21, 18-21, but not before putting the rampant Chinese player on his mettle.
Less than a week later, he was seeded fourth at the Thailand Open, but appeared to have lost a bit of steam as he struggled to knock out Spaniard Pablo Abian at 21-16, 21-19 in the first round, before unexpectedly going down to resurgent Indonesian veteran Sony Dwi Kuncoro, who had to come through the qualifying rounds, by a 21-18, 21-14 scoreline.
The wily Kuncoro, who was a World Championship runner-up to Lin Dan in 2007, went all the way to the semi-final, where he lost to eventual winner, Kanta Tsuneyama of Japan, by a heart-stopping 23-21 score in the decider of their long-drawn encounter. Thus, the loss to Kuncoro can hardly be considered a really poor result, and can certainly be reversed.
It is thus entirely up to Prannoy, who has been given the kind of draw that provides him with a sporting chance of reaching the semi-finals and assuring himself of at least a bronze. The sole requirement is a quarter-final triumph over Shi Yuqi, a player who has troubled him no end in the recent past.
Sports
While Nithya Sre and Sanjana claimed the women's singles gold in SH6 and SL3 classification, Palak and Sanjana combined to win the yellow metal in women's doubles (SL3-SU5) and Nehal Gupta and Abhijeet Sakhuja secured the top position in men's doubles (SL3-SL4)
Sports
The 27-year-old Momota had pulled out of his group A opening match against India's Lakshya Sen at the World Tour Finals in Bali, Indonesia after sustaining the back injury during training
Sports
The All-Indonesian Badminton Federation (PBSI) said on Wednesday that the decision was prompted by the spike in cases due to spread of Omicron variant in European nations