World Badminton Championships 2017: Son Wan Ho's strength against Lin Dan lies in his hard work, not his flair
Son's style of play is basically defensive; and he relies on his steadiness and stamina to wear down an opponent. He has never been known to decimate an opponent with speed and power.
There is a close parallel to the World No 1 ranking achieved by South Korea's Son Wan Ho on the Badminton World Federation (BWF) ladder and Denmark's Caroline Wozniacki on the Women's Tennis Association (WTA) charts.
While the 27-year-old Wozniacki climbed to the summit in 2010 when she was barely 20 years of age, and was the year-end number one ranked player in 2010 and 2011, Son hit the top on 25 May this year, for the first time in his decade-long sojourn as a badminton professional, and has been numero uno in the three months since.
The striking similarity between these two players' top ranking is the fact that they ascended the peak without winning a single Grand Slam major, World Championship or Olympic medal. Indeed, 2017 marks the first occasion in the 29-year-old Korean's career that he has made the semi-final stage of a World Championship, thereby assuring himself of at least a bronze medal, if not one of higher worth.
What has been so remarkable about Son that he has captured the World No 1 ranking, held it down for at least three months, and has won the distinction of being top-seeded at the 2017 World Championships?
The Gyeongsangnam-do native is stocky, at best, clearing the scales at 5 feet 8 inches (1.73 metres), and does not possess either exceptional power or speed of foot. He is as quick on his feet and hits as hard as any average international player among the top 30 in the world. Son's style of play is basically defensive; and he relies on his steadiness and stamina to wear down an opponent. He has never been known to decimate an opponent with speed and power.
Let us take a closer look at Son's performances in the nine tournaments he participated in, before the ongoing World Championships in Glasgow:
– Australia Open Super Series, 20-25 June: Lost in the round of 16 to India's Kidambi Srikanth 21-15, 13-21, 13-21.
– Indonesia Open Super Series Premier, 12-18 June: Lost in semi-final to Srikanth 15-21, 21-14, 22-24.
– Sudirman Cup Mixed Team Championships, 21-28 May: Beat Chinese Taipei's Chou Tien Chen twice, in preliminary (21-18, 21-17) and elimination (13-21, 21-18, 23-21) rounds.
– Badminton Asia Championships, 25-30 April: Lost in quarter-final to China's Shi Yuqi 16-21, 15-21.
– Singapore Open Super Series, 11-16 April: Lost in round of 16 to Indonesia's Jonatan Christie 15-21, 18-21.
– Malaysia Open Super Series Premier, 4-9 April: Lost in semi-finals to China's Lin Dan 25-27, 21-19, 16-21.
– India Open, 28 March-2 April: Lost in round of 32 to India's Sameer Verma 17-21, 10-21.
– All England Open Super Series Premier, 7-12 March: Lost in round of 32 to Indonesia's Sony Dwi Kuncoro 1-4 (retired).
– Badminton Asia Mixed Team Championships, 14-19 February: Lost to India's HS Prannoy 22-24, 9-21 in the preliminary round-robin league.
So where are the titles? The statistics show one unbeaten stint in a mixed team tournament, a preliminary round loss in another mixed team competition, two semi-final losses, one quarter-final loss, and two losses each in the rounds of 16 and 32, including one as a result of an early retirement through injury. Not a particularly exciting curriculum vitae.
It must also be noted by the Indian badminton supporter that Son has notched up four losses just this year to as many as three Indians – twice to Srikanth, and once each at the hands of Prannoy and Sameer, the last by the most unflattering of scorelines (17-21, 10-21). He, however, remains unbeaten in four matches against Ajay Jayaram, and two clashes against B Sai Praneeth.
Ergo, the inescapable conclusion is that the Korean is basically a sound, steady utility player who is hard-working enough to play a vast number of tournaments in a season, and thus pile up the points he earns from his sheer participation, rather than from some outstanding results or title wins. One stops short of calling him a 'journeyman', for he does progress to the closing rounds of several tournaments, and is not often stopped in the opening rounds.
In the light of this analysis of Son's badminton talent and abilities, one cannot help but feel that Srikanth on Friday let go of a fabulous opportunity of entering the medal round. The Indian was unaccountably nervous and slower on his feet than usual, and kept his speedy, aggressive A game under wraps for most of the match, to give the audience at the Emirates Arena the feeling that he would capitulate without a whimper.
The 48-minute long match, during which the top seed unexpectedly did most of the attacking, only came to life in the final 10 minutes when Srikanth, trailing by a game at 14-21, and by a massive 5-16 margin in the second, finally threw caution to the winds, and showed just what he was capable of.
Attacking the shuttle early, especially at the net, raining down smashes on both flanks, and forcing the hapless Korean scurrying on the defensive, the Ravulapalem (Andhra Pradesh) native won 13 of the next 16 points, to narrow the margin to a single point, at 18-19. Having comprehensively wrested the initiative, and just when it seemed that the tie was headed for a decider, Srikanth fluffed two easy dribbles at the net, to leave the relieved Korean baying at the rafters in sheer ecstasy.
On the basis of his performances in the four rounds thus far – which included a tough three-gamer against Thailand's temperamental and erratic southpaw, Tanongsak Saensomboonsuk in the pre-quarter-final – Son will find it extremely difficult to face the challenge of the seventh-seeded Chinese legend and five-time former world champion, Lin Dan, in the semi-final on Saturday.
Badminton fans would find it worthwhile watching the two antagonists when they take the court in the opening match of Saturday's evening session, at 9.30 pm IST. The chances are that 'Super Dan' will put the somewhat unworthy current world No 1 in his place!
First Cricket News
The 30-year-old, who has been captaining Middlesex this season, couldn't play their Championship Group Two game on Sunday after being forced into isolation following a positive test result.
Sports
Sindhu is one of the favourites for the gold, especially in the absence of defending champion Carolina Marin, who missed the Games due to an injury.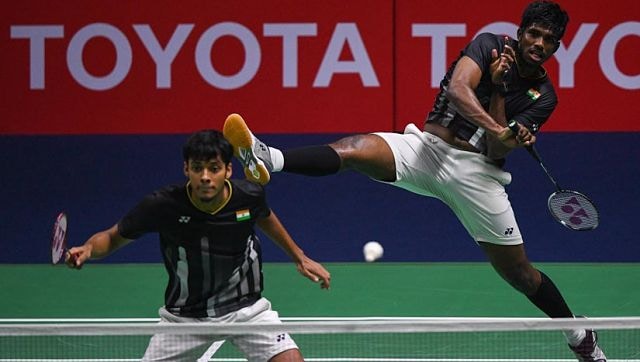 Sports
"In April, when the situation was pretty bad in India, seeing so many people die because of COVID was tough. In my family, I lost my maternal grandfather, it was a difficult time," he said.