Glasgow is about to host the 2017 World Badminton Championships – one of badminton's premier tournaments – in a few days and expectations will be sky high on India's largest contingent. The Indian singles shuttlers are expected to receive a rousing reception, though the doubles contingent might not garner a similar response. However, the men's doubles pair of Satwiksairaj Rankireddy and Chirag Shetty are eager to make their presence felt after establishing themselves as one of the prospects to watch out for following a series of successful tournaments in the junior circuit.
For a doubles pair who was ranked outside the top 200 in mid-2016, making it to the World Championships was just unthinkable.
"A year back, we wouldn't have imagined that we would play at the World Championships. At this time in August 2016, we were ranked around 300 or something. But being ranked as high as 35 now, it is certainly a big boost for us. By the end of the year, we would want to break into the top-30," Shetty told Firstpost.
The duo have upped their game since November last year, winning back-to-back titles in Bangladesh, India and Mauritius, while their biggest win came in 2017, when they clinched the Vietnam Open international challenge. Not to forget, they played a crucial role in India's Sudirman Cup campaign earlier this year, where the team managed to reach the quarter-finals.
They announced themselves following their win on home soil in the 2016 Tata Open India International Challenge and since then they have been taking baby steps to get into the reckoning. "December 2016 and January 2017 was a very good period for me and Chirag (Shetty). In India, we won two tournaments and one in Bangladesh. We got a lot of confidence from our performances," said Rankireddy.
Despite their good run, which saw them toppling former Olympic and world champion Markis Kido and his partner Hendra Gunawan en route to the title in Vietnam, Rankireddy and Shetty struggled to maintain their form in the tournaments thereafter. But the latter feels that the missing element is consistency and it will come with experience at major events.
"I think me and Satwik (Rankireddy) have a game at par with the international level. The only thing we lack is consistency. We have played good matches against the top shuttlers but we lack the mastery of playing well in crucial moments. I believe that will come with experience. We have to play more tournaments to get there," said Shetty.
"It's just a matter of time. The more we play tournaments, the more we learn. The attack we have is one of the best in the world. The only important thing is now to defend and convert it into an attack," added the 20-year-old.
While Shetty expressed his desire to be consistent, his partner Rankireddy says there won't be much pressure in Glasgow. "We don't have any pressure since it's our first big tournament, we are young, full of confidence and raring to go," said 17-year-old Rankireddy.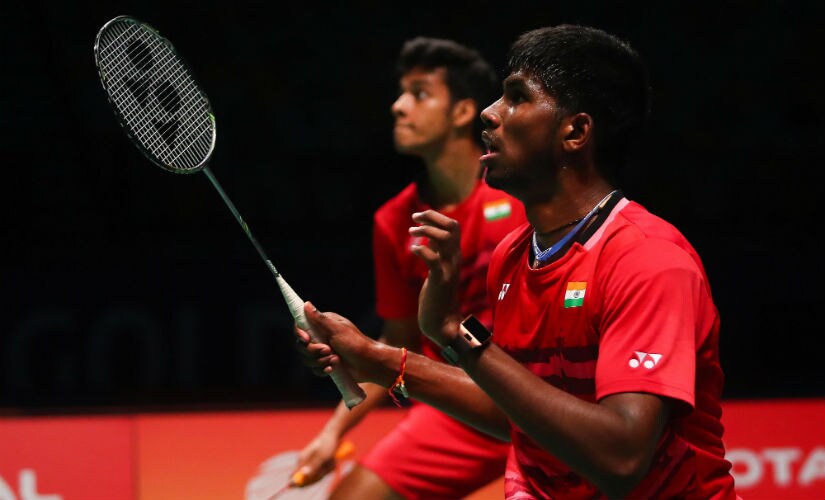 Tan Kim Her's best bet

Just a few weeks ago, Rankireddy and Shetty became India's number one men's doubles pair in the BWF rankings, surpassing veteran shuttlers Manu Attri and B Sumeeth Reddy. As young shuttlers, it would be ideal for them to concentrate more on the game and better their results rather than prioritising their rankings for sponsorship deals. So Rankireddy and Shetty have decided to strike a balance between their on-court and off-court endeavours.
But do the rankings matter to them, and if they do, how much importance do the two young shuttlers put on them?
"It's like a rat race," Shetty laughs before adding,"At the start it does, but now what matters most is performing. Our main competition is to break into the world top 10 and not amongst the Indians. If we don't think much about the rankings, it'll be better. On the other hand, rankings are good. For financial aspects they are important."
Rankireddy noted, "They (rankings) are important when it comes to recognition as it attracts sponsors."
The conversation with the two promising youngsters at this moment invariably veers towards the force behind their success and the name of Tan Kim Her readily pops up.
With one of the toughest jobs to do, Tan, India's mixed doubles coach, has been highly regarded as the man behind the duo's surge in development.
"Tan (Kim Her) sir's contribution has been immense. He is the one who decides the pairing. Initially we used to play with two different partners. He was the one who paired me and Satwik after looking at our qualities. And now, being ranked as high as 35 is all because of him. Without Tan sir, it wouldn't have been possible," said Shetty.
Rankireddy too praised the changes in him following Tan's arrival in 2016. "He took a big role in our game. He helped us develop a number of strokes and also tweak our smashes," he said.
Tan is highly spoken of by other doubles players too and it is for everyone to take notice of the drastic improvements in the doubles section with the kind of training methods he has employed. The preparations are in full swing under Tan's stewardship as all shuttlers have undergone rigorous training, especially for the World Championships.
Intense training
When asked about the training regime and preparations, Shetty and Rankireddy revealed how hard they were working under Tan's instructions. "On Mondays and Tuesdays, we have three sessions in a day. Then we have two sessions in the morning, (from) 6.30 am to 8.30 am and then from 10 am to 12 noon. In the evening, we work out in the gym or train. On Wednesday, we have a single session and evening off. Thursday and Friday, we follow the same pattern and then on Saturday, we get back to single session. But for the World Championships, we are also practising on Sundays. No break at all."
Meanwhile, Rankireddy said that he was looking to become more accurate on the back court. "Doubles is a game of service and receiving and we are trying to master that now. We are now practising a lot on our stroke play to avoid mistakes in crucial points of the match. We have to play at least 25 rallies for example. That's how we are preparing," said Rankireddy.
Since pairing up in 2016, Rankireddy and Shetty, who are essentially back court players, have managed to forge a formidable partnership. However, it was bit of a headache for Tan to assign a specific role to the duo, but after watching their style of play closely, the Malaysian coach decided to have Shetty at the net and Rankireddy guarding the back court.
"They are moving quite fast and improving a lot but they need time to reach the higher level. Both have a good and solid attack which is their strong point, they also have the tendency to move fast on court. The only thing they need to work on is defence and also self-belief. They are there but they need to have confidence against top-shuttlers," said Tan.
"Both of us are tall. I used to be a back court player and so did Satwik. Now I play on the forecourt and Tan told me that Satwik (would play at the back) because he is much more explosive at the back. Generally, I create openings and Satwik banks on his hard smashes. So it's balanced mostly," explained Shetty.
This balanced combination will be pivotal for the young duo at the World Championships where Hiroyuki Endo and Yuta Watanabe of Japan await them in the first round. "We've got a bit difficult draw as we are playing a Japanese pair in the first round but we have no other option but to do well. They have played in a number of Superseries tournaments, but we are now an established pair, so we must try to win big games," reasons Rankireddy.
A win over the Japanese pair would mean a lot to the promising duo, but the path ahead won't be easy as they could possibly face the Olympic champion pair of Zhang Nan and Liu Cheng in the next round. But again, no one would be expecting them to pose a challenge to the experienced opponents, but this can, in turn, prove helpful for them to steal the singles players' thunder and cause upsets in Glasgow at such a young age.
Updated Date: Aug 16, 2017 23:27 PM