World Badminton Championships 2017: Saina Nehwal, Kidambi Srikanth cruise; B Sai Praneeth fights back
Kidambi Srikanth, B Sai Praneeth and Ajay Jayaram led the Indian singles challenge into the third round of the World Badminton Championships.
Five singles players, two in women and three in men, besides a mixed doubles pair, is what India still has left in the World Badminton Championships in Glasgow.
Kidambi Srikanth, B Sai Praneeth and Ajay Jayaram led the Indian singles challenge into the third round of the World Championships, which on Wednesday barely saw the survival of another legend, Lin Dan.
On the women's side, with the elimination of Tanvi Lad and Rituparna Das, only Saina Nehwal and PV Sindhu are left.
The Indians continued as per form with their first loss in singles coming from Tanvi Lad, the lowest ranked player in the squad, to second seed Sung Ji Hyun 9-21, 19-21. Later Rituparna lost to local sweetheart Kirsty Gilmour.
As Sindhu was not scheduled to play on Wednesday, Saina and Srikanth steamrollered over their opposition, while Praneeth had to sweat it out and was faced with elimination at 12-18 in the decided against Indonesia's Anthony Ginting, to whom he had lost last year in Thomas Cup. Ultimately Praneeth pulled of a great win in three games 14-21, 21-18, 21-19 and the final game included an 8-point run from 12-18 to 20-18.
Srikanth crushed Frenchman Lucas Corvee 21-8, 21-17 to set up a third round clash with 14th seed Anders Antonsen, who at 20, is one of the rising stars of European badminton.
After the shock defeat of World No 2, Lee Chong Wei in the first round, five-time champion, Lin Dan, seeded seventh, looked like following suit in the second round. Lin was stretched for 81 minutes by Dane Emil Holst, who beat the Chinese star, earlier this year in Denmark Open third round. It was one of the longest matches at the Championships so far. Lin finally won 19-21, 21-8, 21-16 over Holst.
There, however, was the shock exit of the top-seeded men's doubles pair from China, Li Junhui and Liu Yuchen at the hands of Indonesia's Mohammad Ahsan and Rian Agung Saputro 21-19, 18-21, 18-21. Also going out were fifth seeds, Malaysians Goh V Shem and Tan Wee Kiong to Koreans, Chung Eui Seok and Kim Dukyoung.
Praneeth and Srikanth won their matches in the men's section, though in contrasting ways, but Saina, the losing finalist at the last World Championships, scored a comfortable straight games win over Sabrina Jaquet.
Jayaram beat Dutchman Mark Caljouw with great ease 21-13, 21-18 to cruise into the third round, where he meets Chen Long.
Saina will now meet No 2 seed, Sung Ji Hyun, who beat Tanvi, the first Indian to lose a singles match at these Championships. Saina drawing a similarity between mathematics and playing at the Emirates Arena, said, "It is a tough stadium to play in, so you need to play some shots like it's mathematics — you need to really be careful when playing any shot here because the shuttle will come very fast."
On the first match, Saina said, "It always tough to play first round, it is never easy to play first round [her first round]. I have had some horrible experiences in the first round, it is always quite difficult match for me. The next rounds are not going to be easier because you are playing tough opponents — but first round is always tough because you are stepping on the court for the first time."
She added, "In the big stadiums, fitness plays a big role. It is important than you maintain your cool, because sometimes the shuttle goes mid court and the opponent has a very good chance to finish it off."
Praneeth came back from the dead after trailing 12-18 in the decider against Ginting. The 25-year-old Praneeth won 14-21, 21-18, 21-19 in 72 minutes. Praneeth will meet the winner of German Mark Zwiebler and Taipei's sixth seed Chou Tien Chen.
Praneeth said, "He was playing very fast and often did not allow me to get into position. But in the second game, I settled down better."
On his comeback he added, "I played long rallies because I had no option left, but to slow down and wait for his mistakes. Then he tried to rush things and was hitting all over. I realised that from his backhand, he had essentially only a couple of shots and it worked as he kept giving points. From 12-18 when I came to 16-18, I thought I of just getting to 18-all and then point by point and it worked."
Srikanth quelled a rally from Corvee, who came from 9-15 to 15-all in the second game. He said after his match, "That was not because I was making errors, but he scored some winners. I was in control of the match and I wanted to close it fast and then after that I made sure."
Srikanth added, "Yes, it (the courts) is a little slow, but is the same for all. But I think it is in very good condition. Small stadiums have a huge drift, so these bigger halls are always a good condition to play in. Naturally, you have to be sure of your shots and the game."
Srikanth's next opponent will be the 20-year-old Antonsen, who lost in the final of the European Championships to England's Rajiv Ouseph. Antonsen knows the Emirates Arena well, having won the 2016 Scottish Open here for his first Grand Prix win.
India results on Wednesday:
Men's singles, Round 2: Srikanth (8th seed) beat Lucas Corvee (FRA) 21-8, 21-17; B Sai Praneeth (15th seed) beat Anthony Ginting (INA) 14-21, 21-18, 21-19; Sameer Verma lost to Rajiv Ouseph (16th seed ENG) 20-22, 9-21; Ajay Jayaram (13th seed) vs Mark Caljouw (NED) 21-13, 21-18
Women's Singles, Round 2: Tanvi Lad lost to Sung Ji Hyun (Seed 2 KOR) 21-9, 21-19; Saina Nehwal (15th Seed) beat Sabrina Jaquet 21-11, 21-12; Rituparna Das lost to Kirsty Gilmour (16th seed SCO) 16-21; 13-21
Women's doubles: Ashwini Ponappa/N Sikki Reddy lost to Kamilla Rytter Juhl and Christina Pedersen (2nd seed DEN) 22-24, 21-17, 15-21; Sanjana Santosh/ Arathi Sara Sunil lost to Bao Yixin/ Yu Xiaohan (14th seed CHN) 14-21, 15-21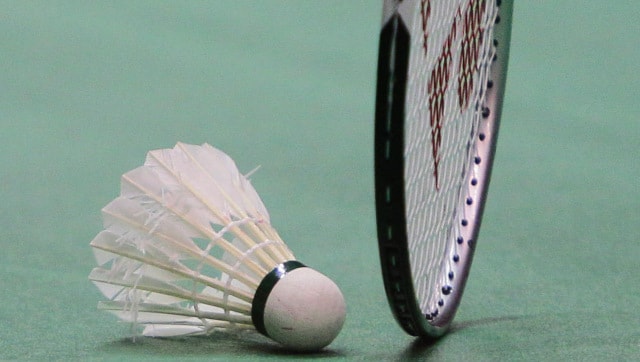 Sports
"Indian Badminton has seen great success with two successive medals coming from Olympics and with this latest news of the World Championships is the right stimulant for the game," BAI general secretary Ajay Singhania said.
Sports
Park also addded that Tai Tzu-ying would be Sindhu's biggest rival at the Olympics.
Sports
Sindhu has been clubbed in an easy Group J, also comprising Hong Kong's Cheung Ngan Yi.