World Badminton Championships 2017: PV Sindhu outplays Chen Yufei in semis to earn shot at gold
A little over 12 months after becoming the first Indian woman to make it to the Olympic badminton final, PV Sindhu could become the first Indian woman to win a badminton gold in World Championships.
Glasgow: A little over 12 months after becoming the first Indian woman to make it to the Olympic badminton final, the lanky and lithe PV Sindhu could become the first Indian woman to win a badminton gold in either World Championships or Olympic Games.
Almost 10 hours after Saina Nehwal went down to Nozomi Okuhara in three games 21-12, 17-21, 10-21, Sindhu stepped up onto the stage to outplay young Chinese hopeful Chen Yufei 21-13, 21-10 in the last match on Saturday.
In the women's singles final on Sunday, Sindhu will take on Okuhara. In the men's singles final, Lin Dan will attempt to win a sixth men's title, against Viktor Axelson, whose entry into the final was the first for Denmark since Peter Gade reached the final and lost to Hendrawan in 2001. The last Dane to win was Peter Rasmussen in 1999 and before him it was Fleming Delfs at the inaugural World championships in 1977.
In the women's final, regardless of who wins, India's Sindhu or Japan's Okuhara, it will be the first World Championships title for their country. The first 19 editions of the World Championships produced women champions from just three countries – China (15), Indonesia (two) and Denmark (two). Then in the last three years, Thailand's Ratchanok Intanon won once in 2013 and Spain's Carolina Marin won twice in 2014 and 2015. On Sunday, a new country will be added to the list.
While India will have a player in the final for the second successive time – Saina lost the final to Marin in 2015 – Japan is featuring a women's finalist for the first time ever.
Ever since Sindhu arrived at Glasgow, she has been talking of her desire to change the colour of the medal – from bronze (twice at World Championships in 2013 and 2014) or silver (in Olympics 2016) to gold. Soon after Sindhu outplayed Chen, who was bidding to add the world title to the world junior title she currently holds, she said that she was hoping the colour of her new medal would be gold.
On her aim to change the colour of the medal and whether silver would do, Sindhu replied immediately, "Oh no, it won't be (enough). I want to win and the aim is to win gold and I have to be focused on that. When you get to the final, you want to win. You want to win the medal for the country and you can do anything for the country. It was he same in Rio last year and I want to win a medal for my country."
On the match as such, she added, "Though the scores do not show, she (Chen) fought for each point and it was a tough match, despite the lead I had."
Sindhu was all business in the first game itself despite Chen being 6-4 ahead. Matters became level at 8-all and then Sindhu starting edging ahead. She was 11-8 and then 15-9. Sindhu judged well on all of Chen's long shots, which went just over and the Indian did well to let them go. And finally wrapped it up 21-13.
In the second game, it was a Sindhu show all the way. She ran up early leads 8-0, 9-1, 13-1, 15-3, 17-8 and finally won 21-10 as she got back everything that her rival threw at her.
Sindhu later said, "I didn't think it would be easy and it wasn't easy. The scores may look so, but there were long rallies and she was not leaving any shuttles.
She was playing well and it is a World Championships semi-final, so you cant afford to take it easy. Overall it was a good match and I felt my strokes were going well, though every point was tough."
"Overall, it is a great feeling, but its not over as yet. There is one more match to go and I will have to be focused. It is not enough that I have come to the final, that one match is very important and I hope for the best."
Coach Pullela Gopichand added, "It was very good match and Sindhu played very well. She got back everything that Chen threw at her. The drops, the smashes, the tosses and Sindhu then did a good job to finish points. She played well today."
Sindhu, 22, and Okuhara, 22, have won three matches apiece from six outings between them. The Japanese girl can change the pace and play fast as she did against Saina and confused her.
Lin meets Axelson
Meanwhile, men's singles defending champion Chen Long of China was ousted by Axelsen of Denmark. The Danish third seed crushed the 2016 Olympic champion 21-9, 21-10 in 39 minutes.
In the final, Axelsen will face Chinese veteran and five-time world champion Lin, who got past South Korean top seed Son Wan Ho with a 21-17, 21-14 victory in 58 minutes.
Axelsen, who won the bronze in the 2014 worlds and 2016 Rio Olympics, said, "I am still a little out of words, I never expected to win that comfortably, I am very happy. I made little mistakes today and made very few errors. It was nice to get revenge from the Olympic semi-finals, I am very proud of myself."
Chen, 28, said he was under too much pressure. "I got the first points, then lost a lot of the next, and that really affected my game. In the second I managed to go ahead and that put a lot of pressure on me, but Victor played very well."
In men's doubles, Indonesia's Mohammed Ahsan and Rian Agung Sapturo will meet China's Liu Cheng and Zheng Nan. In women's doubles, China's Chen Qingchen will first partner Jia Yifen and take on Japan's Yuki Fukushima and Sayaka Hirota in the women's doubles and later she will partner Zheng Siwei in mixed doubles to take on the Indonesian pair of Tontowi Ahmad and Liliyana Natsir.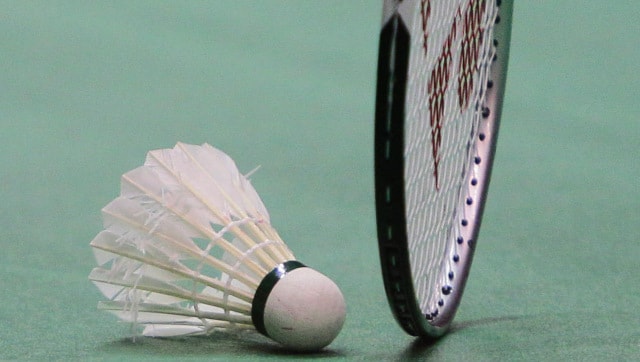 Sports
"Indian Badminton has seen great success with two successive medals coming from Olympics and with this latest news of the World Championships is the right stimulant for the game," BAI general secretary Ajay Singhania said.
Sports
Gopichand, who had guided Saina Nehwal and Sindhu to a bronze and silver respectively in the last two Olympics, believes Indian badminton players have a good opportunity to better their performance.
Sports
The world number seven Indian will next play Hong Kong's world number 34 Cheung Ngan Yi in the group stage.