World Badminton Championships 2017, Day 3 preview: Saina Nehwal eyes winning start; Sameer Verma faces new opponent
Saina Nehwal faces Sabrina Jaquet on Day 3 of the ongoing World Badminton Championships in Glasgow, hoping to continue India's good run in singles events.
All four Indians in the men's singles event will be seen in action on Wednesday. Following are a few interesting pointers to keep in mind ahead of the third day of the tournament:
Men's singles (current world rankings in bracket):
B Sai Praneeth (19) v Anthony Sinisuka Ginting (26)
First match on Court 3; Session starts at 11 am
- Praneeth lost to Ginting at the 2016 Thomas Cup in three games.
- At the Singapore Open, this year, Ginting lost to Srikanth in the semi-finals, and Srikanth lost to Praneeth in the finals at Singapore.
- Ginting reached semis at Thailand Masters and Malaysia Masters this year.
- Ginting also reached the semis of Swiss Open where he lost to eventual winner Lin Dan.
- It has been a great season for Praneeth. He was the runner-up to Sameer Verma at Syed Modi International Grand Prix.
- Praneeth won the Singapore Open and Thailand Open events.
- Praneeth lost to eventual winner Srikanth in quarters at Australian Open.
Kidambi Srikanth (8) v Lucas Corvee (63)
Fourth match on Court 1; Session begins 11 am local time
- Srikanth won their only previous clash at the Swiss Open in 2015 en route to winning the title.
- Srikanth has a best career ranking of third in 2015, while Corvee's best has been 53 in January 2017.
- Corvee has a huge height advantage over Srikanth as he stands at 190 centimetres, with the latter at 178 centimetres.
- Srikanth has four Super Series wins, two of them this season, and three Grand Prix wins and a run of three Super series finals in a row.
- Corvee beat Sourabh Verma in Belgian International Series last year.
- Corvee won the French Nationals in 2016, bringing to an end the reign of Brice Leverdez's run of eight titles. He went on to retain it this year.
Rajeev Ouseph (20) v Sameer Verma (29)
Ninth match on Court 1; will not start before 3 pm local time
- Ouseph and Verma are meeting for the first time.
- Ouseph, ranked 20th, experienced major success in 2017 when he won the the European Championships.
- At the Australian Open, Ouseph scalped Prannoy in the first round, before losing to Tian Houwei.
- Ouseph's best career ranking was 10th in 2016.
- Verma, ranked 29th, won the Syed Modi Grand Prix this year and was runner-up at Hong Kong Open last year.
- At 2017 US Open Verma lost to Parupalli Kashyap, who then went on to lose to HS Prannoy in the final.
Mark Caljouw (51) v Ajay Jayaram (17)
Match number 10 on Court 5; Not before 4 pm local time
- The only clash between the two players, in 2015 at Dutch Open, was won by Jayaram, who had won the previous edition of the event as well.
- Jayaram was also the runner-up at the Dutch Open 2016.
- The Indian shuttler reached the semis of US Open in 2016
- In 2015, Jayaram reached final of the Korean Super Series, losing to Chen Long.
- Caljouw won the Orleans International in France earlier in 2017.
- The Frenchman lost to Viktor Axelsen in quarters at the 2017 European Championships.
Women's Singles
Saina Nehwal (16) v Sabrina Jaquet (36)
First match on Court 3; Session begins at 11 am
- Nehwal is former World No 1, which she attained in 2015.
- The Hyderabadi shuttler also won bronze in the 2012 London Olympics and silver in the World Championships in 2015.
- Coached formerly by Pullela Gopichand, and now by Vimal Kumar, Nehwal has more than 20 international titles, including 10 Super Series'.
- She has won the Padma Bhushan, the third highest civilian Award, besides the top two sporting awards — Arjuna and Khel Ratna.
- Sabrina won the Swiss International in 2016.
- Sabrina reached the semis of 2017 European Championships.
Tanvi Lad (93) v Sung Ji Hyun (3)
Fifth match on Court 2; Not before 1 pm
- Sung has won all three previous meetings against Lad, the latest being recorded in the 2017 Asia Mixed Team championships.
- Sung won the 2016 Korea Masters and was finalist at the Korea Open.
- Sung was also the finalist at the 2017 Indonesia Open.
- The Korean bowed out in the semis in the 2016 editions of the China Open and French Open.
- Sung reached the final of Dubai Series World Super Series final, losing to Tai Tzu Ying.
- Tanvi won the 2013 Bahrain International Challenge and was runner-up in 2012. She also reached final of Swiss Challenge in 2013.
Kirsty Gilmour (27) v Rituparna Das (46)
10th match on Court 1; Not before 3 pm
- Rituparna had a good year in 2016, winning two international series events in Poland and Sats International in India.
- Rituparna also reached semis of Prague Open and Bangladesh International Challenge in 2016.
- Kirsty, the tournament's seventh seed and the local star, won the Austrian Open and Orleans Open in France earlier in 2017.
- Kirsty also reached the final of the European Championships before losing to Carolina Marin.
- She also has reached the last four stage of the US Open.
PV Sindhu (5) v Cheung Ngan Yi (17)
Match on Thursday, Aug 24, 2017.
- Sindhu is fourth seed, while Chueng is 13th in the ongoing tournament.
- Sindhu has won all three previous meetings, the latest being Hong Kong Open 2016.
- Sindhu won the Syed Modi International and India Open earlier this year.
- Sindhu also won silver in the 2016 Rio Olympics, losing to Marin in the final.
- Sindhu won 2013 and 2014 World Championships bronze medal.
- Coached by Gopichand, Sindhu has won two Super Series' (2016 China Open and 2017 India Open) and five Grand Prix Gold titles among other accolades.
- Sindhu has won both Arjuna Award (2013) and Khel Ratna (2016)
- Cheung reached semis of 2016 Hong Kong Open and 2016 Macau Open
- The Hong Kong shuttler also won the 2015 Austrian Open.
Sports
The Indonesian doubles player had won the 2008 Olympic gold medal, 2006 World Cup and 2007 World Championships titles with Hendra Setiawan.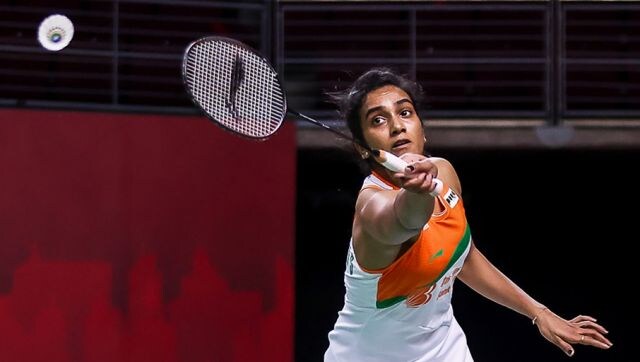 Sports
Jwala also said the fact that players have not been able to play a lot of tournaments this time due to COVID-19 is also a concern.