World Badminton Championships 2017: Ajay Jayaram faces uphill task to beat inconsistency at grand event
A medal at the World Championships will be a huge upgrade to Jayaram's trophy cabinet. His only trophy wins at big events has come at the Dutch Open, a Grand Prix tournament, in 2014 and 2015.
There comes a point in your sporting career when results don't go in your favour and usually in such cases, you will be under scrutiny. A dry spell and the pressure that comes along with it can surely take a toll on your approach towards the game. For Ajay Jayaram, who is a part of India's 21-man squad for the World Badminton Championships, the year 2017 has been nothing short of a rollercoaster ride. The results haven't been impressive for the veteran shuttler.
After setting the stage alight in the Premier Badminton League (PBL) in January, Jayaram has been fighting to maintain consistency at Badminton World Federation (BWF) events. A string of subpar performances after PBL has become a bit of a concern for the 29-year-old. Despite the ups and downs in a strange year, Jayaram has made sure to remain in the top 20 of the BWF rankings.
The only positive for the Chennai-born lad was achieving his career-best ranking of number 13 earlier in April this year. Also, in the upcoming World Championships in Scotland, India's second highest-ranked men's player, has an uphill task of sweeping aside inconsistency and break into the top 10 for the first time.
In spite of hardly any notable achievements in big events this year, there is absolutely no doubt about his abilities when he takes the court. A gritty display against Danish ace Viktor Axelsen in Malaysia and a splendid PBL season, in which he defeated some of his fancied rivals such as Kidambi Srikanth, Axelsen, Jan O Jorgensen with his wrist wizardry from the net, should suffice to make him a genuine threat in a fast-paced game.
However, for that to happen, Jayaram needs to make an instant impact while facing World No 114 Luka Wraber in the first round in Glasgow and look for the same result in the second. The 13th seed's real challenge would be in the third round against fifth seed Chen Long of China, provided both players win their first two matches. Chen enjoys a 5-0 lead in the overall head-to-head meetings with Jayaram. In the quarter-final, Jayaram may run into a certain Lee Chong Wei, who is eager to bag his maiden world gold after settling for silver on three occasions.
The talented @ajay_289 has consistently been in the top 20 for a while. Take a look at his achievements ahead of #2017BWC pic.twitter.com/hAEuikMhEX

— BAI Media (@BAI_Media) August 17, 2017
If Jayaram can make full use of his strong forehand skills and foot movements to pass the Chinese test, then there should be no looking back. A medal at the World Championships will be a huge upgrade to his trophy cabinet since Jayaram's only trophy wins at big events have come at the Dutch Open, a Grand Prix tournament, in 2014 and 2015.
He has a few other titles to his name but those have come at the International Challenge tournaments, where the level of competition is low as compared to Grand Prix Gold or Superseries tournaments. However, the 2008 Waikato International and the North Shore City International was the beginning for the explosive shuttler who showed great courage and skills to announce himself on the international circuit. After a gap of two years, it was in the 2010 Czech International tournament and the Smiling Fish International that he proved his worth and saw an exponential rise in the rankings.
At the World Championships, Jayaram's sole task should be to remain consistent and put up a good show, having recovered from injuries. The fit-again shuttler will have his task cut out despite an easy first hurdle. There's a possibility of him boosting his position in the rankings considering the World Championships carry the maximum number of ranking points in the sport.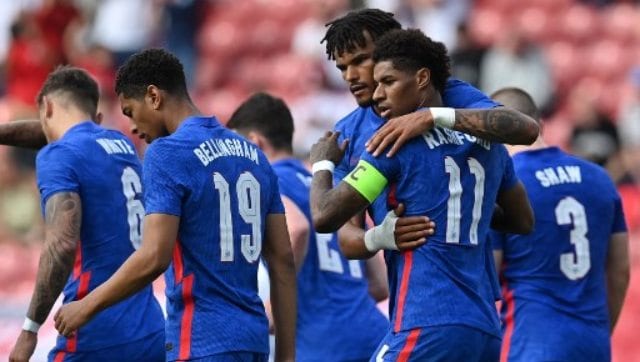 Sports
England, Scotland and Wales — the British sides taking part in Euro 2020, could potentially reach the quarter-final held in Munich on 2 July.
Sports
Southampton midfielder Armstrong conceded there was a fatal lack of cutting edge from his side, who created several chances without managing to take one.
Sports
The Scots, who used to be regulars on the global stage, qualified for the coronavirus-delayed Euro 2020 via the playoffs.