Won't represent woman who raised 'Free Kashmir' placard at protest against JNU violence, says Mysuru Bar Association
The Mysuru Bar Association said that it will not represent the woman who had raised 'Free Kashmir' placard at a protest held in Mysuru University on 8 January
The Mysuru Bar Association said that no lawyers associated with it would not represent or provide legal services to the woman who raised 'Free Kashmir' placard during a rally

The woman, identified as an an alumna of the University of Mysore had raised a placard that read 'Free Kashmir' while protesting against violence in JNU campus

Her last counsel had reportedly withdrawn from the case, citing personal reasons
The Mysuru Bar Association has issued a statement saying that it will not represent the woman who had raised 'Free Kashmir' placard at a protest held in Mysuru University on 8 January, according to president S Anand Kumar on Wednesday.
"Our members submitted a requisition requesting none of our lawyers should represent Nalini. We discussed and decided not to represent or provide legal services to her," Kumar told reporters in Mysuru.
According to The Hindu, the woman identified as Nalini Balakumar is an alumna of the University of Mysore's Department of Studies in Mass Communication and Journalism. She had raised the 'Free Kashmir' placard during a protest organised in the university against the violence in Jawaharlal Nehru University (JNU) on 5 January.
Her last counsel had reportedly withdrawn from the case, citing personal reasons, the report added.
The Karnataka Police had booked her under Sections 124A (sedition) and 34 of the Indian Penal Code (IPC) in Jayalakshmipuram Police station, Mysuru.
Balakumar was given interim bail in the case last week and has even released a video clarifying that her intention was only to bring to notice the Internet shutdown in Kashmir for the past five months, and nothing else.
With inputs from ANI
Find latest and upcoming tech gadgets online on Tech2 Gadgets. Get technology news, gadgets reviews & ratings. Popular gadgets including laptop, tablet and mobile specifications, features, prices, comparison.
India
The politics of procession is an oft-repeated diatribe that becomes a convenient excuse to tarnish a certain community. However, what often gets buried under the reams of such atrocious literature is the fact that communalism does not express itself via politics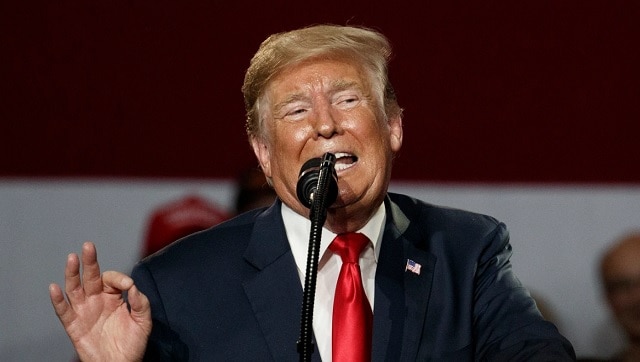 News & Analysis
Twitter, while announcing its decision to permanently suspend Trump's account, cited plans circulating online for future armed protests around the inauguration of US President-elect Joe Biden
World
Chansley describes himself as a "digital soldier" of the far-right QAnon conspiracy theory that claims Trump is waging a secret war against a global liberal cult of Satan-worshipping pedophiles.