Women's Hockey World Cup 2018: With a balanced mix of youth and experience, India aim to punch above their weight
At the World Cup, there are no no short-term goals for India. There is excitement and a sense of pride that the team is playing a World Cup and the players want to make it count.
There is no space for adaption here. Originality, fuelled by a desire to overturn the form book, lightning fast quick hands, the ability to see and pace it out much before the curve caresses the ball and the single-minded focus and mental strength of 18 women who have played over 1,900 matches between themselves should be enough to create a halo around the Asia Cup Champions. However, statistics, caps, numbers are mere fodder for debates in a universe where world orders are crumbling by the day.
Yet, when India walk onto the pitch at London's Lee Valley Hockey and Tennis Centre, venue of the 2018 World Cup, captain of the team Rani Rampal would have impressed upon her mates that England are Olympic Champions but "girls, we beat them at the Gold Coast and let's try and do it again."
Different championships have contrasting themes. If an Asian Games is a one-match tournament where the winner takes all, the Olympic Games are more of a tactical and strategy driven championship. In a World Cup, this being the 14th edition, it will always have the essence of a slug-fest. Usually, single-discipline World Championships raise a lot of dust with just one team left standing at the end.
Are India ambitious and skillful enough to be able to wield the scythe, take a few prisoners and shed enough blood to raise temperatures on a cooled-watered down synthetic pitch? Indian coach, Sjoerd Marijne, his second stint with the women's, said, "The challenge is to keep them focused as it's a long tournament with a four-day gap in between after playing England. The team needs to be in rhythm."
Eight years back at the 2010 World Cup in Rosario, Argentina, India played the three giants in the sport — Netherlands, Australia and Germany — in consecutive matches to start off the tournament, which would have been ominous for any team. India lost to the Dutch 1-7, 3-6 to Australia and 1-4 to Germany. The one name that stood out in the Indian scorers list was Rani Rampal, who had scored four goals out of the five that India managed.
In 2010, Rani was 15. In London, she would be a mature 23, her skills as a goal-scorer more burnished but as a captain and player, more of a playmaker utilising her vision to create opportunities for the rest of the team. "I do believe experience is important," said Rani. "And since Rosario we have come together as a team. Importantly, we have been playing the same bunch for almost two years."
It's also important that the senior team also has quite a few players from the 2013 junior team which won a bronze at the World Championships. Cohesion brings stability which in turn gives resoluteness to the team seen before, but only once. And that was in 2002 when the women won the 2002 Commonwealth Games beating England in the final. The seeds of that win were sowed during the 1998 World Cup when players like Sita Mehta (then Gusain), Pritan Rani Siwach, Manjinder Kaur, Surajlata Devi, Helen Mary got the much needed exposure and then clicked in the 2002 Commonwealth Games final to clinch an important victory.
Sita believes the balance is crucial for a team to win a major championship. Add experience to that balance and you have a potent potion. "With the balance, we had seniors," said Sita. "Actually experience counts a lot. When juniors become shaky, the mind doesn't work and the body becomes fatigued, that is when the seniors know how to cope. You can say if the team was of 11 members, eight-nine were seniors."
In the present team, there is more than just a smattering of senior players. Three players — Vandana Katariya, Rani and Deepika Thakur — have played more than 200 matches. Seven players — Navjot Kaur, Deep Ekka, Monika, Savita Punia (GK), Namita Toppo, Sunita Lakra and Lilima Minz — have played more than a hundred international games. Gurjit Kaur, the big hope in penalty corners and Nikki Pradhan have 55 and 69 caps respectively.
There are no short-term goals here. There is excitement and a sense of pride that the team is playing a World Cup, India's seventh, and the players want to make it count. Even Marijne launched into a short brief of the strengths of the team: "They have the technical skills to dodge, the strikers can do amazing things and the goalkeeper is very good plus we have a good penalty corner battery. And along with discipline we are very well organised."
Marijne refused to be drawn into a debate of what the other teams are capable of. He made a point when he said "I better focus on India and ensure what we think and train, we implement on the pitch." But he understands that USA, ranked three spots above India at seventh, will pose a lot of problems. And Ireland, ranked at 16th, would love to scalp India.
"Our first job is to focus on England," Marijne said. "After that game is over, we will get down to the USA and Ireland. This is a tournament where teams like to take it one match at a time." Like boxers in a ring, some experienced, some rookies, but always looking for that advantage, that unexpected swing, resolute defending and once in a while that lucky strike which gives teams packed with spunk, pluck and grit a good chance of causing an upset.
Rani understands what it's like to play in front of big crowds. She has seen it in Argentina at the 2010 World Cup, where Argentines come to cheer their Las Leonas (The Lionesses). Like Sjoerd, she is focusing on England. "Our training needs to be implemented on the ground," she said. "We have to enjoy our hockey as that would take away whatever little nervousness is there. It is a pressure match. But remember there are under pressure in front of their home crowd. I have told the team to play with as less errors as possible because then we have the ball."
The short-term goal could be a win or a draw against England, which could inject jet fuel into the players' veins. But India are very capable of beating USA and Ireland and qualifying for the quarter-finals. The top team goes into the quarters while the second in each pool plays the third of the other pool. And the winners then go into a quarter-final clash with the pool toppers.
To top their pool, India need to win all matches. But even if they end up second in their Pool B, they could get lucky with the team that finishes third in Pool A. Rani also believes that India and USA are neck-to-neck in terms of team strength. "USA are physically strong," said Rani. "It will be a close game and hopefully we can close the match with a penalty corner."
A lot of India's chances also hinge on two departments — penalty corners and goalkeeping. Savita will be protecting India's goal and Gurjit is India's penalty corner weapon. In modern hockey, a forward may misfire or the midfield may bungle but if the goalkeeper is in form and the penalty corner convertor in a good mood, then a win can be pulled out from impossible circumstances.
Savita gave the example of P Sreejesh in the just concluded Champions Trophy, where in the match against Belgium and the Netherlands, Sreejesh stood out. "It's a huge responsibility," said Savita, who has 169 caps. "But we have learnt to relax and understand pressure. I also keep cool and both my coaches Harendra Singh and Sjoerd have told me that my reaction time is good and I have learnt from mistakes."
Savita also pointed to the fact that communication is of massive importance between a goalkeeper and the defence. "I always believed that a goalkeeper is on her or his own," she said. "But then realised teamwork is required and communication is needed." But Savita also added that over-thinking is also not needed at the World Cup. "There is enough time to recover after an adverse result," she said.
At the World Cup, upgrading your game is necessary to punch above your weight. Currently, it is not the skill but giving the ball in the millionth of a second that sometimes decides the fate of that quarter or even of that move. Yet players hold, which is the extreme end of hockey where you buy time to create moves, find corners and angles. For players like Lilima, Sunita, Rani and Vandana, artistry, dodge and deftness decide their styles of play. Coaches are always on the look out for changes in play pattern as it takes a few quarters to instruct and make your team play in a certain style.
Sita, however, is critical of this mixing of fitness and skills. "Yes, the emphasis is more on fitness and less on skills. Now the ball comes and you give it away. We are leaving behind the old and going towards fast hockey. And we are left in between, where we are neither leaving our hockey nor going full tilt. So, this will take time. Right now Indian hockey is in the middle."
The 22-year-old Gurjit, who was one of the key weapons for India, believes the team will deliver. "Mentally, we are strong as an unit," said the PC exponent on whose young shoulders ride the expectation that she would deliver from whatever chances India get in the opposition striking circle. Gurjit has been doing 50-60 flicks in training on a daily basis except for the off days. "I focus on myself and every player gets into a zone where they play the match mentally in their mind. I do watch videos of the goalkeepers but it's also important to not overdo the thinking."
In a year where even as the team is concentrating on the World Cup, somewhere in the corner also lurks the challenge of the Asian Games which promises a ticket to the 2020 Olympic Games. Marijne answered a tricky question well. "Well, finishing in the top four of the World Cup is bigger than winning the Asian Games but we can combine both and make a mark." Marijne then spoke about the players and said something which is true. "Playing a World is prestigious and most anyway play the Asian Games, so I feel they should enjoy playing the World Cup."
In the past six World Cups that India have played, their rankings have been — fourth ('74), seventh ('78), 11th (83), 12th (98), 11th (2006) and ninth (2010). To emulate what Ajinder Kaur's team coached by Balkishen Singh in Paris 1974 did would take some effort. Players hurt, like they did after the fourth-place finish at the CWG. So don't coaches too? But Sjoerd maintained vehemently that it's not about him or proving a point after being replaced as men's coach and brought back to the women's team. "Absolutely not," he said. "It's not about me. It's about the players and we have to respect them."
Indian captain Rani remembers the 2010 World Cup where she won the 'Best Young Player of the World Cup' and now in London she has set certain goals. "I need to set an example to the others so I need to play with energy and lead with positivity," she said. "It's not a burden but a challenge and I am happy to shoulder it."
Doubt, confidence, fear, positivity and uncertainty are different skins that sportspersons wear. But deep down in the trenches unknown, where the battles are actually fought, it's just the captain and the message that she delivers to her team. "Let's do it girls, let's gate crash the World Cup," could be Rani's version of the World Cup battle cry.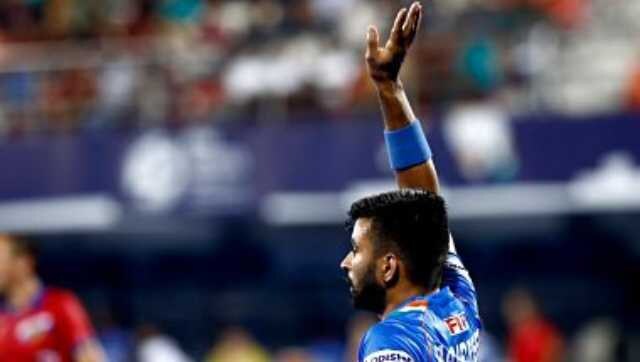 Sports
The Indian juniors have been training alongside the senior players as part of preparations for the 16-team marquee event.
Sports
The India junior side, which got the opportunity to stay, train and play matches against seniors, would look to wrap up the successful 2021 season by retaining the title, which would be its third
Sports
Defending champions India will be hosting the Men's Junior World Cup for a third consecutive time, and enter the event as one of the strong favourites.