Women's Hockey World Cup 2018: India must play with fervour and creativity to come up trumps in crucial Ireland tie
Restraint, fear will have no place when India takes the pitch. Replacing it with fervour, creativity, free-flowing hockey without dismantling the structure at the back will pay rich dividends.
A deep structured defence wall, at times, can make up for a slightly misfiring forward line and as a strategy it is spot on but against the Irish doubling down, it will give the Kathryn Mullan-led team that space they always crave for. With USA drawing 1-1 against hosts England, Pool B has been blown wide open. Rani Rampal's side would be looking through that blown hole and rightfully imagining that a victory against the Irish women would literally catapult them into the knock-out rounds. In fact, a win against Ireland would give India four points from two matches, with a match against USA in hand. However, realignment of Pool tables happens in moments and India fully realise this and has experienced it.
It was on 22 July, a year back in Johannesburg when India played Ireland in the Hockey World League Semi-Finals. India dominated the match, earned more PCs, and had better penetration, more shots on goal, better creativity in the midfield yet when the hooter went signalling the end of the match; Ireland had won 2-1.
In fact, their first choice goalkeeper Ayeisha McFerran was also sent off for ten minutes with a yellow card. Grace O' Flanagan, older and wiser, yet the 2nd choice brought off some smart saves. It wasn't the doubling down in the defence that gave Ireland victory; it was smart defending combined with quick forays into the heart of the Indian Territory that gave Ireland that crucial win.
Indian coach Sjoerd Marijne has seen enough at the present World Cup with upsets happening in every Pool and understands the import of earning those crucial three points. He will, without a doubt, give the rein to India's forward line to gallop ahead. With structure in place and fitness at a higher level; you now see an India team falling back and create that three-wall frame-work.
Out of an 18-member squad, Ireland has 13 players with over 100 caps and 7 over 150; that is solid experience and crucially the team has been playing together for quite a while. Neither is India any lower down in terms of experience but Thursday's match will be decided by the holding players. Against England in the 1-1 draw in the Pool's first match, India created less in the midfield but did hold the ball well. Since it was a defensive game, the passes were parallel and not forward. That strategy would have to be jettisoned against the Irish. Early goals and scoring in crucial quarters of the match would put Ireland under pressure.
At the moment, the Irish after having beaten the USA 3-1 are blood-thirsty. Like India, they too would be looking at qualification. A win would give them six points and a giant step into the knock-outs. Ireland are ranked 16th while are India 10th. Rankings are not holding well in this World Cup; another sign that teams are coming off age in terms of fitness and tactical strength. Japan (12th) beat NZ (4th) 2-1; Italy (17th) beat China (8th) 3-0; Germany (6th) beat Argentina (3rd) 3-2; Australia (5th) drew 0-0 with Belgium (13th). Who would have thought that Olympic Champion England, hosts and ranked No 2 in the world would be sitting on two points with two draws? The unexpectedness in world hockey is a reality and extremely good for the game.
In Pritam Rani Siwaich's hockey academy in Sonepat, Haryana, little girls are watching the World Cup on TV's. The academy has more than 150 girls training. Before the World Cup, Pritam, a former Indian captain and member of the 2002 Commonwealth Games gold winning squad said: "I am sitting in Sonepat on this ground (her academy). And I have high expectations from Neha Goyal who is from this ground and from Sonepat." Neha scored against England in the 1-1 draw.
Pritam also expects a lot from Rani Rampal the Indian captain. "Rani Rampal is a very mature and senior player. She is a striker and expectations are there that she can score."
In an ultra-defensive role that pushed Rani and other forwards to the back trenches against England, one can expect them to flower against the Irish. A lot also depends on the speed and hustling tactics of Lalremsiami, a bundle of pure delight when on the ball and extremely dangerous inside the striking circle. Vandana Katariya, Navjot Kaur and Nikki Pradhan will find space against the Irish and it is their ball handling skills which would decide the fate of the match. Marijne will ensure that there is no wastefulness when it comes to releasing the ball. Less errors, more strikes against the Irish. More turn-overs against India and Ireland will get their PC strikes.
Instead of relying on hope inside the Irish circle, players like Lalrem and Vandana need to create those PC's for Gurjit who didn't get a single strike against England. PCs are the life blood in getting goals and also exerting pressure against the quality keeping capabilities of 22-year-old Ayeisha McFerran, the Irish goalkeeper with 74 caps.
Savita Punia, the player of the match against England in that highly tense 1-1 draw said before the World Cup kicked off that preparation was done seeing the attacks of the teams in the Pool, their circle entries and also checking their PC drill on YouTube. "But it's not that one needs to get carried away," she said. "As a team we know which team in the Pool does what." Against England, Savita, the last line of defence, pulled off smart saves, lunging, lying prone and also covering the shorter angles against the post very well. It will not be lost on her the snap-shot capability of the Irish who don't waste too much time in taking their strikes.
Hopefully, Deepika would have recovered from that traumatic error in the 4th quarter which gave England the equaliser. It was a silly error and did come in a pressure moment. Off the 9th PC, the ball had rolled free into her path. A flick or a push to the side line or through the middle of the pitch would have done the trick but she took a hit which no defender should, knowing they are circled by the opposition. Deepika would now be stronger and more resourceful against the Irish, using her shoulder, shielding the ball and coming up strong against the physical game of the Irish.
Between India's first match against England and Thursday's tie against Ireland, 5 days of rest was worrying. "It's the rhythm that is important and I aim to keep them fresh and focused," said Marijne. Restraint, fear will have no place when India takes the pitch. Replacing it with fervour, creativity, free-flowing hockey without dismantling the structure at the back will pay rich dividends.
Sports
Prasad, who was a part of the Indian team that won a bronze at the Tokyo Olympics earlier this year, said he just tried to pass on his experiences to his junior teammates.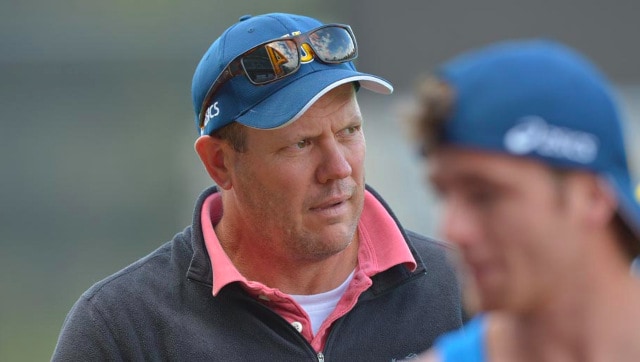 Sports
After guiding India to a historic Olympic bronze medal at the Tokyo Olympics, Reid has worked in tandem with junior coach BJ Kariappa at SAI Bangalore before shifting base to Bhubaneswar.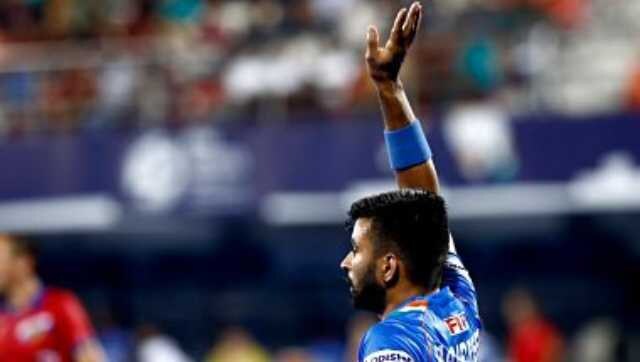 Sports
The Indian juniors have been training alongside the senior players as part of preparations for the 16-team marquee event.