With no evidence backing Narsingh Yadav's innocence, could 'sabotage' claims be legitimate?
Narsingh Yadav's Olympic dream was shattered a mere 12 hours before he was scheduled to start his campaign in Rio in the men's 74 kg wrestling event.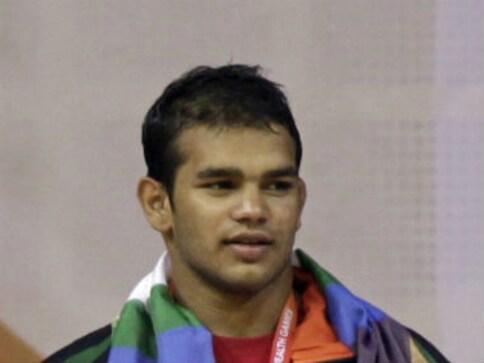 Narsingh Yadav's Olympic dream was shattered a mere 12 hours before he was scheduled to start his campaign in Rio in the men's 74 kg freestyle category wrestling event.
The ad hoc division of the Court of Arbitration for Sport (CAS) at the Rio Olympic Games on Thursday set aside the decision of the Indian Anti-Doping Disciplinary Panel (ADDP) – that had exonerated the wrestler of doping charges – and slapped a four-year ban on him, ending days of speculations and expectations.
Understandably, the Mumbai-based wrestler was left devastated by the development. To have overcome the trauma of a selection controversy back home, and then the doping charge, and days of suspense in itself must have been completely demoralising and shattering for someone preparing for an Olympics.
The Wrestling Federation of India (WFI), which stood by him throughout this ordeal, and his promoters, JSW Sports, have come out in support, as was to be expected, and stated that they would pursue further avenues to get Yadav justice.
The immediate avenue, and perhaps the only one left, could be the Swiss Federal Tribunal (SFT). Since CAS is based in Switzerland, the Swiss law will apply to its proceedings and verdicts and the SFT has a limited, even if crucial, role to play when it comes to ruling on legal matters. The SFT is, however, not another appeal avenue for athletes or parties involved in a dispute to approach. Parties cannot expect to debate the merits of a case before the tribunal.
The CAS ad hoc division rules clearly state:
"Article 21 Enforceability; no Remedies:
"The decision is enforceable immediately. It shall be final and binding upon the parties subject to recourse available in certain circumstances pursuant to Swiss Law within 30 days from the notification of the original decision. It may not be challenged by way of an action for setting aside to the extent that the parties have no domicile, habitual residence, or business establishment in Switzerland and that they have expressly excluded all setting aside proceedings in the arbitration agreement or in a subsequent agreement, in particular at the outset of the arbitration."
In anti-doping proceedings, there is only one opportunity for an athlete to appeal, either at the national level or at the international level. WADA has two, while international federations, depending on a particular federation's rules, may also have two appeals available. Athletes are not supposed to approach civil courts, especially when CAS has disposed of a petition.
Yet, there have been cases where athletes have approached courts of their respective countries. The German speed skater Claudia Pechstein's litigation against the International Skating Union (ISU) is a case in point. The case that dragged on from 2009 was finally disposed of by the German Supreme Court last June. The highest German court ruled that Pechstein had received a fair trial at CAS.
Pechstein's case was a first in Athlete Biological Passport (ABP), that penalises athletes for abnormal variations in their blood values, suggestive of doping. She received a two-year suspension, which she served, but later took ISU to courts for loss of earnings.
One of the lower German courts ruled in her favour and was also critical of the composition of CAS. That ruling paved the way for Pechstein to seek damages from the ISU. The German Supreme Court has since overturned that ruling.
Peschstein has not given up though. She may approach the German Constitutional Court, while she has another petition pending before the European Court of Human Rights in France.
Back to Yadav's case. Understandably, there is disappointment in India that a wrestler who was tipped to be a potential medal winner in the Olympics has been barred from participation at the eleventh hour.
Narsingh Yadav's supporters and the WFI are convinced that there had been "sabotage", as alleged by him from the very start. The question arises, however, whether 'sabotage' had been proved in the present case and whether the CAS panel was convinced that it was proved as explained perhaps in the judgment given by the ADDP of India.
The CAS press release stated: "The CAS Panel did not accept the argument of the athlete that he was the victim of sabotage and noted that there was no evidence that he bore no fault, nor that the anti-doping rule violation was not intentional. Therefore the standard 4-year period of ineligibility was imposed by the Panel."
Since NADA has refused to make public the order of the ADDP, there has only been speculation about the grounds on which the disciplinary panel, headed by Mr. Sanjay Mani Tripathi, had exonerated Yadav.
What has been known is the fact that the panel, which concluded its hearing proceedings on July 28, extended its deliberations by two more days while examining witnesses apparently without the knowledge of the NADA Counsel, Mr. Gaurang Kanth.
That procedure, without the NADA counsel available for cross-examination of the witnesses, might have been much against conventions and legal practices. We, however, do not know whether the witnesses provided any fresh clues about the "contamination" of the amino drink, as alleged by Yadav, or whether they only reiterated the incident of an intruder weeks before the 25 June test on Yadav.
A cursory reading of the CAS release (CAS could be releasing the order of the ad hoc division as and when it is available) suggests that the wrestler was not able to prove that 'sabotage' had occurred and that that was the reason the banned substance, a steroid, had entered his body.
It also suggests that the ADDP had not been able to provide an explanation as to how it came to any conclusion regarding the entry of the banned substance in the athlete's body. This is a pre-requisite to gain any lenient sanction under the rules.
The Indian contingent chef de mission's contention that WADA's appeal had come late, would not hold water. WADA had 21 days after receiving the relevant files from NADA to appeal. Let's say a period of at least 25 days presuming that NADA would have fulfilled the requirements within four days of the order being issued. In practice, WADA appealed within a fortnight, looking at the urgency of the matter.
Was IOA and the WFI caught napping when the appeal was filed? Did they not visualize the need to have a lawyer in Rio just in case such a situation arose? The IOA Secretary-General, Mr. Rajeev Mehta, handling matters there suggested that the IOA could not arrange for a lawyer at short notice.
Yadav's lawyer, Vidushpat Singhania, has gone on record that he did not have time to complete his visa formalities to undertake the journey to Rio. He thus chose to attend a tele-conference. The CAS ad hoc division rules stipulate that a case would be disposed of within 24 hours of an appeal being submitted.
The case could have been heard afresh, had the parties so sought. But it doesn't seem that there was anything new to submit and CAS was asked to sift through fresh evidence. In such cases, CAS normally goes through the arguments made out in the first panel's order and the rebuttal of the appealing party, apart from giving the athlete the chance to reply to WADA's contentions.
Had IOA and WFI sought more time from CAS to present fresh evidence, it was possible CAS would have re-imposed the provisional suspension on Yadav thereby preventing his Olympic participation.
Whether fresh evidence at this stage, which is being talked about, could be of use for a possible review petition before CAS is debatable. In any case, Yadav's ambition of competing in the Olympics has been ruined beyond repair. Yadav has stated that he wants to prove his innocence. The WFI president, Brij Bhushan Sharan Singh, has reiterated his demand that a CBI enquiry be held.
Could Yadav have been spared the agony?
It might have been possible had all the agencies, including the ADDP – which is supposed to be an independent body – NADA, the government, WFI and the IOA had acted in unison from the start and weighed the pros and cons of giving a "clean chit", based on just a 'sabotage' theory, that was bound to be challenged by WADA.
The "no fault or negligence" (Article 10.4) argument has rarely been proved in anti-doping cases. Unless an instance of an unconscious athlete having been administered a prohibited substance in a hospital in an emergency situation comes about, it is extremely difficult to establish that a banned substance has entered one's body without one's knowledge.
Even if 'sabotage' might have occurred, the rules demand that such a crime should have been committed by a "competitor". This is the most difficult part in any argument put up by the defence.
"Contamination" of a supplement that is being consumed by an athlete is easier to prove if laboratory tests prove that it was contaminated by the substance in question. Yadav's lot of supplements did not return a "positive" though the wrestler's camp had initially backed the theory.
The role of NADA in the Yadav episode should come into focus in the coming months, when WADA reviews its performance through these past few months. Why did it not inform its counsel to at least come and make an attempt to cross-examine the witnesses which was his right?
The cooks from the SAI Centre in Sonepat were called by the panel for an extended hearing procedure that was unknown to the NADA counsel. NADA knew of the witnesses being brought from Sonepat because it sought for those witnesses, possibly at the request of the panel.
There is a need to bring panel members up to date with rules, case law in general and CAS rulings in particular. There is also a critical need to be more transparent in the functioning of NADA, especially with regard to making available orders of the panels to the media. It was denied in the Yadav case for no apparent reason and the media was kept away from the proceedings for the first time since NADA's inception in 2009.
Having said that, there is also a dire need to keep 'confidential' certain information within NADA instead of discussing 'positive' and 'negative' reports with the Press or revealing advisories from the WADA for target-testing a particular athlete.
Unlike the argument put forward by some, there is no necessity for criminal investigations to be completed in such cases for hearing panels to give their verdict in case a plea of "sabotage" has been put forward by an athlete. Such a procedure might mean months and years of wait, which athletes can ill afford.
Just to set the record straight, since this topic keeps coming up with monotonous regularity in various debates, contrary to popular perception, just because weightlifting, wrestling, boxing, judo etc are weight-specific sports there is nothing that suggests that use of steroids that increase muscle bulk and thereby weight may not be prevalent in these sports.
Quite the contrary, steroids continue to remain the leading substance in all frontline Olympic sports, including weight-limit sports.
In 2014, wrestling had 60 adverse analytical findings (AAFs) from 5154 samples (urine and blood). Out of this 40 were for anabolic agents (steroids and other similar substances), while 15 were for diuretics and other masking agents. Diuretics are used to mask the presence of banned substances apart from helping in weight reduction through increased urination.
That year, weightlifting had 169 AAFs from 8806 tests and of that 151 were positive for steroids while 32 were for diuretics and other masking agents.
Boxing in 2014, according to WADA statistics, reported 55 AAFs out of 4258 tests out of which 27 were for steroids. Judo had 20 positive tests for steroids out of 40 AAFs the same year.
Athletes reduce weight through the use of diuretics, which can be dangerous from the point of view of anti-doping measures as well as health, lower intake of certain food items, extra exercises and less consumption of water etc. Ideally, all this should be done under medical supervision.
Sports
In 24 Olympic Games to date, India has bagged a total of 35 Olympic medals including 10 Golds, nine Silvers and 16 Bronzes.
Sports
Delhi High Court urged IOA to accommodate Tejaswin Shankar and four other athletes in the 2022 Commonwealth Games squad
Sports
A University of Oxford study in 2020 said Tokyo was the most expensive Olympics on record.