With Danish star Erland Kops' death at the age of 80, badminton loses a legend
Erland Kops, Denmark's pride and joy, was the first male badminton player to win seven All England singles titles between 1958 and 1967
On February 17, barely a month after his 80th birthday, one of the greatest badminton players of all time closed his eyes one final time. It is hard to imagine that Denmark's pride and joy, Erland Kops, who won seven singles and four doubles titles at the All England Championships, until 1977 considered the unofficial world championships, during the 1950s and '60s, is no more.
The bland Badminton World Federation (BWF) statement that "the great badminton legend Erland Kops passed away overnight" provided neither a cause of death nor specified the place where the "large as life and twice as natural" great Dane breathed his last.
Kops was the first male badminton player to win seven All England singles titles, achieving the feat in the course of a decade between 1958 and 1967, and beating Frank Devlin's earlier record of six singles championships. The seven singles crowns were bagged at the expense of compatriot Finn Kobbero (twice), Thailand's Charoen Wattanasin (twice) and Chennarong Ratanaseangsuang (once), and Malaysia's Tan Aik Huang (twice).
In the eventide of his career, the powerful Dane underlined his all-round excellence by winning the All England doubles crown in 1958, and thrice in a row between 1967 and 1969. He remains the only player to win the double crown of singles and men's doubles titles at the same All England on two occasions – 1958 and 1967.
The details of his All England triumphs are fascinating, to say the least. In 1958, the Dane brought to an end eight years of dominance of the magnificent Malaysian players like Wong Peng Soon and Eddy Choong. The only way to neutralise the artistry of Peng Soon and the phenomenal stamina and accuracy of Choong was to combine speed and power with stamina and shot-making virtuosity.
After another Malay player Tan Joe Hock won the title in 1959, Kops won the All England singles four times on the trot. He did not get far in the 1964 tournament, but won again in 1965 and in 1967 for the seventh time, thereby setting a record that would only be broken by Indonesian Rudy Hartono, who beat his 1975 conqueror Svend Pri in the 1976 final, for his eighth All England title.
The four All England doubles titles were some compensation for the fact that he lost in the finals on four other occasions.
It can also be mentioned, almost in passing, that Kops was Nordic singles champion five times in the course of the 1960s, and that he also won the Danish national title five times in singles, on four occasions in doubles, and twice in the mixed doubles. The Dane was the first European to win a string of titles in the Far East.
Amazing as it would seem, Kops has a strong Indian connection as well. Indian fans would do well to turn back the pages of the Indian Nationals' records, and locate the Dane's name as the winner of the coveted triple crown (singles, doubles and mixed) at Jamshedpur in 1959.
Kops defeated defending champion Nandu Natekar in the singles final; and then, to rub salt into the Indian ace's wounds, combined with hard-hitter Raichand Vimawala to settle the aspirations of Natekar and Chandrakant Deoras in the men's doubles final. In the mixed doubles, the Dane helped Malaysia's Tan Gaik Bee take her second title of the championships after her women's doubles victory.
Natekar and Deoras were to go on to win the national doubles for three of the next four years, when Kops was missing from action in India, so that 1959 National men's doubles victory must be considered well earned and richly deserved.
There can be no doubt that Kops qualifies to be known not just as a world champion, but as a true champion of the world. For there was no spot on earth where badminton was played that he did not win a singles title.
His satchel bulged with top crowns captured between the late-1950s and the early-'70s in the US, England, Canada, Switzerland, India, Thailand, Sweden, Mexico, Norway, Germany, France and Malaysia, apart from his native Denmark – and many of these crowns were bagged multiple times.
Despite some disappointing results in the Thomas Cup men's international team competition, Kops was clearly the dominant men's singles player for Denmark in the early- and mid-1960's. He played 44 national matches for Denmark from 1957 to 1972.
Four years younger than Natekar, Kops was born on January 14th, 1937; and at a very young age revealed a tremendous hunger for badminton titles. And where did this hunger for excellence originate? Was it the result of a deprived childhood?
"No, I came from a well-to-do family, so there was no deprivation," he had once said, emphatically. "So the hunger was an accident, maybe. Initially, it was a game for me; it was playtime. Later on, it got more serious. Then I set my eyes on the All England, and I just needed to train harder. But it wasn't like I came from poverty. I had a great childhood; there was no problem at home at all."
Kops had natural strength, power and stamina. The structured training that is so popular these days was not for him. He hated jogging and running, but built up his legs by doing a lot of cycling in the countryside. The strength in his legs allowed him to last a three-game match with little trouble.
In fact, he was based in Asia for a while in the late-1950s after joining an East Asiatic company's Bangkok branch, where he went on to work for three years. He played a lot of badminton with the locals there, something that helped raise his level of understanding of the Asian mentality and their playing style.
"Some time after I left Bangkok, I met a Chinese stewardess, and stayed with her family in Singapore for six months," he says. "I played in Thailand, Singapore and India. It took me a year and a half to return to Denmark. During that time, I only played badminton. I was travelling by myself, and was the only European doing so."
That experience helped face the Asians on their own terms, and to win titles in this part of the world. "I think my Bangkok training helped a lot," he said. "We would go to the Far East once every three years for the Thomas Cup tournament. Having lived there for three years, they became something akin to home conditions for me."
Kops became the National champion of Thailand in 1958, at the expense of Charoen Wattanasin, a year before he took India by storm at the Jamshedpur Nationals. Wattanasin was to be his victim in two of the seven All-England finals that he won.
"India was probably the nation I have travelled in the most," he says. "My first time was in 1959 when I received an invitation from Calcutta to play in a tournament. In those days, Indian badminton was organised in an easygoing way. So I was invited for two weeks, and ended up staying for a month, and playing in three tournaments. They sort of 'invented' tournaments just because I was there!"
Kops travelled widely in India, especially the North, where he went to Lucknow, Gorakhpur, Jamshedpur and Jaipur. He was fond of saying that if you drew a line between Calcutta and Bombay, and extended it in an arc upwards, he had been to all the places. In addition, he also went to Hyderabad and Pune to play against the best Indian players.
"Your Natekar was a classy player with beautiful strokes," he told me, when I met him at the World Veteran Championships at Punta Umbria, Spain, in 2009. He had come as manager of the Danish veterans' squad, though not as a player, for he had put on a lot of weight and suffered from bad knees.
"But, as I told him, he wasn't a problem for me because he had no stamina, no power. If he played for more than half an hour, he had nothing left. There were a number of other talented players in India, and it was always difficult to beat them, but I usually ended up being the fitter and harder hitting player."
Natekar confirms that there was good reason for the fact that he trailed Kops 1-3 in career meetings. "He was far too strong and fit for me," Natekar admits. "I could not last out against him in a long match."
Yet, there was one very sweet victory for Natekar at the Cricket Club of India championships in 1959, in a match that scaled the heights and had sports hacks eulogising the Indian ace. But in the very next competition at the Bombay Gymkhana a week later, Kops turned the tables on his Indian adversary in a most comprehensive manner.
As recognition of his sporting achievements, Kops was inducted into the World Badminton Hall of Fame in 1997. Apart from being honoured with a knighthood from the Danish Queen, he was also given honorary memberships of the Danish Sports Federation and of Badminton Denmark. In addition, he was inducted into the Hall of Fame of Danish Sport, and received the Herbert Scheele Trophy from the BWF.
The ultimate recognition was last year's BWF's Lifetime Achievement Award, which was given to Kops a few months before his 80th birthday. That award would have no doubt given a lot of satisfaction to the man whose name can be taken in the same breath as Rudy Hartono and Lin Dan as the greatest players the game of badminton has known.
Sports
India have been drawn in Group A alongside defending champions China, three-time semi-finalists Thailand and hosts Finland in the BWF tournament, which comprises two singles and three doubles matches in a tie.
World
Sea Shepherd, a charity that campaigns against the hunting of whales and dolphins, described it as a 'barbaric practice'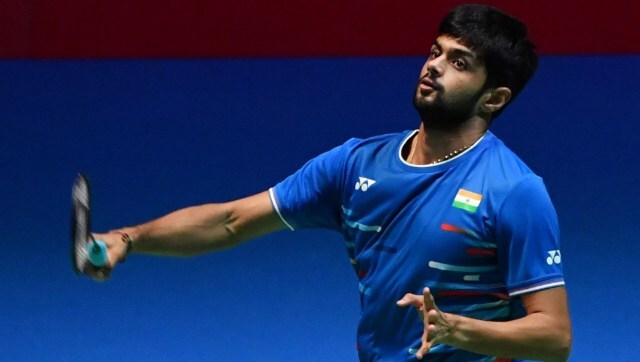 Sports
It was India's second consecutive defeat after losing the Sudirman Cup Group A opener to Thailand.