With a month to go for the Olympics, concerns over whether Rio can safely host the Games
If Rio is lucky enough to avoid any major incidents, the doomsayers will be forgotten once the athletes start collecting their Olympics medals.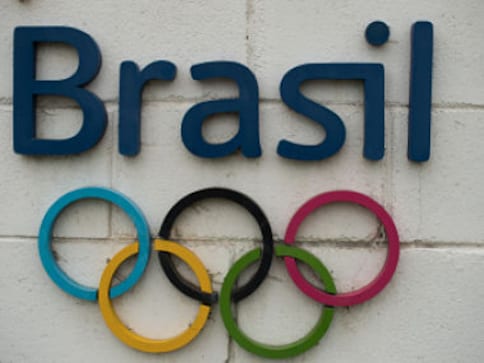 "Welcome to hell," the sign said. As tourists piled into Rio de Janeiro's main international airport Galeao, they were greeted by the words, in English, from the city's civilian police force and firefighters protesting about late salaries. It was a stark warning to those arriving that in this famously dangerous city, if something goes wrong, you may not have anyone to turn to.
Rio's state has declared itself in a state of public calamity, and there are now 30 days to go until it hosts the Olympic Games. One of the problems it faces is being so cash-strapped, it is not able to pay its public workers, such as police and those working in the health service. While this has led to seeking an emergency federal fund, the concerns are clear. With half a million tourists about to flood Rio in a month's time, will the city be able to cope?
According to a survey in the city's main newspaper O Globo this weekend, 61 percent of Rio residents still believe that the Rio 2016 Olympics will be a success, despite a warning from its acting governor, Francisco Dornelles, that the mega event could be "a big failure".
With an official partnership between Rio 2016 and Air B'nB, many will be looking to make money from renting their apartments to visiting teams, tourists and journalists in Rio, where hotel room space is tight. That number of tourists will certainly bring in cash at a time of recession in Brazil.
Yet the same survey listed security as a big concern for the vast majority of Rio's residents, with eight out of 10 saying that if it does fail, crime will be the reason. There will be 85,000 troops and police stationed on the streets at different points throughout the city, about twice the number used during the London 2012 Olympics, when terrorism fears were high. Even the famous Christ the Redeemer statue, a symbol of Rio, will get its own special task force to protect it against a potential attack.
I have lived in Rio on and off since 2010, and the first thing any visitor wants to know is "is it safe?" I usually say that precautions such as leaving valuables at home will suffice. But one recent report suggested there has been a 15 percent increase in homocides this year compared to last, and even visiting athletes have not been spared the violent crime increase. Both teams from Australia and Spain have been targeted by armed thieves in recent months.
Nevetheless, mosquito-borne illness Zika remains a bigger fear for many travellers, and has led several sportsmen to declare they will not be attending the games, including number one ranking golf player Jason Day. The virus has been linked to microcephaly in infants, but authorities have been keen to play it down, pointing out that the games will be held in Rio's winter, when there are fewer mosquitoes, and that a Cambridge University study predicted it is likely only one person in 500,000 will contract Zika during this time.
Calls to postpone or move Rio 2016 because of the Zika threat were dismissed by the World Health Organisation last month, as the agency believes it poses "a low risk" in terms of spreading the disease further. The uncertainty over the outcome of ongoing research has been enough to cast a shadow over the event, however. While current research suggests contracting Zika now would not affect future pregnancies in a woman, there will be those who decide it is better to be safe than sorry, and will therefore avoid travelling even if they are not expecting.
While arguably no mega event in Rio's illustrious history is as big as the Olympic Games, it is worth remembering this will be far from the first big event the city has hosted. It was home to the Pan American Games in 2007, and two years ago, it was one of 12 host cities for the FIFA World Cup, an event which was generally hailed a success despite predictions of disaster. The cover of a respected German magazine before the games started emphasised the violence in the city, showing a ball in flames over its famous Christ statue. In the end, the 7-1 defeat to Germany was seen by many Brazilians as the worst event of the tournament, though protests nationwide beforehand were crushed by police in an approach that was criticised worldwide for its heavyhandedness.
Critics have pointed out that the World Cup was spread out across Brazil meaning that no one city took the pressure of all the visitors, and there are concerns a Metro link which will take spectators relatively close to the Olympic Park is not ready yet. On the other hand, there were about a million tourists in Rio just a few months ago for carnival. It's a huge party which fills the streets every year, and only seems to grow in its success, passing relatively without incident whatever the security fears of the general population.
As so often happens here, the authorites may depend on luck rather than excellent planning for the Olympics to go off with a bang, in the best possible sense. The Guanarabara Bay may not be clean, as was promised when Rio was granted the right to host the event, but it is beautiful, and those who view the games at home on their TV screens will no doubt be impressed. The thousands who were moved out of their homes to make way for Olympic-related infrastructure or those who have suffered police violence in the lead-up to the games can be forgiven for being cynical about the Olympic spirit. But if Rio is lucky enough to avoid any major incidents, like Greece and even London in 2012 before it, the doomsayers and even the "welcome to hell" sign will be forgotten once the athletes start collecting their medals.
also read
Sports
According to a press release issued by the Ministry of Youth Affairs and Sports, the Tokyo Olympic champion intends to train at Kuortane Olympic Training Centre in Finland during this time.
World
The event was held on 27 May in Brazil. Emannuelly Belini and Nathally Becker were the final contenders
Sports
The IOC's reaction follows the United World Wrestling's (UWW) criticism of the detention of the grapplers during their protest at Jantar Mantar.