Winter Olympics 2018: Yuzuru Hanyu defends figure skating gold; Nathan Chen makes history with six-quad routine
Japan's Yuzuru Hanyu clinched the first back-to-back men's Olympic figure skating title in more than six decades to cement his status as the 'Ice Prince' of the modern era.
Gangneung: Japan's Yuzuru Hanyu clinched the first back-to-back men's Olympic figure skating title in more than six decades on Saturday to cement his status as the "Ice Prince" of the modern era.
The 23-year-old superstar made light of a three-month injury hiatus to emulate American Dick Button, who won gold in 1948 and 1952.
Hanyu led a Japanese one-two as Shoma Uno took silver, ahead of Spain's Javier Fernandez with bronze.
"I'm relieved to be able to skate here as a lot of people supported me," Hanyu told Japanese broadcaster NHK in Japanese.
"I worried a lot of people as I could not practise because of my injury. So, there was stronger support than before.
"I was so fortunate. I'm feeling gratitude. I was able to make a jump that I wanted to do with concentration. Anyway it was good."
Hanyu's Sochi 2014 success elevated him to cult status in Japan, and he did not disappoint his huge army of adoring fans.
After his not-quite-spotless free skate, which opened with a quickfire quad salchow and quad toeloop, he bowed to his fans as they in turn tossed his Winnie The Pooh stuffed toys, his mascot, onto the Gangneung Arena ice.
In the 'kiss and cry' corner he bowed again, this time to his coach Brian Orser as his score of 206.17 points came over the tannoy.
He then had to sit and suffer as first six-time European champion Fernandez, and then Uno, attempted valiantly but in vain to topple the rink king.
He took the Pyeongchang plaudits with a combined score of 317.85 to give him a cushion of almost 11 points over 19-year-old Uno (306.90), with Fernandez (305.24) just behind.
Remarkable journey
For Fernandez, it was the perfect way to end his last Olympics, claiming Spain's first ever figure skating medal.
"It was a good experience, I know I didn't do the perfect programme but I was satisfied with what I did and it got me an Olympic medal, that's all I've got to say.
"I've been dreaming about it and it's been a big goal for me. I knew it was going to be my last one (Olympics) so it's true that I was a little bit more nervous than yesterday."
Hanyu was visibly moved by his latest triumph in a remarkable journey from the day in 2011 he had to fled a Sendai ice rink when a devastating earthquake hit Japan.
As well as claiming only Japan's third ever skating title, his gold medal was also the 1,000th awarded in Winter Games history.
Aside from Hanyu's heroics, the free skate was marked by the first ever routine featuring six quads from American teenager Nathan Chen, who scored an Olympic record of 215.08.
It was enough for fifth place for the 18-year-old, whose bid to upstage Hanyu had come unstuck when he flopped in the short programme on Friday.
Sports
In remarks to reporters ahead of a US Olympic team media event, USOPC president Susanne Lyons said the organisation firmly believed that boycotts were ineffective.
Sports
Featuring the numbers two and six in a single trace like ice against a white background, the logo won 75 percent of the vote over a second 'Dado' design, a dice featuring the red and green colours of the Italian flag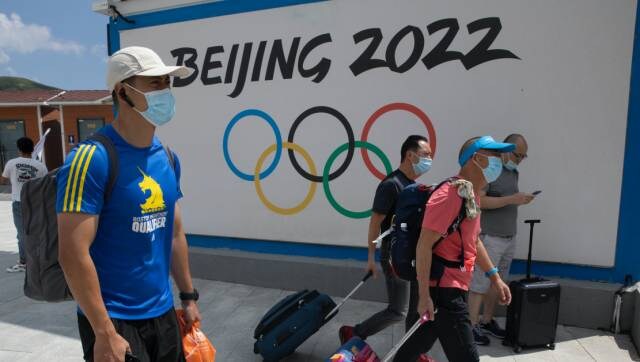 Sports
On Tuesday, State Department spokesman Ned Price was asked if the United States would consider a joint boycott with allies and said it was "something that we certainly wish to discuss."