Winter Olympics 2018: Japanese speed skater Kei Saito becomes first athlete at Pyeongchang to fail doping test
Saito failed an out-of-competition test prior to the event, the anti-doping authority said in a statement, adding that he tested positive for acetazolamide, a banned diuretic which is considered a masking agent.
Pyeongchang: Japanese short-track speed skater Kei Saito vowed to clear his name on Tuesday after testing positive for a banned substance in the first doping case to hit the Pyeongchang Olympics.
The 21-year-old is the first Japanese to test positive at a Winter Olympics and he was immediately thrown out of the Games on Monday.
The case will no doubt embarrass Japan, organisers of the Summer Games in 2020, and again forces the drug issue to the fore after Russia were formally banned for state-sponsored doping.
Saito returned positive tests for acetazolamide, an unauthorised diuretic which can be used to mask powerful performance-enhancing drugs.
"I want to fight to prove my innocence because I don't remember (taking the drug) and it's incomprehensible," Saito said in a statement.
The Court of Arbitration for Sport (CAS), which handles doping cases during the Games, said Saito had left the athletes' Olympic Village voluntarily and would be provisionally suspended from all competition pending a full investigation.
The head of the Japanese Olympic delegation in Pyeongchang, Yasuo Saito, said the skater was the first Japanese athlete to test positive for doping at a Winter Olympic Games.
The athlete was "surprised and dismayed" by the outcome of the drugs test, he said.
Saito, a human biology student whose sister Hitomi is also competing in Pyeongchang, arrived at the Athletes Village on 4 February.
He was woken up at 2:00 am the following morning by doping testers who took two samples.
"Both samples tested positive," said the head of the delegation, who is also the vice-president of the Japan Olympic Committee.
Short-track speed skater Saito was a member of Japan's 3,000m relay team that finished third at the 2013 and 2014 world junior championships.
He was pencilled in as a substitute for the 5,000m on Tuesday and could have raced in other events in Pyeongchang.
'No motive'
Saito was summoned before a CAS tribunal on Monday following the positive tests for acetazolamide, a medication used to treat complaints ranging from epilepsy to heart failure.
However, it works also as a masking agent that can hide or make it harder for testers to detect the presence of doping products.
Saito said he was innocent of any wrongdoing and had been tested prior to the Games, on 29 January, and been found to be drug-free.
"As for the test results this time, the only possibility I can think of is that I accidentally and unconsciously put a banned substance in my mouth," he added.
He had no need to ingest masking agents, he said.
"I've never used body-enhancing drugs so I don't think about hiding it," he said. "There's no merit or motive for me in using this medicine."
The IOC and anti-doping authorities have stepped up testing for the Pyeongchang Games following revelations of a state-sponsored doping scheme at the last Winter Olympics in Sochi, Russia in 2014.
The entire Russian team was banned from Pyeongchang but a loophole allowed 168 "clean" athletes to compete as independent athletes under a neutral flag.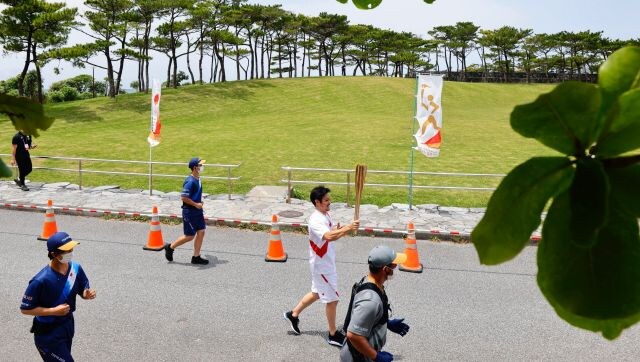 Sports
The relay, which will involve 10,000 runners from every corner of Japan, started six weeks ago and has been mostly on schedule despite major re-routing in Osaka and in Matsuyama City in nearby Ehime prefecture.
Sports
The Playbook for athletes is to be updated on Wednesday, with Playbooks for media and others unveiled on Friday. A final edition of all Playbooks will be published in June.
Sports
Bach said recently he hoped to go to Hiroshima to meet the torch relay — and presumably to Tokyo — on 17 and 18 May. But he has said his plans were not finalised.