Winter Olympics 2018: Dutch dominance continues as speed skater Jorien ter Mors wins gold in 1,000m
Dutch skater Jorien ter Mors bounced back spectacularly from an injury-plagued season by claiming a gold medal in the Olympic women's 1,000 meters.
Gangneung: Dutch skater Jorien ter Mors bounced back spectacularly from an injury-plagued season by claiming a gold medal in the Olympic women's 1,000 meters at the Gangneung Oval on Wednesday.
The 28-year-old set an Olympic record of one minute, 13.56 seconds to finish ahead of world record holder Nao Kodaira of Japan whose compatriot Miho Takagi took the bronze medal.
Ter Mors, who won gold in the 1,500m at Sochi four years ago, did not defend that title in South Korea after failing to qualify in the distance due to a persistent knee injury.
She showed no signs of any lingering after-effects as she zoomed around the track in the shorter race to shave 0.27 seconds off the Olympic record and set the fastest time recorded at sea level.
"I am really happy to win again a gold medal here. This is a different one, but a really special one too," she told reporters.
"It's really nice after having a hard time in the Olympic qualifiers for Holland to get back at this level and win a medal. It's really great."
The victory means Ter Mors has topped the podium in all three Olympic events she has taken part in, including the 1,500 and team pursuit in Sochi.
She will also race in the 500m in South Korea.
Dutch skaters have topped the podium in all five speed skating events held so far, and they increased their tally to nine medals from an available 15.
The Dutch claimed 23 of 36 medals at the Sochi Games, and their dominance only seems to increase with each race in South Korea.
Kodaira, who came into the race as the heavy favorite after winning three of four World Cup events last year that included breaking the world record, will be disappointed by her second-placed finish.
But the two medals claimed by the Japanese skaters, including a second of the Games for Takagi after her silver in the 1,500, proved why the country is tipped to become a future speed skating powerhouse.
"We still know the Dutch skaters are stronger than us, but we are coming," Kodaira said, speaking through an interpreter. "We still have room to improve and we can challenge them."
Johan de Wit, the Dutch trainer working with Japan who has draw a large part of the credit for the team's marked improvement over the past few years, said his skaters were not done leaving their mark.
"I am very happy with the result. For us it is really good," he added. "We have the 500, team pursuit and mass start to go, so we have chances to win more. And of course we hope to win a gold medal."
Japan's double podium came at the expense of the United States, with Takagi bumping Brittany Bowe down into fourth place.
Fellow American Heather Bergsma, the world champion, continued to struggle on the ice with an eighth-placed finish, to ensure the wait for the first U.S. Olympic speed skating medal in Pyeongchang continues.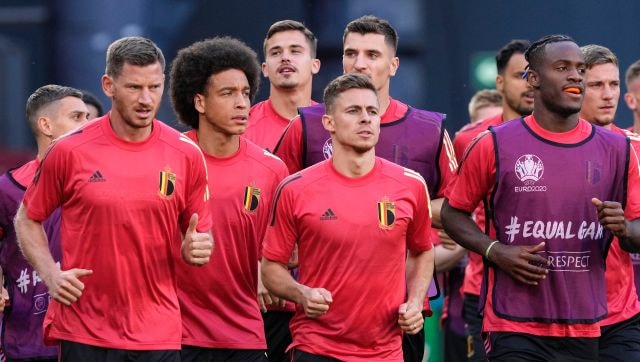 Sports
Five days after Eriksen required emergency medical treatment to revive him at Copenhagen's Parken Stadium, Denmark play Group B leaders Belgium.
Sports
Follow all the live action from the Group C match between North Macedonia and Netherlands on Firstpost.com's LIVE blog!
Sports
The defence was further weakened by a groin injury to 21-year-old centre-back Matthijs de Ligt. Netherlands coach Frank de Boer said Saturday that De Ligt will not be able to play against Ukraine.