Will work harder than before to win a medal at Rio Olympics, says Dipa Karmakar
A long cherished dream of qualifying for the Olympics achieved, India's history-making gymnast Dipa Karmakar said on Thursday that she will leave no stone unturned in her quest for a medal in the Rio Games later this year.
New Delhi: A long cherished dream of qualifying for the Olympics achieved, India's history-making gymnast Dipa Karmakar said on Thursday that she will leave no stone unturned in her quest for a medal in the Rio Games later this year.
Dipa returned to a hero's welcome early in the morning three days after she became the first Indian woman to qualify for Olympics at a qualifying event in the same Brazilian city.
"Since the time I started gymnastics, I wanted to compete at the Olympics. I had dreamt that one day I will compete at the Olympics and bring laurels for my country. I have qualified for the Olympics now," 22-year-old Dipa told reporters with a sigh of relief.
"Now, I will work harder than before and hopefully I can win a medal at the Rio Olympics. I will put every effort to ensure that I keep creating history. That is my target now," said Dipa who reached here after a 36-hour-long flight from Rio de Janeiro.
Asked about the effort she had to put in to qualify for the Olympics, the Tripura girl said, "I wanted to qualify for the Olympics last November during the World Championships (where she finished fifth). But that did not happen (a podium finish was required).
"So, my target at the Rio Test event was to qualify at any cost and I am happy that I have achieved my target," Dipa said.
Dipa qualified in artistic gymnastics for the Olympics after she garnered a total score of 52.698 points. Apart from being the first Indian woman gymnast, she also became first from the country to qualify for the Olympics after 52 long years.
Since the independence of the country, 11 Indian male gymnast have taken part in the Olympics (two in 1952, three in 1956 and six in 1964).
Despite all the accolades she has got after her feat, the Tripura girl sought to remain grounded and said she does not consider herself as a star sportsperson.
"I am not a star. Nothing like that. I don't think on those lines. My job is to keep working harder and bring laurels for the country. Doing well in the Olympics is my immediate target now," she said.
Asked if the infrastructure provided by the Sports Authority of India in New Delhi would be good enough for her to prepare for the Olympics, Dipa said, "I think the infrastructure is good at the Indira Gandhi Indoor Stadium, we have the foam pit (to protect gymnasts from dangerous falls) and SAI has promised me to bring a new springboard in two days time.
"Now my job is to focus on my training and do well at the Olympics. To do that, I need help from everyone in my endeavour."
Dipa dedicated her Olympic qualification to her long-time coach Bisheshwar Nandi who has been her coach since she was a six-year-old
"It was very difficult but I have got a great mentor because of whom, I am here. Without him nobody would have known my name. I dedicate my achievement to my coach," she said.
Asked about the Produnova vault she performed in Rio, which very few top gymnasts can do because of the risk involved, Dipa said, "To achieve something, you have to take risk. I am thankful that special arrangements were made at the Indira Gandhi Stadium where I practiced and learnt Produnova vault.
"Otherwise it would have been impossible. So, I am thankful to Sports Authority of India and also to Gymnastics Federation of India. The words of praise from the Prime Minister, Sports Minister and from other top sportspersons were really encouraging."
Nandi said that Dipa's best is yet to come and her hunger for perfection would take her to places.
"She is a girl hungry for perfection. She is stubborn also and she won't stop before doing something which she wants to do. These traits of her, I have used to my advantage," he said.
"The performance at the test event in Rio was her best so far but her best is yet to come. She can do better than this in Rio," he said.
Nandi, also from Agartala, refrained from making tall claims about the Olympics and simply said his ward will give her best and the result can be anything.
"I will not say anything about the results in Olympics. I will not make any predictions about Dipa. Gymnastics is a sport different from others. It is technical as well as unpredictable. Everything depends on the day of the event, on the performance.
"The best in the business can slip during the performance and anything can happen. So, we will try hard, very hard and give our best and keep fingers crossed," he said.
Dipa and Nandi will take a short break and spend some time in Tripura before starting intense preparation for the Rio Olympics.
"I think we do not need to go abroad for Dipa's training, we have good facilities at the Indira Gandhi Indoor Stadium and SAI has promised that whatever is required will be provided to us. So, we will start our preparation very soon and we can achieve our target."
Sports
In a letter addressed to AIBA President Umar Kremlev, IOC Director General Christophe De Kepper said the Olympic body's Executive Board has asked him and its Chief Ethics and Compliance Officer to "follow up" on the situation.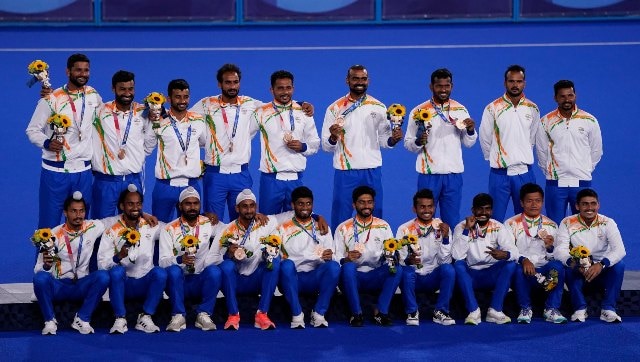 Sports
The Indian men's hockey team produced an inspiring performance at the Tokyo Games, where it edged out Germany 5-4 to claim a bronze medal, the country's first in the sport in 41 years.
Sports
Wario, who served as the country's sports minister from 2013 to 2018, was one of six Kenyan officials charged with abuse of office and the misappropriation of 55 million shillings ($545,000) during the Rio Olympics.