Winds of change: Ahead of Infantino's election, Fifa approves major reforms to end corruption
Fifa members on Friday approved major reforms aiming to end corruption scandals ahead of voting for a new president who faces a mountainous task boosting the image of football's governing body.
Zurich, Switzerland Fifa members on Friday approved major reforms aiming to end corruption scandals ahead of voting for a new president who faces a mountainous task boosting the image of football's governing body.
The measures were adopted by 179 members, while 22 voted against and six abstained at a congress seeking to turn the page on Sepp Blatter's tainted rule.
The landmark presidential contest is an Asia v Europe battle between Sheikh Salman bin Ebrahim Al Khalifa and Gianni Infantino.
But former Fifa vice-president Prince Ali bin al Hussein is aiming to upset the odds and he received a boost with the heavyweight backing of the United States and Australia.
Outsiders Jerome Champagne, an ex-Fifa official, and South African tycoon Tokyo Sexwale, have also been doggedly pleading their cause to the more than 200 delegations in Zurich.
The result is uncertain but football leaders were given an immediate warning that the vote and new reforms must convince the world after several years of mounting scandal with corruption and doubts about World Cup bidding.
"This congress will quite certainly mark a watershed moment in the history of Fifa," acting president Issa Hayatou said in his opening speech.
The reform package was designed to limit the authority of Fifa's top brass in a bid to prevent a repeat of patronage and waste that prevailed during Blatter's 18-year term.
The measures have been developed since June by a committee led by Francois Carrard, a Swiss lawyer tasked with a similar cleanup effort at the International Olympic Committee more than a decade ago.
'Turn the page'
The president's job has been altered to function like a corporate chairman of the board, providing strategic guidance but with less management authority.
Fifa's executive committee, which had become an epicentre of graft, has been re-branded as a Fifa council. It will operate similar to a corporate board of directions.
Fifa's secretary general, previously number two to the president, will serve as world football's CEO.
Measures to improve financial transparency at the multi-billion dollar organisation were also included.
Fifa's sponsors who are holding out on deals and prosecutors in many countries were waiting on the result for signs of football's commitment to reform.
The scandal that erupted after seven top officials were arrested at a Fifa congress in May "shook the very foundations of our organisation," Hayatou told Fifa delegates.
International Olympic Committee president Thomas Bach said football and all sports federations had to improve governance.
"Today you have this great chance to turn the page," he said.
"We need to give new answers to the new questions with regards to credibility and good governance," he said.
Blatter, 79, is the big absentee at the congress. The Swiss sports baron suffered a spectacular fall over the last nine months.
Swiss police, acting under US warrants, arrested seven Fifa officials in Zurich two days before his re-election last May.
Blatter has since been banned from football for six years for ethics breaches and could face criminal charges.
'Nasty lies'
Infantino, general secretary of Europe's football bloc UEFA, and Sheikh Salman, president of the Asian Football Confederation, have offered starkly different paths for Fifa.
Infantino has proposed increasing the World Cup from 32 to 40 teams and to more than double the amount given back to the 209 national associations to more than $1 billion in total every four years.
Sheikh Salman, who is seen as closer to the Fifa old guard and has a bedrock of support in Asia and Africa, has said the proposal could bankrupt Fifa.
He said Thursday he would not "mortgage" Fifa's future to win votes.
The sheikh has advocated splitting Fifa into commercial and football divisions with himself as more of a figurehead president.
Each of the rivals has political problems.
Infantino was for seven years the right-hand man of Michel Platini, the UEFA president also banned for six years for ethics breaches.
Sheikh Salman, a senior member of Bahrain's ruling family, has faced tough questions about the clampdown on pro-democracy protests in the Gulf state. He has called allegations made by human rights groups "nasty lies."
Going into the election, the voting maths is dizzying for Infantino and Sheikh Salman. Both have expressed confidence, however.
The AFC and Confederation of African Football (CAF), which between them have 100 votes, have publicly said they are backing 50-year-old Sheikh Salman.
However, Football Federation Australia, a member of the AFC, said Friday it will vote for Prince Ali, who also received the backing of the United States.
Europe and a big bloc of votes in the Americas are largely behind 45-year-old Infantino, who was publicly endorsed by Canada on Friday.
Prince Ali, a brother of Jordan's King Abdullah II, believes he has persuaded a significant number of countries to back him.
The election, the prince said "will decide if Fifa goes ahead as we want or if it spirals down."
AFP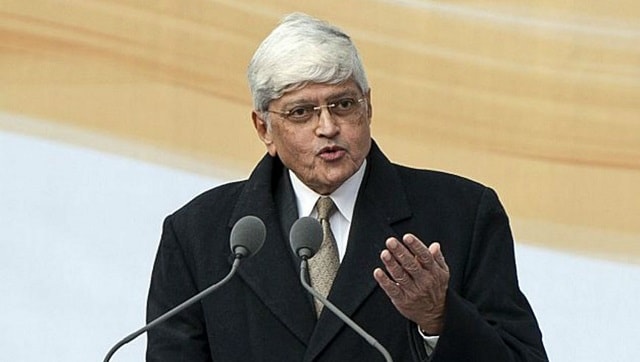 Politics
Now with Gopalkrishna Gandhi declining the offer, all three candidates whose names had been pitched by the Opposition for a joint presidential candidature are out
Sports
FIFA has extended until June 2023 the possibility for foreign players and coaches based in Ukraine and Russia to unilaterally suspend their contracts and move to another club.
Politics
Gopalkrishna Gandhi bowed out of the Presidential polls on Monday, saying there were better options than him. He is the third proposed face by the Opposition to back out of the race after Sharad Pawar and Farooq Abdullah