Wimbledon 2018: Milos Raonic, Kevin Anderson and John Isner's success highlights how tall players are adapting to grass
As giant-killing as this year's tournament has been, the 'giants' of the men's game -- Anderson, Raonic and Isner -- are leaving their mark.
After almost three hours and a half, and in the third tie-breaker, Kevin Anderson was serving for the match. Like he had done all afternoon, Gael Monfils wasn't going to give it up easily. The Frenchman latched onto Anderson's usually menacing serve and attempted to engage Anderson in a rally. The big South African gamely chased the ball up and down the baseline, then seeing his opening he stepped forward, bent down at his knee and knocked off a forehand volley to finish off the point and match.
Not only had Anderson scored a hard-fought 7-6 (4), 7-6 (2), 5-7, 7-6 (4) win over the athletic Monfils, but he had buckled down his 6'8 frame to make the last-eight at Wimbledon for the very first time in his 11 years as a pro.
It has been a tournament for the tennis giants this year. Joining Anderson in the quarter-finals on Monday were the 6'10 John Isner, who also made his maiden quarters at the grasscourt Slam, and the 6'5 Milos Raonic. If Juan Martin del Potro, whose Round of 16 match against Gilles Simon on Manic Monday was suspended at 7-6 (1), 7-6 (5), 5-7, makes the cut, there will be four players in the quarter-finals measuring 6'5 and above for the first time.
"I don't think it's necessarily going to be a trend," Roger Federer had said earlier in the tournament. "I think it just happens to be this way right now. But they deserve their success that they have because they did play very, very well so far."
Even though the slick Wimbledon grass gives these tall players, who inevitably are big servers because of the angle they create, more bang for their buck, the up and down movement and volleys are especially taxing on the knees. On Monday their serving statistics were impressive, Anderson fired 20 aces, Isner serve 22 aces during his 6-4, 7-6 (8), 7-6 (4) win over Greek teenager Stefanos Tsitsipas and Raonic hit 37 aces to defeat American Mackenzie McDonald 6-3, 6-4, 6-7 (5), 6-2. While Isner and Anderson had an average first serve speed in the mid to late 120 mph, Raonic is serving at 130 mph and hit the fastest at 143 mph. What was even more impressive was that they backed it up with an incredibly solid net game.
Like he did during match point, Anderson's darts to the net helped disrupt Monfils' rally rhythm. On Monday, the 32-year-old South African won 43 points off 62 trips to the net. This opposed to the baseline hugging Monfils, who came up only 19 times and won 14 points.
"It can be difficult to go up and down especially for me," Ivo Karlovic, at 6'11 the tallest tennis player, had once said. "Because it is really far down."
Only an inch shorter than Karlovic, Isner got down to business against Tsitsipas in the Round of 16. He won 46 of 58 points at the net. Known at Wimbledon more for winning the longest tennis match ever – 70-68 in the fifth set against Nicolas Mahut in a match that lasted more than 11 hours--  the 33-year-old has now become the tallest quarter-finalist at it since Karlovic in 2009. In the last-eight, he will meet 2016 finalist Raonic, who cracked 74 winners and won 42/57 net points against McDonald.
The long levers and wide wingspan gives them more reach, but traditionally the taller players haven't been the best of movers on the tennis court. Carrying all that girth around at such a high centre of gravity is not an easy task. But the advance in sports science, which has also given these players the extra years to fine tune their games and recover quicker, has helped them train better.
"I think the big guys realized, 'Hey, this is what we need to do to get the most out of ourselves'," said Raonic. "You see guys moving more efficiently. You have Nick (Kyrgios, 6'4), who's incredibly athletic. You have Del Potro who I would say is one of the better movers, especially laterally. You have guys that are getting better because they are looking for programs and techniques that are going to suit them best.
"It's good. I think the difference you see nowadays from the tennis I have seen previously from big guys — and I consider a big guy 6'5" and above, I'm sort of on the bottom edge of that, because a lot of the guys are taller than me—everybody used to train the way a tennis player should train. People didn't used to sort of make individual training programs."
Isner, for example, travels to tournaments with his chiropractor, Clint Cordial, with whom he has trained for the past six years. The American had said special thanks to Cordial after winning the Miami Masters — his first ATP 1000 title — in March this year.
After 10 years on the professional tour, Isner finds himself in the quarter-finals of Wimbledon. South Afrcia's Anderson, who has been snapping at the heels of the top players for years, is also slowly coming into his own. He had made the finals of the US Open last year and has made another dent on Wimbeldon's grasscourts.
As giant-killing as this year's tournament has been, the 'giants' of the men's game are leaving their mark.
Sports
Zverev's impressive straights-set win at the Caja Magica earns him a meeting with Dominic Thiem in the Madrid semis, in what will be a repeat of last year's US Open final, which was won by Thiem.
Sports
Harris, who beat world number four Dominic Thiem and Denis Shapovalov en route to the final in Dubai in March, pulled off another upset by ousting Dimitrov 6-3, 3-6, 7-6 (7/5).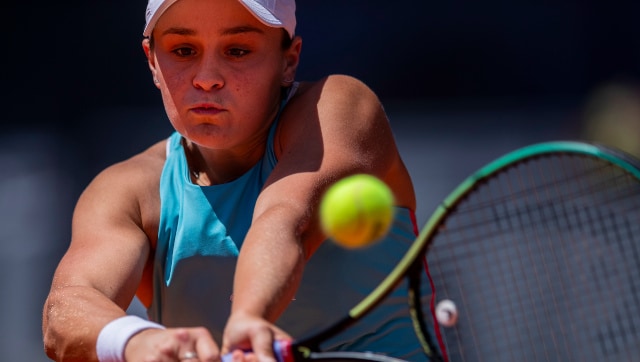 Sports
World number one Barty is chasing her fourth singles title of the year after her triumph in Stuttgart 10 days ago.