Wimbledon 2018: Jelena Ostapenko, Daria Kasatkina end with contrasting results but enthrall fans with their natural game
The ladies' quarter-final day saw two players — Jelena Ostapenko and Daria Kasatkina — who always play with a unique sweeping style that can lead the spectators into gasps and astonishment.
One of the questions posted to Daria Kasatkina after her quarter-final loss to Angelique Kerber was about whether the Centre Court got to watch the "Daria Kasatkina tennis". That is now a brand. Kasatkina's best results have come only in the last two months, her back to back trips to the quarter finals of French Open and Wimbledon this year but the Kasatkina brand of tennis has been on the upswing for longer than that.
The Russian answered with beaming energy that she was able to show everything she is capable of in term of tennis shots, talent and emotion on court. She started the press conference by telling everyone how much she enjoyed it out there in, what was on the scoreboard, a straight-sets loss. But Kasatkina did not care that it was the Wimbledon Centre Court or that it was her first quarter-final of The Championships and only the second one of a Slam.
Kasatkina would bring her top-spin cross-court forehands, her slices and side spin, her trademark jumping backhands and that all important swashbuckling swagger on court that's currently second to none on tour. The last game of the match went on forever and Kerber was made to sweat over seven match points to get through. One of them was saved by dragging Kerber wide out of her ad court and a Kasatkina short hop disguised drop shot, finished with a casual stroll and a smile towards her box. She knew that Kerber — one of the most relentless defenders in the game — was not getting to it.
The shot-makers love to end every point with a flourish. Kasatkina's shot-making sings and her aria, even within a single point, can vary pitches, speed, spin and energy levels. Women's tennis, for a long time now, has been dominated by power over finesse and Kasatkina is a new entrant trying to win with everything at her disposal. A question often asked of shot-makers and theatrical players is that are they going for a skill show-off and if that comes in the way of winning. Until they succeed, we often second guess such athletes — why did she go for a drop shot there? Was that jumping backhand necessary? Did she go for the good-looking shot only to miss the open court? 
But every player, at this age and level when they have already been steeped in years of practice and matches, responds to a muscle memory that they know wins them matches, and to get to that champion level, they only need to cover the chinks.
On Tuesday, the Centre Court was delighted with Kasatkina's play and wanted more tennis which the Russian was only waiting to offer. In the Royal Box, Billie Jean King was relishing every moment Kerber and Kasatkina spent on court. The commentators bookended every Kasatkina winner not just with a "Wow!" or "Are you kidding me!" but also with a gleeful guffaw. It has to do with the audacity of it. There was a failed tweener attempt. But in the second set, replete with traded breaks, at deuce on Kerber's serve with the score reading 3-4*, Kasatkina came up with a balletic one-legged leap for a drop shot. Kerber did not even bother chasing.
Talking of power, there is one other player — a winner on Tuesday — who can only play her natural game no matter what the situation. Jelena Ostapenko won a Grand Slam, the 2017 French Open, playing that fearless, every-shot-I-play-is-intended-to-finish-the-point tennis. When she is on song, nobody has answers and Simona Halep surely did not during that French Open final. Halep, who was cruising to what could have been her first Slam — a full one year before it finally arrived — was stopped by a go for broke Ostapenko. The only difference here is that go-for-broke tennis is usually the option for players with nothing to lose against stars or those playing with injury, trying to finish a match. But it is in Ostapenko's blood.
In her quarter-final against Dominika Cibulkova, a momentum shift occurred at 5-5 in the first set from which Cibulkova could never recover. Ostapenko hit a backhand ripper grazing the sideline to get to break point and followed it up with a statement-making return winner to break for 6-5. Ostapenko won nine points in a row to take the set. Cibulkova and her team's screams of "Pome!", audible across Wimbledon Village up till that game, were never heard again. Kim Clijsters in the commentators' booth talked about how you can see that Ostapenko has a Slam win and how hard she can be to play against. Not just physically or technically but also mentally, never allowing the opponent to get into a rhythm.
Ostapenko finished with 33 winners. She leads the tournament, men or women's, in return winners — 23. Ostapenko is not going to change her game in any situation, especially with a Grand Slam win behind her. If it can give her one, there is no reason it can't give her more.
The ladies' quarter-final day saw two players who always play with a unique sweeping style that can lead the spectators into gasps and astonishment. One turned out to be a winner. Another tried very hard to push and played better than what the scoreboard suggests. We'll see more of Jelena Ostapenko's line-kissing winners in this tournament. We'll see more of Daria Kasatkina's jumping backhands in the future, on big courts. Fearlessness and flair can individually win tournaments. Combined, they create superstars.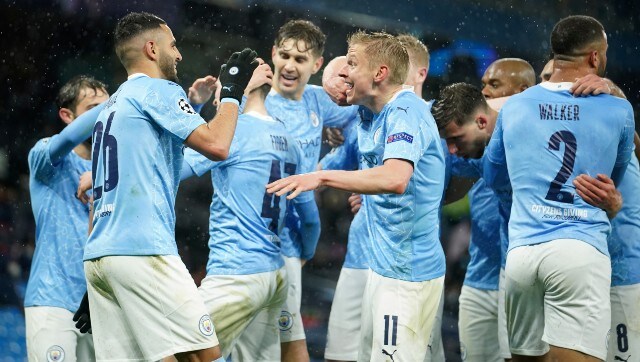 Sports
Mahrez's goal also decided the first leg and the Algerian, who grew up in the Parisian suburbs, haunted his hometown team again with two clinical finishes early in each half.
Sports
Preparing to return at this week's Italian Open to gear up for Roland Garros later this month, Williams on Monday detailed her recent training regimen.
Sports
The Australian will be one of the favourites at Roland Garros after her victory there in 2019 and because of her excellent recent form.