Wimbledon 2017, men's final preview: Confident Marin Cilic stands in way of Roger Federer and history
Roger Federer is bidding to become the first man to win eight Wimbledon titles and he faces a strong challenge in seventh seed Marin Cilic in the final.
Roger Federer will compete for a record 19th Grand Slam title on Sunday, and for the first time in eight years, he will not be facing a fellow member of the "Big Four" at this stage of a Major — Rafael Nadal, Andy Murray and Novak Djokovic all failed to progress beyond the last-eight.
Federer is yet to drop a set at Wimbledon, and he has cruised through his first six rounds, having been broken only four times. He isn't just simply turning back the clock with his age-defying tennis at the age of 35; he is doing that in ruthless fashion.
The Swiss ace has lost only two matches in 2017, and has four titles to his name, including the Australian Open. Just 12 months ago, Federer shut down his 2016 season after a heart-breaking five-set loss to Milos Raonic in the semi-finals of Wimbledon. Few people could have predicted back then that he would return in 2017 and dominate the tour.
Standing in way of Federer's bid to become the first man in tennis history to win The Championships eight times is Croatia's Marin Cilic. And Federer has every reason to be wary of his opponent going into the final.
The last time that Federer played a man outside of the Big Four in a Grand Slam final, he ended up on the losing side. A 20-year-old Juan Martin del Potro put up an inspired show in 2009 to beat Federer at the US Open. It was also in New York, five years later, that Cilic played one of the best matches of his career to knock Federer out in straight sets in the semi-finals.
Cilic went on to win the US Open in 2014 with an unstoppable high-serving, power-hitting brand of tennis. As a reminder about how much damage the Croatian can unleash, Federer does not have to go too far back. Just a year ago, Cilic had the man from Basel on the ropes when he led by two sets in their quarter-final match. Cilic had three match points, before Federer produced a Houdini-esque escape and prevailed in five.
Federer issued a word of caution in his press conference after the semi-final win. The seven-time champion leads the head-to-head record against Cilic 6-1 but he seemed well aware of the challenge on his hands in the title decider.
"I'm in for a tough one. Plus we had a great one here last year. Also at the US Open, he played unreal there against me. So I know it's going to be tough.
"I have to play offensive myself. If you give Marin time on the ball, you know, he can finish points nicely. The court is still playing quite fast. It helps on my serve, but it also helps him. I'm sure it's going to be a close match," Federer told reporters.
The 6'6"-tall Cilic has a lethal serve that can be almost difficult to counter when it's on song. He hits his forehand with great power and can dictate from the baseline. His expansive wingspan allows him to cover the court well, and has a solid two-handed backhander. Under the tutelage of coach Jonas Bjorkman, Cilic has been playing with more confidence and the Swede is trying to make Cilic a more intimidating force on the court.
"When you're a nice guy like Marin, you also need to show you have a little bit of the beast inside you, and I think that's been really good the last couple matches. I've seen a lot more sort of fist-pumping, and I think that's great. He's nearly two metres tall. You can intimidate a lot of players being out there and showing the character you have — that you are out there to win," Bjorkman told the New York Times.
However, Cilic knows he will have to play lights-out tennis on Centre Court to have any chance of beating Federer. In his semi-final win over Sam Querrey, the seventh seed was nervy and inconsistent, that allowed the American to win their opening set. Cilic cannot afford to squander any opportunities in the final and will need to attack from the word go.
"This is his (Federer's) home court, the place where he feels the best and knows that he can play the best game. I know that it's a big mountain to climb. Roger is playing maybe one of his best tennis of his career at the moment, having a great season. So I know it's going to be a huge challenge," Cilic said in a press conference.
Federer was tested by Tomas Berdych in the semis but even thought the Swiss was far from his clinical best, he got the job done in straight sets. Federer has been winning 83 percent of his first serve points and his backhand is looking better than ever.
He has been chasing an eighth title here for years, but this time appears to be extra motivated and driven. Federer chose to skip the clay season altogether to be fresh for grass, a move that now seems like a masterstroke given how both Murray and Djokovic succumbed to injuries.
Cilic also had a tough five-setter against Gilles Muller in the quarter-final and has spent four and a half hours more than Federer on court overall. On the other hand, the third seed had little trouble beating Raonic in his last-eight match. While Federer should be the more rested player of the two finalists, he has been suffering from a heavy head cold this fortnight.
It has been 14 years since Federer won his first Wimbledon in 2003 and five years since he last won it in 2012. At 35 years and 342 days, he is also aiming to become the oldest man to win Wimbledon in the Open Era.
On Sunday, history beckons Federer, as he has a chance to surpass Pete Sampras and Willie Renshaw and reign supreme at his beloved All England Club. However, Cilic will be hoping to get in the record books himself as only the second Croatian to lift the trophy at Wimbledon. If 2016 was anything to go by, we are in for a classic finale.
Find latest and upcoming tech gadgets online on Tech2 Gadgets. Get technology news, gadgets reviews & ratings. Popular gadgets including laptop, tablet and mobile specifications, features, prices, comparison.
Sports
International travel to Australia is still tightly controlled and all overseas arrivals must quarantine for two weeks, while individual states also have their own COVID-19 restrictions.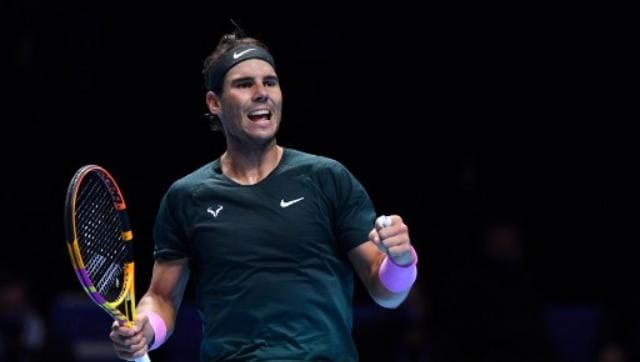 Sports
Nadal, whose haul of 86 singles titles includes just one on indoor hard courts, is chasing the biggest prize missing from his resume at the eight-man elite event.
Sports
Novak Djokovic, five-time winner finishes second in Group Tokyo 2020 behind Medvedev and will play third-seed Dominic Thiem in the semi-finals on Saturday.