Day 3 of Wimbledon went largely according to predictions with Andy Murray, Rafael Nadal, Victoria Azarenka and Venus Williams advancing to the next round. The ouster of bookmakers' favourite Petra Kvitova was the biggest upset of the day.
Defending champion Murray continued his title defence with a convincing rout of trick-shot artist Dustin Brown from Germany 6-3, 6-2, 6-2.
As we look ahead to Day 4 of the Wimbledon, here are a few off-court highlights from Day 3 at SW19.
Day 3, the headlines...#Wimbledon pic.twitter.com/ZiEjhhkeK7

— Wimbledon (@Wimbledon) July 5, 2017
Dimitrov praises brave Romeo 
Impressed with the tennis skills of Romeo Beckham, the son of former England captain David Beckham, Bulgarian star Grigor Dimitrov said, "He's a very talented kid. I think he hasn't played tennis for that long, but he sure showed a lot of potential."
The former Wimbledon semi-finalist added, "I just wanted to do something nice for him. He came to quite a few of my matches. I was glad also to spend also some time with Victoria and get to know the family from close"  
David Beckham's son Romeo getting a tennis lesson from Grigor Dimitrov. Like everyone does. pic.twitter.com/nvWVWbJY0m — Lynn Bee (@lynnlovestennis) July 5, 2017
They have found THAT kid
If anyone knows the kid that unfortunately had the towel ripped out of his hands...tweet his name at me and I'll be sure to get him one
— Jack Sock (@JackSock) July 4, 2017
The young fan, who was cruelly robbed of a Wimbledon souvenir by an adult in the stands on Day 3 and became the most searched personality at this year's Wimbledon, has now been identified. Jack Sock's PR manager confirmed that the boy, from Ireland, has been found. Not just Sock, but all the remaining three Grand Slams have confirmed that they will provide the kid with a towel making it a "#TowelSlam".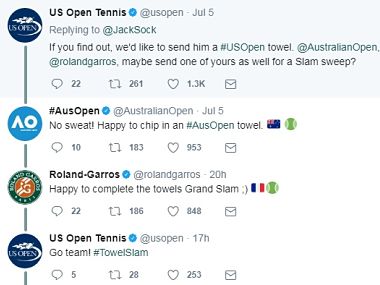 Ant-Attack
While on the first day many players withdrew due to injuries, on Wednesday, many players like Jo-Wilfried Tsonga, Kei Nishikori and Sam Querrey faced a unique problem at Wimbledon — a flying ant infestation. You heard that right! Flying ants. Luckily, for the players, the ants in question did not seem to be too interested in the tennis on offer and chose to make a quick getaway.
Diving headfirst into #Wimbledon like... pic.twitter.com/Ok9iXKIDF7 — Wimbledon (@Wimbledon) July 5, 2017
Shots of the Day
The heavily-dreadlocked Dustin Brown was ousted from the Wimbledon on Wednesday. But boy did he bow out in style!
Bowing out in style.

Dustin Brown was hardly going to exit The Championships without a few moments of magic...#Wimbledon pic.twitter.com/f94iSnQCaz

— Wimbledon (@Wimbledon) July 5, 2017
Quotes of the Day
"If my leg was broken, I'd be crawling to the next ball. That's just me, though. I just can't retire."
— Heather Watson finding it impossible to imagine that she'd ever quit a match through injury.
"If I do, my coach said he'd shave his head. But I said, No, your girlfriend will kill you. You can shave your legs."
— Watson on what lies ahead if she reaches the second week of a Grand Slam.
"They were in my nose and my ears."
— Jo-Wilfried Tsonga on battling flying ants at Wimbledon.
"I don't see myself being back on tour after baby and not even so soon like she did."
— Dominika Cibulkova on her admiration for Victoria Azarenka coming back on tour after giving birth to her first child in December.
Stats of the Day
11 — The successive number of grass court matches lost by Paolo Lorenzi, stretching back over three years, before the Italian halted the run with a first round win over Horacio Zeballos of Argentina.
97 — The number of main draw matches Venus Williams has played at Wimbledon, surpassing Serena on the list for active players. In the Open era, only Martina Navratilova (134) and Chris Evert (111) played more times.
Updated Date: Jul 06, 2017 15:29 PM