'Why single out Arsenal': Arsene Wenger says it's tough for everyone in the Premier League
Arsenal manager Arsene Wenger complained that criticism of his team was misplaced following their 2-0 victory over West Bromwich Albion and said that stay-away supporters were not necessarily protesting.
London, United Kingdom: Arsenal manager Arsene Wenger complained that criticism of his team was misplaced following their 2-0 victory over West Bromwich Albion and said that stay-away supporters were not necessarily protesting.
Alexis Sanchez scored twice as Arsenal returned to winning ways on Thursday following successive draws, climbing above Manchester City and into third place in the Premier League in the process.
With Chelsea, Manchester United and Liverpool all out of the picture, this season represented a golden opportunity for Arsenal to end their 12-year title wait, but Wenger feels that it is unfair to single his side out for criticism.
"It is difficult for everybody," said the Frenchman, whose team now have a four-point cushion over fifth-place Manchester United in the scramble for a top-four finish and a place in next season's Champions League.
"Look at the table. There are top, top teams who are behind us. Because Leicester are in front, everyone thinks we should have done it.
"Yes, OK, but you can say that for any other team because Leicester were bottom of the table last year. So you could say all the 19 teams can say that."
Despite Arsenal's victory, there was no disguising the lack of any sense of occasion, with thousands of empty seats visible throughout the game.
Asked if he had a message for the fans who had stayed away, Wenger told his post-match press conference: "Come and support the team. If you love football, I think you'll see quality football.
"That's what we try to give to our people. It is a special (unusual) night as well, Thursday night.
"I don't know that you are intelligent enough, nor am I, to detect exactly why everybody who did not turn up tonight did not turn up."
When one journalist put forward Masterchef as a possible explanation for the fans' absence, Wenger replied: "That's a good reason maybe. Why not?"
Arsenal's bid to nail down a top-four place has been aided by the timely return to form of Sanchez, who has scored five times in his last four appearances.
The Chile international opened the scoring in the sixth minute, spinning away from Sandro in midfield and drilling home from outside the box, before adding a neat free-kick seven minutes prior to half-time.
Iwobi 'surprising'
"He had a top-quality first half and in the second half he dropped a little bit physically, but overall his contribution was vital," Wenger said of Sanchez.
"For us every point is important at the moment. We play under permanent pressure for every single game, so it is important to have the lead early and to focus on the way we want to play football."
Wenger also praised 19-year-old Nigerian forward Alex Iwobi, who started for the sixth game running.
"He's improving game after game, because he is just coming in, so that's one of the positives of the season," said Wenger.
"Game after game, he shows quality. He's surprising and his consistency is as well surprising, because he has played only youth-team football and suddenly he plays at that pace.
"I'm a bit cautious with him at the moment, but overall, what he produces, he's a football player."
West Brom manager Tony Pulis, whose side remain 10 points clear of the relegation zone, said that he had "no complaints" about the result.
West Brom have scored just once in their last five games, with Saido Berhaino squandering two penalties in Saturday's 1-0 defeat by Watford, and Pulis admitted that his side's finishing was a source of concern.
"We've missed chances," he said. "In the last game we missed two blinking penalties. So we've had the opportunities, we just haven't put them in the back of the net."
The visitors had half-hearted penalty appeals turned down in the first half when Sanchez cleared the ball against his own hand, but Pulis refused to discuss the incident.
"I've got (into) enough trouble this year talking about referees," said the Welshman. "I'll let you decide that."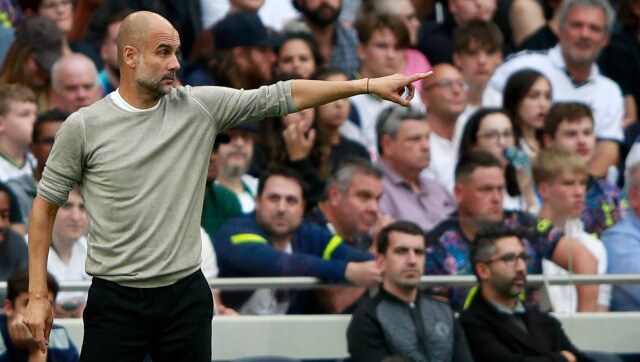 Sports
The champions travel to Chelsea on Saturday three points behind the Blues, Liverpool and Manchester United at the top of the table.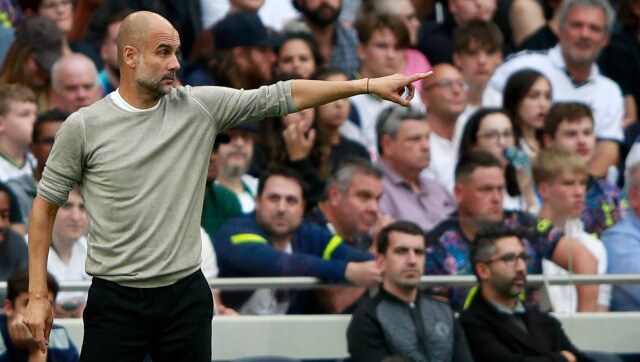 Sports
The City boss said this week that he wanted a bigger crowd at Saturday's home game against Southampton than the 38,062 who watched his side's 6-3 Champions League win over RB Leipzig in midweek.
Sports
The Premier League champions start their campaign against Bundesliga side RB Leipzig on Wednesday, less than four months after their painful 1-0 defeat to Chelsea.