What Naomi Osaka and Daria Kasatkina's impressive giant-killing runs at Indian Wells mean for the future of WTA
In Daria Kasatkina and Naomi Osaka, not only do tennis fans have two immensely skilled and talented players, they are also very likable personalities.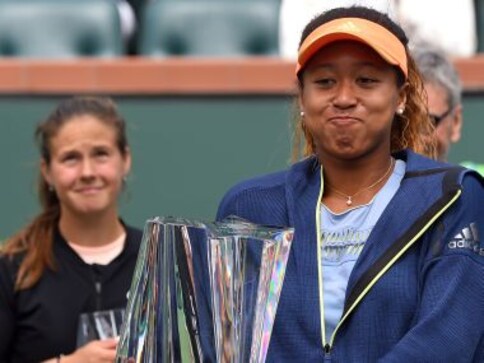 The 2018 tennis season's first ATP Masters 1000 and WTA Premier Mandatory concluded recently in the scenic Californian desert of Indian Wells. Touted the "fifth Grand Slam" for its award-winning facilities, sprawling Tennis Garden and idyllic mountains in the background that make it the most picturesque tournament in the sport, this combined men's and women's event in March always has great tennis to offer.
This year, the women's singles title at the BNP Paribas Open was won by 20-year-old Naomi Osaka while Juan Martin del Potro was crowned the men's singles champion.
For both Osaka and Del Potro, the title-winning runs were important breakthroughs in different stages of their careers.
Future is now for the WTA
The Indian Wells title was Osaka's first title at any level – she had previously not won any WTA or ITF trophies, singles or doubles, and hadn't played the junior circuit in her teens.
Osaka also became the third unseeded player to lift the trophy in the Coachella Valley and the youngest since Ana Ivanovic in 2008.
Osaka's final against fellow 20-year-old Daria Kasatkina of Russia was the first final at Indian Wells featuring two under-21 players since Serena Williams beat Kim Clijsters in 2001. This tournament also reiterated a growing trend on the women's tour – the future is now.
It was at Indian Wells in 2016 that the ATP had launched its 'Next Generation' campaign to highlight upcoming talented youngsters aged under 21 who were climbing to prominence on the men's tour.
Along with the annual NextGen Finals, this branding campaign has worked wonders for the ATP as it has brought recognition for a rising crop of male players and even casual fans of the sport are acquainted with their gradual ascent.
While the likes of Alexander Zverev and Nick Kyrgios (now 22) have had a fair amount of success over the last couple of years, they still haven't been able to step out of the shadow of the "Big Four" – Roger Federer, Rafael Nadal, Novak Djokovic and Andy Murray.
On the other hand, the WTA rising stars are not just making waves but have become genuine title contenders at the biggest events of the season. In 2015, Switzerland's Belinda Bencic won the Toronto Open and later broke into the top-10 at the age of 18. Twenty-year-old Jelena Osatapenko clinched the French Open trophy in 2017 and has since cemented her place in the top-10 of the WTA rankings.
There are 16 players aged 21 or under in the WTA top-100 and each of them has the potential to upset the status quo and become a star in the future.
Osaka and Kasatkina are the latest players from the born-in-1997 club to steadily rise up the ladder and grab headlines for their giant-killing runs. Kasatkina is on a red-hot streak of form – she reached the semi-finals of St Petersburg, made the final at Dubai and Indian Wells and has risen to a career-high rank of 11.
Kasatkina's versatility, which includes a wicked top-spin forehand, a kick serve and an array of volleys and drop shot, has helped her defeat all the four reigning Grand Slam champions in the past seven month – Ostapenko (US Open, third round), Garbine Muguruza (Dubai semi-final), Sloane Stephens (Indian Wells, third round) and Caroline Wozniacki (St Petersburg, quarter-final and Indian Wells fourth round).
The Russian also conquered former World No 1 and Grand Slam champions Angelique Kerber and Venus Williams en route the Indian Wells final.
If Kasatkina's run in California has been impressive, Osaka's has been jaw-dropping. The Japanese was named the WTA Newcomer of the Year in 2016 and the raw power that she possesses had made her stand out as one to watch out for at the very start of her career.
However, what was astonishing about Osaka's title-winning heroics was her consistency. Under Sascha Bajin – who was once Serena and Wozniacki's hitting partner – Osaka is playing with conviction and confidence.
At Indian Wells, Osaka won the title by dropping just one set and blew her opponents off the court. She started with a morale-boosting win over Maria Sharapova in the first round, dismantled the tricky Agnieszka Radwanksa next and then defeated Sachia Vickery and Maria Sakkari to reach the quarter-finals.
In the last-eight stage, Osaka faced a similar big-serving, flat-hitting foe in No 5 Karolina Pliskova. The 20-year-old overpowered her opponent with swinging forehands and crushing first serves. One of Osaka's biggest strengths is the ease with which she can change direction on the ball.
She kept Pliskova guessing by passing the Czech when she chose to venture to the net and then making her move from corner to corner on the baseline in the very next point. The unseeded Japanese took just 44 minutes to win 6-2, 6-3 and set up a semi-final meeting against World No 1 Simona Halep.
Just two months ago, Osaka and Halep had met in the Australian Open Round of 16, where the Romanian won comfortably in straight sets. Their Indian Wells encounter was a testament to how much Osaka has grown in confidence since then, as this time around, she dominated from the word go and played some of her most impressive tennis of the tournament to overwhelm Halep 6-3, 6-0.
Osaka did not just pulverize the ball at every opportunity that she got, she also outplayed the usually steady, counter-punching Halep. She showed zero signs of nerves and ran away with the last nine games of the match to enter the final.
Clash of styles and personalities
The final between Kasatkina and Osaka was a fine clash between two contrasting styles of play. Along with her power-hitting, Osaka also displayed that she has improved by leaps and bounds in her movement. Osaka was the more stable and patient player in the title-decider and her steady hitting helped her to a 6-3, 6-2 win and her first ever title. With the victory, she has ensured that she broke into the top-25 for the first time in her career.
When asked how she has managed to bring in so much consistency to her game, Osaka replied, "It means that I'm not giving away free points. I'm not going to slap a ball when it's not there. Just to have good matches throughout the entire year and not be as much of a rollercoaster.
"In the off-season I was trying to get fit so I could play long rallies all of the time. So I think that really paid off. This year I just really try to respect every opponent I play because I know they're good players and I shouldn't get angry when I play them. I should just focus on what I'm doing and be happy that I get to play these events," she added.
In Kasatkina and Osaka, not only do we have two immensely skilled players, they are also very likable personalities. Osaka is shy and soft-spoken while Kasatkina is more outgoing and expressive; but they are both a lot of fun to watch.
They are funny and witty on social media – their tweener training video was one of the most entertaining off-court moments during Indian Wells. With their pleasantly surprising runs to the final, Osaka and Kasatkina have offered tennis fans two new faces to root for.
The Indian Wells final was the first time that Osaka and Kasatkina played each other. But given their young age and oodles of talent, it could just be the start of a long, thriving rivalry.
Sports
Sharath Kamal slayed world number 15 Aruna Quadri as defending champions India rode past Nigeria 3-0 to make another final at the Commonwealth Games
Tennis
India's Rohan Bopanna and his Dutch partner Matwe Middelkoop lost to the British-Finnish pair of Llyod Glasspool and Harri Heliovaara in straight sets in the Hamburg European Open final
Tennis
Emma Raducanu will face 60th-ranked Liudmila Samsonova for a berth in the semifinals. Meanwhile, Nick Kyrgios vs fourth-seeded Reilly Opelka, and Frances Tiafoe vs Botic van de Zandschulp were halted due to rain on Thursday night.