What Indian table tennis needs to trump China, other East Asian nations at Olympics
When we cite China or Japan as examples for countless medals that they have won at the Olympics and Asian Games, we tend to forget the amenities available to sportspersons in these countries.
We all know table tennis is one of the top five most popular sports in the world. And if Indian table tennis is flying high of late, it is for more reasons than one. The second division titles our teams won in the World Championship last year was indeed praiseworthy. It was a first for India. Even more commendable was two men and as many women — Sharath Kamal, Soumyajit Ghosh, Mouma Das and Manika Batra — making the cut for the Rio Olympics, yet another first for the country.
The Olympics qualifications are never a fluke. In fact, it was the culmination of a season that had gone well with consistent performances by the Indians right through the year. For instance, at the World Championships in which both the teams won in the second division. Our perception is that the men's team would generally do well. But when the women also excelled and matched the performance of the men, it was beyond one's expectation.
Look at the positivity. There has been a marked improvement in international rankings of most Indian players. Except for the 2014 Commonwealth Games at Glasgow, the Indian paddlers have either lived up to the expectations or improved upon them.
Take for instance, Sharath. He has been the lone Indian in the top 100 for several years. He even broke into the top 30 and was well on course to surprise one and all. But a hip injury he suffered during the Suzhou World Championships and then a bad back halted his progress. It took nearly eight months for him to be back on track. It was heartening to see Ghosh breaking into the top 70 as well around that time. In fact, he upstaged Sharath during the period and was the top-ranked Indian for some time. Then Harmeet Desai followed suit. Besides Sharath, Ghosh and Desai, woman player Batra was among the top-100 till recently. This speaks volumes about the upward curve Indian table tennis is on.
Even as the three male players find themselves well-entrenched, the ranking graphs of Anthony Amalraj, G Sathiyan and Sanil Shetty are showing steady improvement. I won't be surprised if they too join the top-100 club sooner than later. The new ranking system, introduced by the International Table Tennis Federation (ITTF) from January 2018, should come in handy.
This trend contrasts the past of Indian table tennis. In fact, India has never had more than one player in the top-100 of the world. Of course, there were paddlers like Sudhir Phadke, Sudhir Thackersey, Farookh Khodaiji, Manjit Dua, Kamlesh Mehta and Chetan Baboor who had made it to the top 100, but at different times.
Future bright
While on the subject, it is pertinent to mention the progress of junior paddlers, especially Archana Girish Kamath and Manav Thakkar. Thanks to a plethora of overseas exposures and training methods chalked out for them, they have done extremely well in the Global Junior Circuit, winning titles. Seeing their potential, the ITTF has chosen them for a special funding through International Olympic Committee's solidarity programme. It helps them with advanced training abroad and assured participation in ITTF's Global Junior Circuit events until the Youth Olympics next year. Taking the cue, a lot of players have been competing in junior events at their own cost to improve rankings. This augurs well for the future.
In fact, some of the senior paddlers also play the lower divisions of various leagues in Europe. This gives them access to training facilities apart from an opportunity to rub shoulders with strong and powerful players who are true professionals. This is a departure from what had been the practice in the past. Until some years ago, players travelled to other countries for training and competitions as and when they got government grants.
Now, players are venturing out at no cost to the government with the help of the Table Tennis Federation of India (TTFI) and it is paying dividends. Not only the players, even their personal coaches travel overseas with them which, in turn, helps them gain experience and update their knowledge with modern coaching methods. In the bargain, the coaches get the recognition they deserve, making them financially strong.
"If we don't give adequate exposures to our players and coaches the sport cannot grow, particularly when we are a part of the same continent (Asia) which has world-beaters," says former secretary general of TTFI, Dhanraj Choudhary. "To boost the performance of Indian players a great deal, the TTFI is also hosting quality international events across all age groups so that more top players from around the world compete against our own paddlers at home," he adds.
With the gap between most players on the international circuit getting reduced in recent years, the Indians are slowly getting there. Even the change in the rubber technology and in ball dimensions has had a lot to do with it after the change of points system from race to 21 to race to 11. As a result, lately, one gets to see a number of close matches, with top players, on several occasions, going down to lower-ranked ones. When you add the pressure of playing the major events — Asian Games, Commonwealth Games or Olympics — it becomes a heady cocktail.
"At the continental level, our senior team's aim had always been to do well and, possibly, finish among the top eight teams. We are slowly getting there," says incumbent TTFI secretary general Mahinder Pal Singh. "We are happy that our teams are now a part of the elite group and would compete in the champions division of the next World Championships. It's a rare honour for India."
Changes for good
I don't consider myself to be a part of table tennis history. Yet, I can vouch for the changes that have come about in the sport. Being a witness to the sport that saw the change in points system, the tables turning from green to blue to black and the ball from white to orange, I feel privileged to have written about the rare medals for our junior boys at the World Championships. Watching Sharath, from a junior boy to be ranked world number 39, an era from Indu Puri to Manika Batra, the making of several champions, a helpless witness to the wasted talents due to various reasons and a patient listener to the tales of triumph and disappointments straight from the performers, I could not have asked for more.
I also feel privileged to have interacted with several sports administrators — from good and great to the bad and worst — during my long career as a sports journalist. But the late Ranga Ramanujam, a hard-to-please man, was in the forefront of putting India on the world map of table tennis. He was instrumental in organising the first World Championships in India in 1975 (India have hosted three World Championships). I have been a witness to the command and control of VC Shukla and IS Bindra, but Mool Chand Chouhan surpassed them all as an administrator.
But it was a friendly Dhanraj Chaudhary who, as a sound technical hand, brought in a lot of changes during his tenure which, in turn, altered the face of table tennis in India. The sports ministry's funding and the Sports Authority of India's continued help in clearing proposals has led to a quantum jump in improving the standards of many a paddler. There is a foreign coach available in Italian Massimo Costantini, an affable personality with great knowledge of the sport and coaching. TTFI is also planning to rope in a foreign expert for the junior paddlers.
The professional league, currently on and conducted for the first time with the help of the TTFI, is at its infancy. It's too early to make a comment on its pros and cons. However, it has certainly helped the Indian players mix and learn a few things from the higher-ranked foreigners.
Yet, India has miles to go for even nurturing a thought of toppling the world powerhouses China, Japan, South Korea, Chinese Taipei, Hong Kong and Singapore. As if this is not enough, the US, New Zealand and most European nations have paddlers of Chinese origin turning out for them in major Games. This puts India on a real sticky wicket.
The question we often pose to ourselves at different fora is how China or, for that matter, the other Asian countries in the East are doing far better while India is lagging behind. The answer to this question is very simple. To match the performances of these countries, we need to step up on several counts. First and foremost, sports have to be made a part of the school curriculum. In fact, there have been talks on the issue at regular intervals and for a long time but unfortunately academics takes precedence over everything else in India. It has to be drilled into the parents that their children can also make a career out of sports.
When we bring on China or Japan and cite them as examples for countless medals that they have won at the Olympics and Asian Games, we tend to forget the amenities available to sportspersons in these countries. They are state property and offered all facilities with the sole aim of winning medals. In India, we have neither sports culture nor is it considered a priority. It automatically reflects on the annual budget allocation the Centre makes.
The National Centre Zhengding in China, for instance, is an all-encompassing table tennis training facility with complete scientific backing to monitor the players' progress and covering all parameters with an enormous budget. According to a foreign sports journal's report published after the Rio Games, what India had been spending on our athletes since the Rome Games in 1960 is what China had spent to prepare its athletes for Rio alone!
Talking of Japan, the Olympic Centre in Tokyo where their players train in six disciplines, including table tennis, is a state-of-art facility. "The player and support staff ratio in Tokyo is 1:5! This is over and above the national coach and other directors. The multi-brand table and multi-ball facilities with different types of sparring partners make the players the kind of stuff they are made of," marvels Sandeep Gupta. The top coach of Delhi, who has produced two Olympians — Neha Aggarwal and Manika Batra — was at the centre with the latter for a fortnight-long training and competition prior to the Rio Olympics.
At any given time, even a cursory look at the ITTF junior ranking will indicate that nearly 40 percent of the top-50 players are from Japan. That's how strong nations prepare their athletes. No doubt, there are a lot of academies in all the metropolitan cities, run by former players, with the club culture intact. What we need is a national centre for table tennis, like the ones in China or Japan. There is one coming up in Kolkata in collaboration with Steel Authority of India Limited (SAIL) and SAI. But it will take years to grow in stature.
My understanding of sports in India is that we are not as passionate as most nations tend to be. Maybe, it has something to do with our dismal performance in Olympics and other major events with fewer medals to show. Our general tendency is to dismiss things in a jiffy.
There are several reasons to India, despite having the second largest population in the world, not achieving a respectable position in sports. Indeed, it is a matter of sorrow. But in recent times, in certain disciplines our sportspersons have done the country proud. This goes on to prove the theory that there is no dearth of good sportspersons in India but there is only a need to tap their potential or encourage them.
Some of the government actions in recent times have made sports less of a leisurely activity and more of a dedicated effort. Providing formal training in sports is essential and this initiative should be taken forward. Even though countries like China and Japan have advanced scientific training facilities in place already, India is making a steady progress on this front — of late we are employing international staff for coaching and sports counseling.
Continuation of determined effort in this direction will enable India to make its mark in disciplines other than cricket, which is the fantasy sport of many Indians. Provision of advanced amenities accompanied by developing interest in sports and physical training among the Indian youth will produce good results in the future.
We need to have more and more players competing in Pro Tour events so that they can garner vital ranking points. The trend has begun but it needs to continue unabated. Another important aspect is the need for increase in intensive national camps by the TTFI. If all the top players train together with a common objective, it will help them raise the bar and work towards bringing more laurels to the country. It worked well ahead of the 2010 Commonwealth Games with increased budget. The results were there for all to see.
The Target Olympic Podium Scheme (TOPS), introduced just a couple months before the Rio Olympics, was short-sighted. If only the government had done it, say, at least two years before the Games the players could have benefited immensely. It was an unwarranted splurge of public money. Instead, we should plan and groom players properly.
The author is a senior sports journalist who has covered mutli-discipline events like World Athletics Championships, Asian Games, Commonwealth Games and Olympics and is the media manager for the TTFI.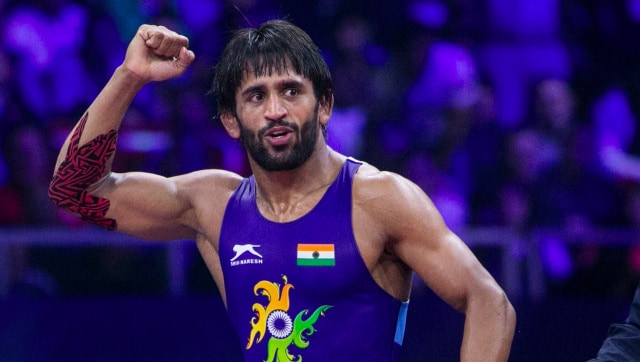 Sports
Bajrang, who is under the scanner for lack of attacking moves in his bouts since the Asian Championship, booked his berth in the national team with wins over Sujeet (4-0) and Vishal Kalliraman (2-1).
Sports
The committee nominated to oversee judo selection in the country will conduct final trials in seven weight categories from 23 to 26 May, Sports Authority of India (SAI) said on Sunday.
Sports
From fitness to power, table tennis star G Sathiyan is sweating it out on various fronts to be a better version of himself.