'What happened with Narsingh Yadav is anti-national': Golfer Anirban Lahiri blames IOA for poor Olympics
As far as changing a broken system goes, golfer Anirban Lahiri wasn't very hopeful, but said it had to start by inculcating a sporting culture in the larger population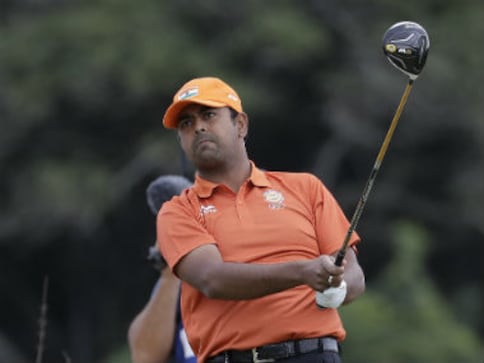 India's top golfer Anirban Lahiri, who competed in the Rio Olympics 2016, has hit out against the officials who run sporting bodies in the country, calling them "anti-national" for the way sports are managed in India and the poor facilities accorded to the country's Olympic athletes.
"It is sad to see how an Olympian is treated in our country," Lahiri told Firstpost by phone from Florida. "I know it is making waves now in the media because we have had a bad Olympics, but it's the same thing, whether you look at golf or any other sport. Every single sporting achievement in this country is in spite of and despite of the system; nothing is because of the system."
"So whether we win six medals like we did in London, or whether we win two like we did this year, or if we win 25, it will still be in spite of the system; never because of it," he added.
Lahiri said he was inspired by meeting India's Olympic athletes from other sports and hearing their stories, but was appalled by the hardships they endured and the handicaps they overcame simply to pursue a sport or discipline that often fails to reward them monetarily. "We are a privileged lot, those of us who play golf, as compared to a lot of what these guys do for a living. Some of them are technically not even sportspersons professionally, because that is not what puts bread on their table. A job that the public sector gives them is what provides them with a means of living."
Such was the contrast that Lahiri wasn't even sure he could have made it in any other sport. "Me and SSP (Chawrasia) were convinced that if we were not playing golf, we couldn't be Olympians. Not in India. I don't think we would have been able to put ourselves through all the pain and discipline that it takes to be an Olympian and the further pain and aggravation it takes to deal with these guys. We might have done the first but definitely not the latter."
No Olympic campaign is ever complete without the question of why India doesn't win more medals, and Lahiri said he has a tough time explaining to athletes from other countries about the system in place in India. Recalling an incident where he was telling a golfer about the Narsingh Yadav dope controversy and the wrestler's accusations that his drink was spiked with steroids to prevent him from competing in Rio. "He (the golfer) just looked and me and said, 'Stop, don't tell me anymore. I don't want to hear. I can't believe this is what happens. I don't want to believe you. How can someone do that to their own people'?" Lahiri said.
"This is literally anti-national. We have been crying hoarse over intolerance, and how this guy is anti-national and that guy is anti-national, but what about our sporting bodies? Has anybody looked at them? Ego (is what motivates these people); ego without any reason to have one. What happened with Narsingh is anti-national. You are taking an ax and throwing it at your own foot,"  Lahiri fumed.
While the Olympics were on, sports minister Vijay Goel not only overstayed his welcome in Rio and rubbed authorities the wrong way with his "aggressive and rude behaviour", he also got gymnast Dipa Karmakar's name wrong, and couldn't tell one athlete from another, tweeting a photo of Dutee Chand while trying to wish Srabani Nanda. Both female athletes are from Orissa and both are sprinters, so presumably in Goel's eyes, one was as good as the other.
Then there are the stories of officials and politicians partying on the beaches of Rio and a chief medical officer whose knowledge of sports medicine extended only as far as prescribing Combiflam, a common painkiller, no matter the problem. That he is also the son of one of the IOA vice-presidents should surprise no one.
Lahiri said he did not see the chief medical officer the entire week he was in Rio, and that most Indian athletes chose to queue up at the Olympic Medical Centre for massages and physiotherapy because they knew that's their best chance of getting support.
Meanwhile, the support staff, whose purpose is to make sure the athletes have as little to worry about as possible, were busy running behind the various "minister saab" who were visiting instead. "And I thought they were support staff for the contingent. How silly of me," Lahiri said, the sarcasm evident.
This apathy has serious consequences when it comes to providing the right environment and proper support for India's athletes. Invariably, the athletes are left to fend for themselves. "Pretty much every single golf team had a coach, assistant coach and a physio," Lahiri said. "Every single golf team. Our (men's) golf team consisted of two players and two caddies. The idea of a coach was shot down, so the idea of having a physio did not arise, let alone someone to assist the coach. So I mean, what are we even talking about?"
In the same vein, Lahiri also brought up the issue of gymnast Dipa Karmakar's physio, who was originally not given permission to accompany her but was then hurriedly rushed to Rio after Dipa qualified for the vault final. "I am glad that at least Dipa (Karmakar) finished fourth and did something that was considered so unthinkable that these guys had a guilty conscience when they went to sleep at night. But is that what it takes for you to actually have a guilty conscience?" he questioned.
"Honestly, it is crazy. There is no comparison. It is like taking a cycle while going to a motor race. Then you are saying why aren't you finishing first, second, third when the other guys are showing up in McLarens and Ferraris? And then we still have a Dipa Karmakar, who cycles at the speed of superwoman to get there," he added.
The apathy and incompetence manifests in other ways too, both big and small. When Lahiri just arrived in Rio de Janeiro, the Indian Olympic Association (IOA) forgot to arrange for official transportation for him. Instead, he had to hire a taxi from the airport and was subsequently denied entry at the Games Village because he was not in an official vehicle. "It took me two hours to get from the airport to the Games Village," Lahiri said. "This was my welcome to the Olympics. The IOA didn't even care that one of their athletes was arriving."
It was a similar situation on the golf course. The second day of the men's event was cold and wet, but the Indian pair weren't given proper clothing for the conditions. "We were standing on the tee box when it was raining and about 13 or 14 degrees in our track tops, while every other team was in their rain wear," Lahiri said. "And when the rain abated, we were still in our wet track tops while every other team was in their sweaters. Neither did we get a sweater nor did we get rain wear and we were not allowed to wear our own. It was embarrassing."
The experience has left such a deep mark on Lahiri that should he represent India again at the Tokyo Games in 2020, he is determined to take care of things himself. "Six months before the next Olympics, I will get every single piece of equipment made and I will do everything by myself, so that I don't have to rely on a last minute gaffe where it may affect our medal chances because obviously they (the officials) don't care," he added.
As far as changing the system goes, Lahiri wasn't very hopeful, but said it had to start by inculcating a sporting culture in the larger population. "Let's face it, anyone who plays a sport past the age of 16 or 17 is abnormal. Normal is a guy who goes for three tuition classes a day."
The other imperative is to have sportspersons running sports federations. "We cannot have someone whose sporting achievement is to go for a walk around his colony running sporting bodies. You need former sportspersons who can understand what is required, who understands at least to some extent what the athletes need or who understand the game."
But even then he wasn't sure it would make much difference. "Change has to happen from the bottom up," Lahiri said. "It doesn't come from the top down. It never happens like that."
Sports
The tour said any players who took part in the inaugural LIV event in England this month would be suspended from the Scottish Open, Barbasol Championship and Barracuda Championship, and fined 100,000 pounds
Sports
PGA Tour have proposed moves to combat the rise of LIV Golf, which has steadily been luring star names to sign with the upstart circuit
Sports
After a thrilling three-man fight down the back nine at The Country Club, Fitzpatrick fired a two-under-par 68 to finish on six-under-par 274 and defeat Americans Scottie Scheffler and Will Zalatoris by one stroke.