What ails Indian tennis and its support structure? Yuki Bhambri, Saketh Myneni and Prajnesh Gunneswaran weigh in
Many young talents have come to the fore and fizzled out or faded away, far from the tennis circuit, or languishing in the rankings if they choose to continue playing.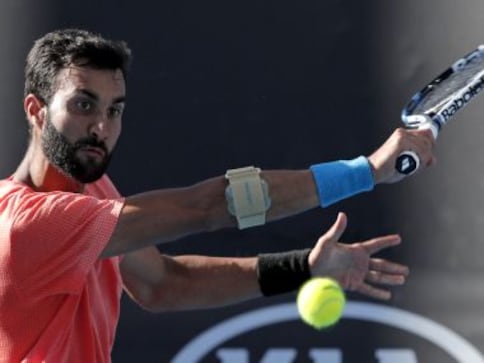 That India has lacked singles players at the top of the game is an age-old complaint, and one that many Indian singles players themselves acknowledge. Many young talents have come to the fore and fizzled out or faded away, far from the tennis circuit, or languishing in the rankings if they choose to continue playing.
Unfortunately, this is not a one-off, but a repeated issue that is more than likely indicative of systemic failures, rather than personal ones entirely. That hypothesis is something that many within the system have indicated – and a number of India's top-ranked singles players echo.
Complaints about tennis infrastructure and how significantly India has been lacking in terms of what players need, have persisted for years. Courts are often insufficient, the diversity of surfaces is lacking, and that has definitely been an issue. This in an issue that authorities have in fact attempted to combat over the past few years, says former India No 1 Yuki Bhambri. "We've been hosting a lot of tournaments of late: the Asian Games, Davis Cup ties, and that has meant that there have been upgrades to stadiums. The government has come in when these ties are there."
What is lacking, Bhambri suggests, is consistency. "We need that funding to be consistent, and significant. Yes, there is definitely more emphasis on tennis, on the infrastructure now that we are hosting more tournaments – but it shouldn't be just then."
What tennis is lacking, say both Bhmabri and current India No 1 Prajnesh Gunneswaran, is grassroots infrastructure. "The level of coaching and competition at the grassroots level is lacking," Prajnesh says. "It sounds basic, but it is crucial: if young players don't have the right learning, or the access to coaching they need, they will lose out on valuable time, skills, and at the most crucial time."
Bhambri echoes the sentiment. "There is really no dearth of talent, but also just not enough for them – there is no knowledge, there is not enough support, and no idea how to hone that talent."
It then becomes those who can afford specialized access to coaches, courts and travel who are then able to succeed in the sport which immediately restricts any talented player not born into a certain socio-economic stratum. Even today, most rely on private academies – something that Bhambri echoes. "Private funding is what we're relying on. There are not that many state academies, or not ones that young talents can use on a consistent basis. The courts are far more accessible in private academies, and they are able to give the children the training that they need to succeed at a certain level."
One thing that Prajnesh, Myneni and Bhambri all agree on is that the quality of coaching in India needs to increase significantly. "There is talent and potential in every city," Prajnesh says, but only a few cities are producing players on a relatively consistent basis: Chennai, Delhi, Mumbai. More specialised, better coaching is isolated to those cities, and not as available elsewhere. We need coaching available in each city to a degree, and most importantly, quality coaching, which is not necessarily available."
Coaching and guidance are crucial, say all three players, and Myneni suggests that incorporating coaching techniques from other tennis-playing countries is important, especially those in South East Asia. "Look at China, look at Japan for example," he says. "Each of those countries are able to produce talent on a relatively consistent basis, especially now, and not just one or two talents every once in a while. If we do not want to necessarily look towards Europe and the USA in terms of coaching techniques, there are plenty of examples within Asia that we can learn from." "Canada, China, Japan, they've all had consistency and a quick and constant churn," Bhambri says, "and they're producing quality tennis."
Bhambri, similarly, feels that a lot of Indian tennis players have immense success on the juniors circuit, but fizzle out. "They're not able to move forward because they just do not have the knowledge, the support that they need, they just have no idea how." Here, the Australian Open boys' singles winner says that hosting more and more tournaments is key. "We need to start from scratch. We need to host tournaments, junior tournaments, to give children the opportunity to transition from juniors to the regular circuit. Host ITF tournaments. Futures. ATP level tournaments."
That exposure, Myneni suggests, is also crucial to give local tennis players more exposure to a larger pool of competitors, something that hosting more tournaments will be key in achieving, especially considering that the cost of playing tennis is prohibitive.
Tennis is perhaps one of the most expensive sports to pursue at the professional level, and at least for the first few years, the costs far outstrip any winnings players might collect, unless sponsorship deals are both early and significant, or private investors take an interest in players' careers. "Exposure is lacking early on," Bhambri says, "and there's really no guarantee of returns. You don't really start earning anything significant till you're 18, 19, even 20, till you hit the circuit for real."
Myneni admits that this definitely restricts some talent from the pool, and prevents those who cannot afford it from continuing in the sport. Prajnesh, similarly, says "there are some players who overcome the odds, get funding somehow, but honestly, not everyone can do that, and many, if not most, are not really able to do so."
That, Bhambri says, means that only those with exceptional talent who also happen to get spotted by the right people, and receive the funding they need, are able to go forward. "Then, it ends up being those for whom all those factors come together, it's those guys who are able to succeed. It happens to those exceptional guys, once in a blue moon, whether it's Leander (Paes) or Somdev (Devvarman)" – or, one might argue, Bhambri himself.
"I had the added benefit of my sisters going through professional tennis before me," he says, "so I knew what the system was like and my parents did, too. But even when I was playing, there was not exactly professional guidance, or someone constantly telling us what to do and when. Sana (Bhambri's older sister), especially, had already played the junior Slams, so my parents knew how to go about it and I had a much clearer idea about the entire system than another kid might have. I was lucky. A lot of kids don't really have anyone, even today."
Call for a better system
All three players agree on one key factor, and that is that there is no one factor that is lacking in Indian tennis – the infrastructure, the coaching, the funding for players all need to improve. The three also suggest that bringing in coaches from other countries, especially from Spain and France, where a lot of young talent who can afford it do in fact go to train. Doing that would ensure a larger pool of talent receives the expertise that not necessarily everyone could otherwise afford. "It's everything, brick by brick, that needs to be built," say both Myneni and Bhambri, and that it is a long-coming work in progress that needs more attention.
Considering the high costs of tennis as a professional career, perhaps parents, particularly in India, should not be faulted for being wary of their child pursuing it full-time. Many choose for their children to give up a sporting career in favour of full-time higher education, something that both Bhambri and Myneni say need not be either or. "Many athletes go the university route," Bhambri says, "like Ram (Kumar Ramanathan), Somdev (Devvarman)". Myneni is himself one of those athletes, and says he benefited greatly from it. "You get exposure that you might not have had otherwise, you get to network and play consistently, you have great facilities – and you don't have to sacrifice your education to pursue your professional career."
That might be the ideal route to consider then, perhaps, for parents who are wary of having to pick either/or.
The three all firmly agree that the system needs to change, and it needs to change now. "We need to have a structure," Bhambri says, "at both centre and state. There needs to be a collective resolution and solution, and we need to actively look out for that solution."
Then, as has been the case with badminton, it will take more former players to come forward, and change the system from within - something that Bhambri says has been key in helping young players. A number of former players - Mahesh Bhupathi, for example, have their own private academies that train young tennis talent. Sania Mirza and Rohan Bopanna, who both have active tennis careers (although Mirza is currently on maternity leave), run their own academies as well.
Then, perhaps, it is important for senior players, once they retire, to help change the system from within: knowing exactly where the failings of the existing system lie is a good place to start in order to truly help Indian tennis go beyond the heights it has been able to scale so far.
also read
Tennis
Novak Djokovic scrawled "Kosovo is the heart of Serbia. Stop the violence" on a camera on Monday in Paris amid clashes between ethnic Albanians and Serbs in the territory.
Tennis
Seyboth Wild, who came through the qualifiers and had never previously won a Grand Slam match, triumphed 7-6 (7/5), 6-7 (6/8), 2-6, 6-3, 6-4 over world number two Medvedev.
Tennis
Marta Kostyuk was booed at French Open on Sunday after refusing to shake hands with Belarusian Aryna Sabalenka.