Watson strikes a blow for the average joe with second Masters win
Watson is a guy who wants to be a good husband and a good father and a good golfer. He just happens to very good at one particular sport; a sport he happens to love and he wants to keep playing it for as long as he can.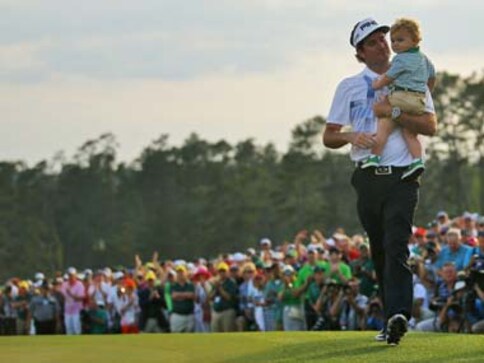 Bubba Watson withstood an inspired early challenge from playing partner Jordan Spieth to clinch the Masters for a second time in three years with a three-shot victory at Augusta National on Sunday. Trailing the prodigiously talented Spieth by two strokes after four holes, left-hander Watson took advantage of a stumbling run by his fellow American around the turn as he upped his own game, then maintained control on the back nine.
Here are three things we took away from Bubba's second Masters title:
Bubba is the everyman champion
To start with, Bubba's name is Bubba and he comes from Baghdad, Florida, a town of less than 1500 people. Guys like that aren't supposed to be professional golfers, much less win the Masters at the cathedral of golf. Twice. He has never taken a golf lesson in his life. His looks like he learned to swing a club in an elevator; it is all sharp angles and awkwardness. His driver is pink. He waddles down the fairway, in marked contrast to Tiger Wood's prowl. He looks like he might fall over when he hits the ball but somehow it flies 360 yards and leaves him a wedge to a par five.
He wanted desperately to win another green jacket but also said this after his victory:
"I hate to say this, because I have it on right now," he said, tugging at the lapel of his green jacket, "but having my son means more to me than the green jacket."
He is a guy who wants to be a good husband and a good father and a good golfer. He just happens to very good at one particular sport; a sport he happens to love and he wants to keep playing it for as long as he can. Put like that, he isn't much different from the rest of us. Well, except for those two green jackets, of course.
The future is here and it looks like Jordan Spieth
Rookies don't win the Masters at their first attempt. Twenty-year olds don't win the Masters either. But for seven holes on Sunday, Spieth made it look like none of that. He was holing putts, jarring bunker shots and taken a two shot lead with 11 holes to go. Mistakes on the eighth and ninth holes allowed Watson to sneak past him but Spieth did enough to show he has the guts and the determination to win Majors.
He could have folded after dunking his ball on the 12th, but he got up and down, holing a clutch 12-foot putt for bogey, and hung around to give Watson something to think about for as long as he could. Spieth will learn from this experience and come back stronger and better prepared the next time around, as the New York Times makes clear:
"It stings right now, but I'm O.K," Spieth said in the gathering gloom. "I'm ready to win here. It's just a matter of time."
A fifty-year old could actually win the Masters
Miguel Angel Jimenez is the anti-Tiger. He smokes, he drinks, he has a belly the size of a small country. But he plays golf like a dream. His four-under finish left him alone in third place, just one shot out off second. Bernhard Langer, the two-time Masters winner, finished tied for eighth at the age of 56. The 54-year old Fred Couples was in the hunt until he went bogey-double bogey on 10 and 11. Because the Masters is played at Augusta every year, it rewards experience. And with modern equipment allowing players to hit the ball farther than ever, distance is not as much of an issue (Jimenez said he hits the ball farther today than he did 20 years ago). One of these years, the breaks have to go the old guys' way. It is just a matter of time.
Sports
Justin Thomas beat Will Zalatoris by one stroke in a three-hole aggregate playoff after a heartbreaking 72nd-hole collapse by Chile's Mito Pereira.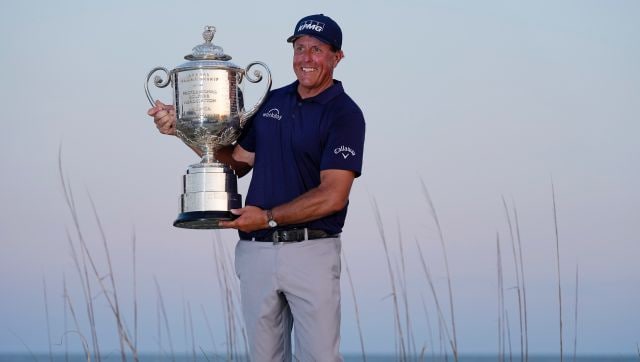 Sports
Phil Mickelson did not play in last month's Masters for the first time since 1994 and is missing the PGA Championship for the first time since he made his debut in 1993
Sports
With LIV Golf's first event next month in London set to pay a record $25 million, Rory McIlroy's tune has changed even with no players so far committed to the upstart series.