India vs Pakistan Final 2017: Plucky Sarfraz Ahmed and Co stun cricketing world with sheer force of will
This was no fluke from Pakistan, rather a match where they forced fortune to wear green and white for the day.
On a day at The Oval when Kennington was literally the same temperature as Karachi, perhaps the signs were always there that it was one that was always destined to belong to Pakistan.
Pakistan. Pakistan who entered the tournament as its lowest ranked side. Pakistan who lost their opening game to India by 124 runs.
Two weeks ago, Pakistan were so bad they were barely playing cricket. On Sunday, in the sweltering sun of south London they were unplayable.
This was monumental from Pakistan, who in dispatching India by 180 runs seemed to almost bend the will of the Gods, cricketing or otherwise, with the unstoppable force of their performance.
India might have won the toss, but a 50/50 call was of no concern to Pakistan, on Sunday they only dealt in certainty.
Fakhar Zaman, who was yet to play for his country when the tournament began, showed early on just how clearly the day would always be Pakistan's.
In the fourth over he was out caught behind. Except he wasn't, Jasprit Bumrah had bowled a no ball — fate had other plans.
Batting remarkably well for a man whose pockets must have been stuffed with four leaf clovers, rabbits feet and upturned horseshoes, Fakhar didn't so much ride his luck as charge into battle on it.
There was a four, expertly if unintentionally, glanced off the side of his helmet and for a while it seemed as if Fakhar had been told he was only allowed to bat using his inside edge, all as he and Azhar Ali nearly managed to run themselves out about half a dozen times in the first ten overs.
But as any self-respecting student of cliches will tell you, fortune favours the brave, and so it proved for Pakistan — Fakhar finding his touch eventually to smite his way to 114 off just 106 balls – a maiden ODI hundred plucked straight from one of his wildest dreams.
You can guess it's going to be your day when Mohammad Hafeez — ODI strike rate 75.58 — makes an unbeaten 57 off 37 balls. But when the ball cannoned into his stumps only for a bail to cheekily hop up out of its groove and land straight back in it again, they should really have started engraving Pakistan's name on the trophy.
However, this was no fluke from Pakistan, rather a match where they forced fortune to wear green and white for the day, an opening salvo from Mohammad Amir all but finishing the game off inside the first nine overs.
First he got Rohit Sharma LBW with a perfect swinging delivery. Then in his next over he bowled two balls that perfectly encapsulated the entire cricketing history of Pakistan. Despair followed by elation, as Virat Kohli was dropped in the slips only to be caught off a leading edge the very next ball.
With Kohli gone, so too did Indian hopes of chasing down Pakistan's total, followed a bit later by many of their fans pouring out of The Oval, their places in the stands taken in many cases by Pakistan fans who had been waiting outside the ground.
There was still time for Shadab Khan, the youngest man to ever play in an ICC final, to pick up a couple of scalps, the first requiring admirable confidence to unequivocally ask for a review when his LBW shout against Yuvraj Singh was turned down.
Shadab, along with man of the match Fakhar and man of the tournament Hasan Ali, showed the impact the Pakistan Super League has already had on the fortunes of the national team, the triumvirate all coming to prominence thanks to performances in the fledgling T20 competition.
For Hasan the acclaim was well deserved, he ended as leading wicket-taker in the competition, fittingly finishing things off when he got Jasprit Bumrah caught behind — the match, the day and the tournament destined to be never anything else but belonging to Pakistan.
First Cricket News
India clinched the three-match series 2-1 after winning the final T20I against Australia
First Cricket News
Virat Kohli reminded the crowd that it was an international game and not an IPL match after the crowd started chanting for RCB.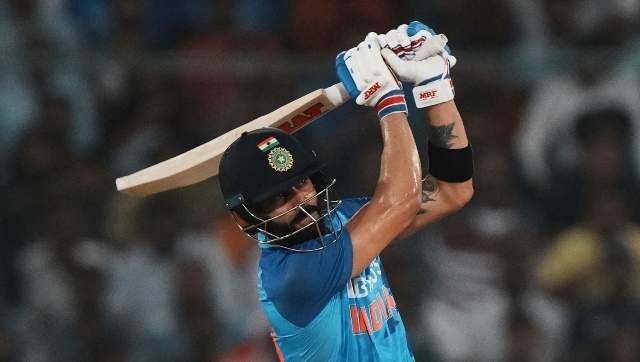 First Cricket News
Virat Kohli finished as India's highest run-getter in Asia Cup 2022 after struggling for runs and since then continued his good form in the just-concluded T20Is against Australia.