Watch: Forty years since Nadia Comaneci scored the first perfect 10 at Olympics
Bucharest: It has already been 40 years since Romanian gymnast Nadia Comaneci shook the Montreal Olympics: she was only 14 when her compulsory routine on the uneven bars became the first one ever awarded a perfect score.
Her performance on July 18, 1976 drove even the scoreboard crazy, unprepared as it was to show the highest possible score in the discipline. It showed the score "1" when it should have shown "10".
Comaneci was awarded a total of seven perfect 10 scores and became one of the best sportspeople of the 20th century.
40 years ago in #Montreal, @nadiacomaneci10 scored the first perfect 10 in Olympic gymnastics history @Olympicshttps://t.co/H9ReqMqV5F

— Canada (@Canada) July 18, 2016
At the time, the best gymnasts were all from the Soviet Union, so the impact of the young Romanian's win in Montreal was even greater.
"Look at what she does. She is even better than the Russians," fellow Romanian gymnast Teodora Ungureanu, also involved in her team's success in Montreal 1976, recalls experts saying during the event.
The fact that Romania, unknown until then in the world of gymnastics, was able to beat the almighty Soviet Union also became a tool for political propaganda. Under dictator Nicolae Ceausescu, Romania had distanced itself from the Soviets and the West regarded it as a friendly regime at the time.
Ceausescu had spoken out against the invasion of Prague in 1968, and denied Moscow Romanian help. Many officials in Romania's political and military elites were purged over their real or perceived ties to the Soviet Union.
Romanian success in Montreal was due to a great extent to strict coach Bela Karoly. At one point, there was even speculation that he hit the young gymnasts, although Comaneci never confirmed the rumours.
"I cannot imagine a sportsperson ever attaining glory without hard work," Comaneci said.
Despite the tough training, she enjoyed it. She was always looking for new challenges, new routines and improved performances.
"She always wanted to be the best, and that was what gave her wings," said her coach, who defected to the United States in 1981.
Many years later, Comaneci admitted in comments to the British Daily Mail that their training sessions lasted six hours a day, instead of three, as she had always said.
The gymnast told Romania's daily Adevarul that her career started at age 6. Her mother registered her in a private school of gymnastics so she could release some energy, since she was a very active child.
"I always broke everything at home," Comaneci said.
Her first coach was Marcel Duncan.
"That was where I learned to do my first somersault and to hold on to the bars. I played and learned all at once. My mother was delighted to get rid of me for a few hours," the five-time Olympic champion said.
She obtained her first international wins at the 1975 European Championships in Skien, Norway. From then on, she was on a roll. Beyond her three gold medals, she also got a silver and a bronze in Montreal. In Romania, her achievements earned her the title "Hero of Socialist Labour," as the youngest person to obtain the award.
Although she gained weight and injured her wrist in 1978, she obtained the gold medal on the balance beam at the World Championships in Strasburg, with a final mark of 9.95.
At the Moscow 1980 Games, she won two more Olympic gold medals, on the beam and in the floor exercise, as well as a silver medal with the Romanian team. That was the end of her career, and she went on to become a coach.
Shortly before the revolution that ousted Ceausescu, Comaneci experienced one of the most dramatic events in her life. On the night of November 27, 1989, Comaneci fled the country with six other gymnasts. She could no longer stand the dictatorship.
"The secret service knew everything about me," she told the Daily Mail in 2014.
Comaneci went through Hungary and Austria and eventually got to the United States. In 1996, she married US gymnast Bart Conner, with whom she had a son. Comaneci, now 54, runs a gym with her husband in Norman, Oklahoma. She is also involved in the development of gymnastics in her native Romania.
The Romanian team complained twice of unfair treatment from the judges, at the Moscow 1977 European Championships and in Moscow 1980. In 1977, Ceausescu ordered Romanian gymnasts to return home ahead of schedule, but that did not happen three years later during the Olympics.
"At the time, neither my team-mates nor I knew the political issues. Our coaches tried to shield us from that. In Moscow, I was the one who led the judges to take away points," she told Adevarul.
"The truth is that, however unfair a judge may be, no one can take anything away from you if you have done impeccable work," Comaneci said.
Her slogan in life is "Don't pray for an easy life, pray to be a strong person."
Find latest and upcoming tech gadgets online on Tech2 Gadgets. Get technology news, gadgets reviews & ratings. Popular gadgets including laptop, tablet and mobile specifications, features, prices, comparison.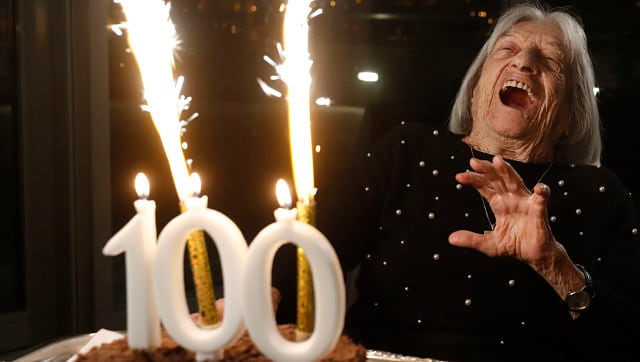 Sports
Agnes Keleti, a winner of 10 Olympic medals in gymnastics — including five golds — celebrated her 100th birthday on Saturday in her native Budapest, punctuating a life of achievement, adventure, tragedy and perseverance which, she says, passed by in a flash
Sports
All SAI centres have been advised to make separate dining arrangements for athletes returning from competition till their RT-PCR test report becomes available.