Mayweather vs McGregor: Boxing is in trouble; can the much-hyped bout boost the sport's fortunes?
Much like sharks, boxing is under threat and needs saving.
In Biblical terms, Conor McGregor taking on Floyd Mayweather is David vs Goliath. But there is a more recent, apt example to draw parallels with — Michael Phelps vs Great White Shark. The latter, arguably the greatest aquatic killing machine. The former, a swimming champion — who has like most humans, spent the majority of his life on land. The event was publicised as the greatest Man vs Wild event ever. For all you could fathom from the teasers, this was going to be a race to the finish line between the champions in the chilly Atlantic waters.
Thankfully, nothing like that happened and Phelps only had to swim in the Atlantic while a simulated shark was added to the final footage by Discovery's graphics team. But the hype had ensured Discovery averaged more than five million total viewers, making it the No. 1 basic cable network on primetime Sunday night. The key words being 'hype' and 'numbers' here.
Much like sharks, boxing is under threat and needs saving. While the Mayweathers and the Pacquiaos might still be amongst the highest paid athletes, boxing has been feeling the heat with dwindling viewership, and fans taking to other combat sports, like Mixed Martial Arts' Ultimate Fighting Championship (UFC). The boxing Federation did try to brush away all claims saying the number was distorted due to pirate websites streaming the matches, but truth is, boxing has been on a downward trajectory for a while now.
Australian betting website Btwin reported that while 4.6 million tuned in to watch Manny Pacquiao take on Floyd Mayweather (2015), only one other bout crossed a million views mark till late 2016. In the same time frame, five UFC bouts crossed the 1 million viewers mark. Boxing did salvage some pride with Pacquiao v Horn averaging 3.1 million and Keith Thurman v Danny Garcia (which was free on TV) hitting 3.7 million. But to put things to perspective, Lennox Lewis v Mike Tyson fetched a 7.5 million subscription audience while the Muhammad Ali vs Joe Frazier bout, dubbed 'The Fight Of The Century', was watched by 27.3 million in the US alone.
So why is the viewership falling? The strongest claim, something the boxing federation perhaps seems to believe, is that the fight has gone out of boxing. People want punches, blood, contact and characters. While Mayweather might be a big talker outside the ring, he is a seasoned fighter best known for dancing away from the punches than delivering them. Manny Pacquiao is an Asian and his foray into politics coupled with his constant homophobic slurs meant there was little to milk out of him.
The lack of characters meant the focus became on the sport itself and how the fights were fought. While it is natural for the sport to evolve — just as the blood-spitting defenders of the past have been replaced by elegant playmaking defenders in modern football — boxing lost its so-called 'bloody' appeal in the process. A glimpse through top boxing blogs in the last decade would see umpteen calls for boxing to change its 'sissy' stance and encourage more action. People wanted to see a fight, a knock-out, and an uproar. Not just a loud build up with little aggression in the actual fight. And boxing, struggling to find its modern-day equivalent of Muhammad Ali, Sugar Ray Leonard or Rocky Marciano, had to oblige.
It tried to address the issue by making two bizarre announcements in the summer of 2016: 1) Helmets became no longer compulsory in amateur boxing. 2) Even professional boxers could take part in the Rio Olympics.
The decisions were essentially boxing announcing 'let us bring back the good old blood'.
While the timing of it meant not a lot of pro boxers could take part in Olympics, this was a clear indicator of what boxing's policy will be for the future. A policy that is guaranteed to win in 2017 — polarising, borderline populist, but by-and-large problematic. Boxing needed to consolidate its blood loving, trash-talk-loving audience who were shifting their allegiance to UFC. And what better way to do it than beat the mixed martial arts champion, a trash-talking, testosterone oozing beast, who has been winning the heart of combat sports lovers.
So after initial refusals from Mayweather's side, the idea of a bout started picking up speed with traditional boxing investors flooding in to support. Suddenly it wasn't just McGregor and UFC trying to take a big bite into the large cash pie that is professional boxing. This was the big spenders of boxing trying to ensure their sport remains on top. Overly hype the event and then beat McGregor. Bring the UFC audience to boxing, beat the sport, and stake claim to being the greatest combat sport.
Mayweather was more than happy to oblige. He will probably not have faced a less seasoned opponent all his life. This is, after all, McGregor's debut bout. What an easy way to overtake Rocky Marciano's 49-0 record. Not to forget make a lot of money in the process.
Honestly, what are the odds of this even being close? Yes, a lot of us did think Phelps would race a shark and a lot of people would tune in to watch Mayweather v McGregor under the impression that the battle will be close. But you do not win 49 professional bouts by doing nothing. Add to that the fact that McGregor, a master at using his entire body to pin the opponent, will not have his lower body to rely on to knock out the opponent. McGregor is going to get killed.
The build-up tour has been in tune with the overall narrative. Both the boxers have resorted to gimmicks that will give the masculinity-demanding fans a turn on. Both called each other a 'pussy' (multiple times); 'bi**h' was used like a conjunction, and there was McGregor's 'monkey' chant. Sexism, racism... you name it they gave it. And the fans apparently love it.
If early predictions are to be believed, the bout could generate the biggest pay-per-view event of all time, with Mayweather set to make around 100 million dollars from the battle.
Sadly, the best thing boxing has to offer in 2017 will be a battle between a seasoned boxer looking for one last fat pay cheque and a Mixed Martial Arts champions who has never boxed. Maybe boxing should take a deep breath and introspect.
While entertainment, packaging, and promotion are essential components for modern day sports to survive, nothing can beat quality inside the ring. But it could really backfire as well? The Mayweather v McGregor battle has the potential to be dull. Mayweather is known for his defensive approach, and he would be happy to dodge punches and end it at that.
What if the bout becomes a dull match with no knockouts? That will hardly do the world of boxing any good, will it? Their champion struggling to take down MMA's McGregor.
Ali or Leonard did not become popular for what they did outside the ring. And hence, what boxing really needs is to focus on identifying stars at an early stage and make the sport a sport again. Pacquiao and Mayweather are at the end of their careers and boxing really has no one to take over the baton from them.
How things have changed since French theorist Roland Barthes wrote about boxing in his 'Mythologies': In his famous essay on amateur wrestling, Barthes says, "The logical conclusion of the contest does not interest the wrestling-fan, while on the contrary a boxing-match always implies a science of the future."
While this might have been true in the 1950s, boxing has been reduced to a hyped up spectacle with results getting more and more predictable. Something the philosopher believed amateur wrestling was.
Will the Mayweather v McGregor bout bring about a change in fortunes for boxing? Will it help eat into UFC's audience? Or is boxing dying?
Sports
Sachin was up against one of the strongest contenders for the title in Gaurav (Railways Sports Promotion Board) and came out triumphant by a 4-1 margin.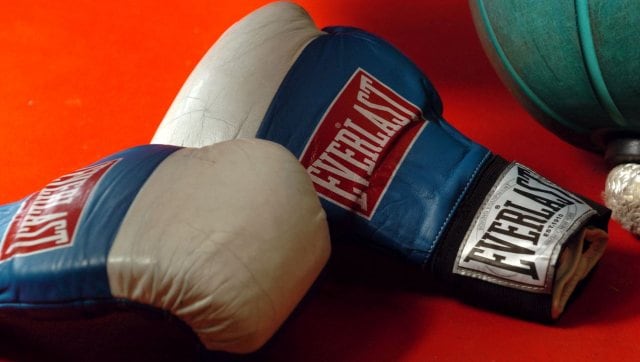 Sports
With the participation of 35 States/UT Units and Boards and close to 400 boxers, the championships will be played as per the International Boxing Association's (AIBA) revised weight divisions, increased from 10 to 13.
Sports
Amit Panghal (52kg), Manish Kaushik (63kg), Vikas Krishan (69kg), Ashish Chaudhary (75kg) and Satish Kumar (+91kg) had competed at the Tokyo Games.