Virender Sehwag's unsavoury trolling of slain Kargil soldier's daughter a poor stroke
It is a shame Virender Sehwag stepped out to bat for war-mongers and the hate brigade of ABVP. His bat may have dum, but his words have none.
Virender Sehwag is right when he claims, Bat main hai dum. That is why he should let his bat do the talking, instead of putting his foot in the mouth for sly and nasty jibes at a dead Kargil soldier's daughter.
We know Sehwag has a rustic sense of humour, the kind learnt in the streets of Najafgarh and sharpened in TV studios of New Delhi. But, his insensitive remarks mocking 20-year-old Gurmehar Kaur for standing up for the rights of her fellow students and taking on the ABVP, suggests Sehwag has a lot to learn when he bats for ultra-nationalists.
On Sunday night, Sehwag appeared on Twitter with a placard post reading: "I didn't score two triple centuries, my bat did". The post came with a message saying, "Bat me hai Dum! #BharatJaisiJagahNahi".
Sehwag's tweet was an apparent response to Delhi University student Gurmehar Kaur, daughter of Kargil martry Captain Mandeep Singh, who held a placard on Facebook saying, "I am a student of Delhi University. I am not afraid of ABVP. I am not alone. Every student of India is with me. #STUDENTSAGAINSTABVP".
A year ago, Kaur had held up a placard that said, "Pakistan did not kill my dad, war killed him".
While popular perception of the social media is of a stage for exercising freedom of speech, for many celebrities it turns into a cage where they get caught in their own image, become prisoners to their followers and ideology. Fascinated by applause and support from followers, they cast themselves into a role where they aren't independent observers but cheer leaders of a fan base influenced by a particular ideology.
Unlike many other sports stars, who stay away from contentious debates, Sehwag loves to bat for the "Bharat Mata ki Jai" brigade and often comes out with witty rejoinders to slurs on India and its people. But, the problem with trying to play to the galleries is — and Sehwag would know this from his cricketing past — that you often end up playing a poor stroke, get caught out. And this is what he seems to have done with his unsavoury trolling of Kaur.
Going out in the field to bat wearing protective gear is not the same as facing the enemy in a war. By comparing the slain Kargil soldier's supreme sacrifice in a war with his achievements in a game, Sehwag has not just mocked Kaur but also belittled the soldier. Sehwag's silly repartee just reveals his hubris, the misplaced belief that everything can be looked through the prism of his own experience. Or that real life is a sledging field where everyone can be mocked and silenced by some sharp, caustic words.
As a 20-year-old independent thinker — an idea that seems alien to Sehwag and struggling actor Randeep Hooda who trolled Kaur with his own misogynistic, patriarchal two bit — deserves applause for the kind of bravery her father epitomises. She stood up for a cause even in the face of stiff resistance. She fought for an idea even when the popular narrative was against it. That is courage. That is integrity. If her father were alive, he would have been proud of Kaur.
Kaur is right also in knowing who killed her father. It wasn't a country, it wasn't a people. Captain Singh was killed by hatred and war, which is always the result of divisive politics and destructive agendas. It is also ironic that those who are using force to silence dialogue are trolling a soldier's daughter. For, war is always the result of the failure of dialogue to resolve a conflict.
The ABVP has created an atmosphere of fear and tyranny in the Delhi University by using its might to stifle dialogue, free exchange of ideas. Its decision to not allow Shehla Rashid and Umar Khalid from speaking at an event organised by Ramjas College is typical of what war-mongers do — deny dialogue, resort to force and muscle. Irony must have died a million deaths watching the ABVP threaten a young girl whose father died because of the ideology that defines them.
It is a shame Sehwag stepped out to bat for war-mongers and the hate brigade of ABVP. His bat may have dum, but his words have none.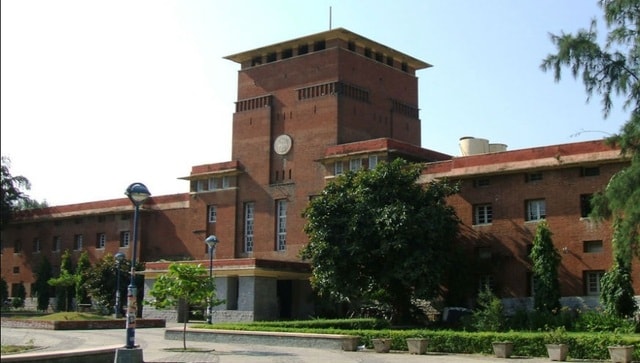 India
Candidates can apply for admission through their dashboards and no physical presence on the campus is required
India
To apply for the admission applicants will also have to upload their passport size photograph, signature, and self attested copies of Class X and Class XII mark sheets.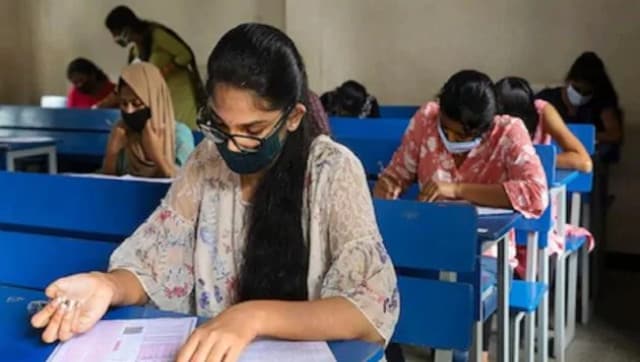 India
A Delhi University professor accusing Kerala Board of 'deliberately' giving 100 percent marks to its students in Class 12, has sparked a new controversy in the academia