Viraj Madappa's maiden Asian Tour title at Bengaluru a testament to years of hard work and sacrifices
Viraj Madappa underlined his credentials once again as the Indian golfer to look out for in the future when he beat a quality field to win the Take Solutions Masters by two shots on Sunday.
Viraj Madappa underlined his credentials once again as the Indian golfer to look out for in the future when he beat a quality field to win the Take Solutions Masters by two shots on Sunday.
His maiden Asian Tour win was a culmination of years of hard work and sacrifices, which included giving up on home comforts in Kolkata and moving to Bengaluru early last year to concentrate on golf and work full-time under the supervision of his coach Tarun Sardesai.
It's been a steady progression for the 20-year-old, who was the India's No 1 junior, then the No 1 amateur, before turning professional last year and earning the honour of being the Rookie of the Year on India's domestic PGTI Tour.
In 2018, he qualified to play on the Asian Tour through the tough qualifying school. It took him just seven months to find his feet as he became only the third Indian to win a title in his rookie year on the Asian Tour (following Shiv Kapur in 2006 and Rashid Khan in 2014).
The victory is expected to elevate him to nearly 460th in the world rankings from his current 1561 position, and he has moved to 39th in the Asian Tour Order of Merit standing. More importantly, he now plays under a different category – 'Past Winners' – which will ensure he gets into every big tournament.
That takes care of one of his biggest worries this year – of not having a set schedule. Despite securing a full Asian Tour card through the qualifying school, Madappa was unable to get into many big, co-sanctioned and limited field events.
While getting ready for the Hero Indian Open earlier this year, Madappa said in a chat to Firstpost: "I feel I am ready to play well. My game is in good shape, but I am not getting regular opportunities to make sure I get some momentum. I need to do well in one of these big events to ensure I get entry into all the events."
He certainly won't have to think about that now.
"It's been a tough journey. I haven't been home to Kolkata for almost three to four months now. I think moving to Bengaluru was a big decision and sacrifice that we were willing to make, but it has been successful with this win," said Madappa, who was headed home along with his mother to celebrate the win.
"We still have a lot of work to do, but it just gives us a lot of positives as we are working in the right direction."
There never was any doubt about his skills and dedication, but there were certainly some whispers about his mental strength. Perhaps it originated from the fact that he secured a golf scholarship in the prestigious Texas A&M University, but quit after just one semester.
Surely, Madappa had his reasons and his stand has been validated with this victory. College golf in the US has many positives, especially the level of competition, but it can also be a frustrating place as players try and jostle to be part of the elite team. There are occasions when one can go a long stretch of time without playing any meaningful golf.
Sunday's show at the KGA Golf Club course was a great way for Madappa to shut up his critics for good. Starting the day two shots behind overnight leader and PGA Tour veteran Miguel Carballo, he was never in the picture after playing the front nine to even par.
A golf tournament is for 72 holes, but ask any player and the unanimous response would be that the key is how you handle the pressure over the back nine on Sunday. Nobody coped better than Madappa.
It was a flawless back nine with four birdies. A brace on the 10th and 11th moved him into contention at 14-under par, but the other brace on the 15th and 16th was what clinched the issue for him.
Zimbabwean Scott Vincent, who led for quite a while when the tournament moved into the home stretch, was full of praise for the young Indian.
"Viraj and I were both playing very well. Obviously, I got a jump-start on him with three shots up. It was all in my hands but all credits to him, he made birdies when he needed to and handled the pressure well," said the experienced Asian Tour star, who made three bogeys in five holes on the back nine.
When it comes to golf, the Kolkata-born Madappa is possessed with the single-mindedness of a pit bull terrier.
Take the story of how he started playing for instance. He recalls facing serious overweight issues as a seven-year-old and how his dad decided to take him for swimming lessons to the Tollygunge Club. Young Madappa just hated being in water and would run to the 18th green of the club at the first instance to watch the golfers. It did not take long for him to be bitten by the golf bug.
Once he started playing junior golf, then under the tutelage of Indrajit Bhalotia, Madappa knew he had to lose weight and improve his fitness levels. He went about with a vengeance.
And considering how professional golf has evolved in recent times, Darwinism has become a way of life on the Tour. In this day and age, only the fittest thrive and survive.
At 6ft 2in and built like a world-class sprinter, Madappa is one of the fittest and strongest players on the Asian circuit. The future belongs to him.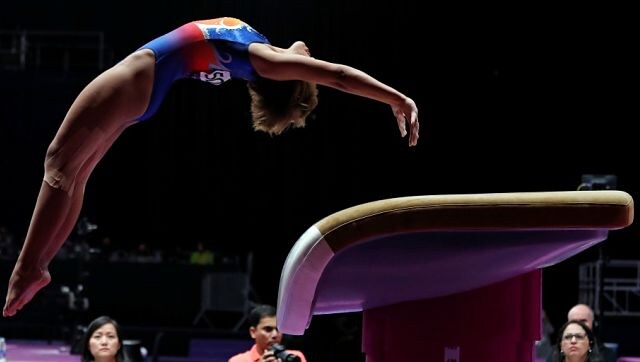 Sports
The commission, the key Australian government agency responsible for supporting and investing in sport, apologised in the wake of the independent report this week that detailed a culture that tolerated emotional, verbal, physical, and sexual abuse.
Sports
The Indo-Canadian duo won their round of 16 match 6-3 6-4 on Wednesday.
Sports
It was on the 1,000-mile flight from Charlotte to Dallas that DeChambeau got the news from his agent he was in 68th place