Vijender's maiden title bout postponed; undefeated boxer won't interrupt training schedule
Vijender Singh's maiden title bout, scheduled to be held in New Delhi, has been postponed by a month to July, but he said said he will not take any break from training.
New Delhi: Indian boxing star Vijender Singh's maiden title bout, scheduled to be held in New Delhi, has been postponed by a month to July, but the trailblazing pugilist on Saturday said he will not take any break from training as it would upset his rhythm.
Vijender, who beat Poland's Andrzej Soldra via Technical Knockout in Bolton on Friday to register his sixth successive win, was originally scheduled to fight for the WBO Asia title on 11 June in New Delhi.
However, the big event has been pushed back by a month due to logistical reasons.
"I am really looking forward to the India bout, it is going to be a huge moment for me to step inside the ring in front of my home fans. And that is why I am not going to take any break from training because I want to be at my best. It is technically not good either to take a break as the body has to remain in rhythm," Vijender told PTI in a telephonic chat from Manchester.
The opponent for that much-anticipated contest is yet to be finalised. Vijender said after spending a week in India, he would head back to Manchester.
"Even while I am in India, there won't be a proper break, I would be training daily because I cannot be completely away from training. I would be celebrating my wedding anniversary on 17 May there before I come back to Manchester to continue my preparation for the India bout," Vijender said.
"I would have loved to train at home for this bout but facilities are better in Manchester, so I will have to head back," he added.
Reflecting on last night's bout, the 30-year-old Haryana lad said Soldra was more accurate than his previous opponents.
"He connected better, certainly, but I relied on power. I was looking for that one powerful blow which would knock him off. I managed to strike that in the third round when he lost his balance," he said.
"Even in the recent Amir Khan vs Saul 'Canelo' Alvarez fight, Amir was doing fine for some time but Canelo knocked him off with a solid one eventually. This is what I did as well," he explained.
Asked about the powerful right jabs that have been instrumental in his victories so far, Vijender said, "I don't use it early. It's for that final assault after softening them (rivals) up with combinations."
Sports
The 2014 World Championships silver medallist left the national camp as she felt that there was no point in continuing once she missed the Tokyo bus.
Entertainment
In spite of not being released in major international territories like China, India, parts of Australia and some Latin American countries, Black Widow's international box office earnings stand at $78 million.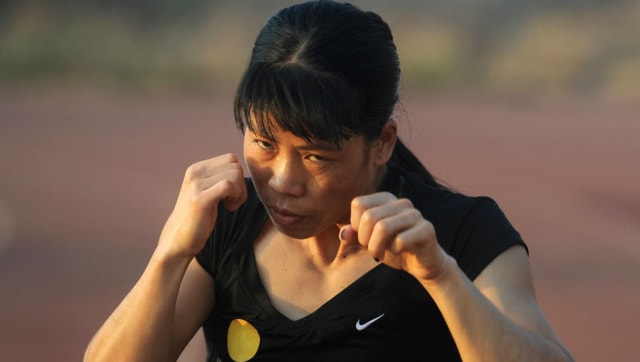 Sports
With the Tokyo Olympics fast approaching, Firstpost takes a quick look at one of India's experienced boxers MC Mary Kom, and charts her journey towards securing Olympic qualification.