Vijay Goel meets former sportspersons, coaches to chart way for better performance at Olympics
A round table discussion on 'Performance of India in Rio Olympics and Way Forward' was held by Sports Minister Vijay Goel and other former sportspersons.
New Delhi: Revamp of existing coaching system, talent identification at grassroot level, setting up of more academies and facilities and bigger involvement of corporate sector were some of the key points suggested by former sportspersons at a meeting on Monday with sports minister to chart out a way for India's better show in future Olympics.
A round table discussion on 'Performance of India in Rio Olympics and Way Forward' was held on Monday with a view to holding wide-ranging consultations and inviting views and suggestions for improving India's performance in future Olympic Games.
The round table discussion was chaired by Sports Minister Vijay Goel and was attended by sportspersons of eminence who have been conferred with Rajiv Gandhi Khel Ratna Award and coaches who have been conferred with Dronacharya Award since 2001 onwards.
Eminent sportspersons P T Usha, Anju Bobby George, Sakshi Malik, M C Mary Kom, Sardar Singh, Gagan Narang, Pullela Gopichand, Khajan Singh, P R Sreejesh and coaches Satpal, Virender Poonia and N Ramesh were among those who attended the meeting.
Participants gave their frank and forthright views and suggestions for making India realise its potential and improve its position in medals tally in intentional events including Olympic Games, a sports ministry release said.
Important among the suggestions made by former sportspersons and coaches were: development of second and third strings of players; revamp of existing coaching systems to bring them in sync with the latest and modern coaching methods and techniques being employed by countries who are in the forefront of winning medals in Olympic Games; good support personnel like physiotherapist, doctors, sport psychologists; talent identification at sub-junior and junior level; more academies in specific sports discipline at state level; adoption of academies and sports persons by corporates for providing financial support under CSR.
Other suggestions include optimum utilisation of existing sports facilities; involving former Olympians and players in coaching assignments; extending the provision of reservation for sports persons in Group A and B posts also against the existing reservation in Group C posts only; preparation and development of coach-led athlete-centric training programmes; integration of sports with education; monitoring of the training programmes and performance of the sportspersons.
Goel stated that after conclusion Of Rio Olympics, he has initiated consultations with players, coaches and National Sports Federations to elicit their views and suggestions. He stated that he had written to all 117 sportspersons who participated in Rio Olympics.
He had already held a meeting with president and secretary general of Indian Olympic Association and National Sports Federations on 29 September.
Goel said that his ministry will examine the views and suggestions received during the round table discussion, from NSFs and other sources and will come out with an action plan.
Focused attention will be given to talent identification, preparation of long term development plans for training and competitive exposure to sportspersons, creation and upgradation of modern sports infrastructural facilities across the country with the involvement of state governments and corporate and provision of sports science and sports medicine backup to players.
Virender Poonia said that the meeting discussed how India can win more medals in the near future in 2020, 2024 and 2028 Olympics.
"The minister asked suggestions from all the participants. Many were of the opinion that unless India pays attention at the college and university level, it will be hard to win medals at the Olympics. India will have to first produce medal winners at the University Games before thinking of winning medals at the Olympics," Poonia said.
"The participants also want constant monitoring of the performance of athletes and coaches.
"The minister said that there was the need to increase the involvement of corporate sector in the development of sports in the country. He said he will have similar discussions with PSUs," he added.
Sports
The IOA had unveiled the Olympic kit designed by Li Ning for the Tokyo Games last week, which led to criticism. It has been learnt that the Sports Ministry then advised IOA to not include a Chinese sponsor for the Games.
Sports
It is understood that post departure of Li Ning as the kit sponsor, the amount donated by the BCCI will certainly help in multiple ways for the contingent in covering various costs which includes training and preparation.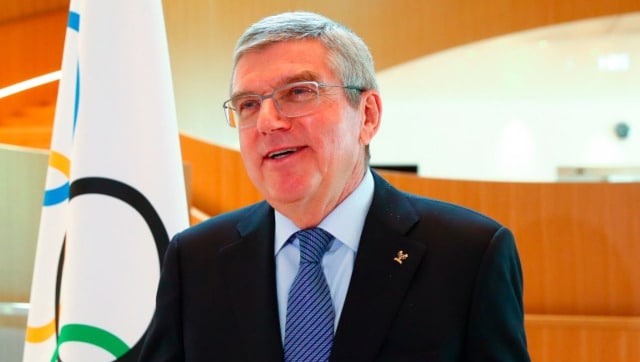 Sports
The 102 IOC members will now vote on the proposal at the IOC session on 21 July in Tokyo ahead of this summer's Olympic Games in the Japanese capital.